all
works
exhibitions
books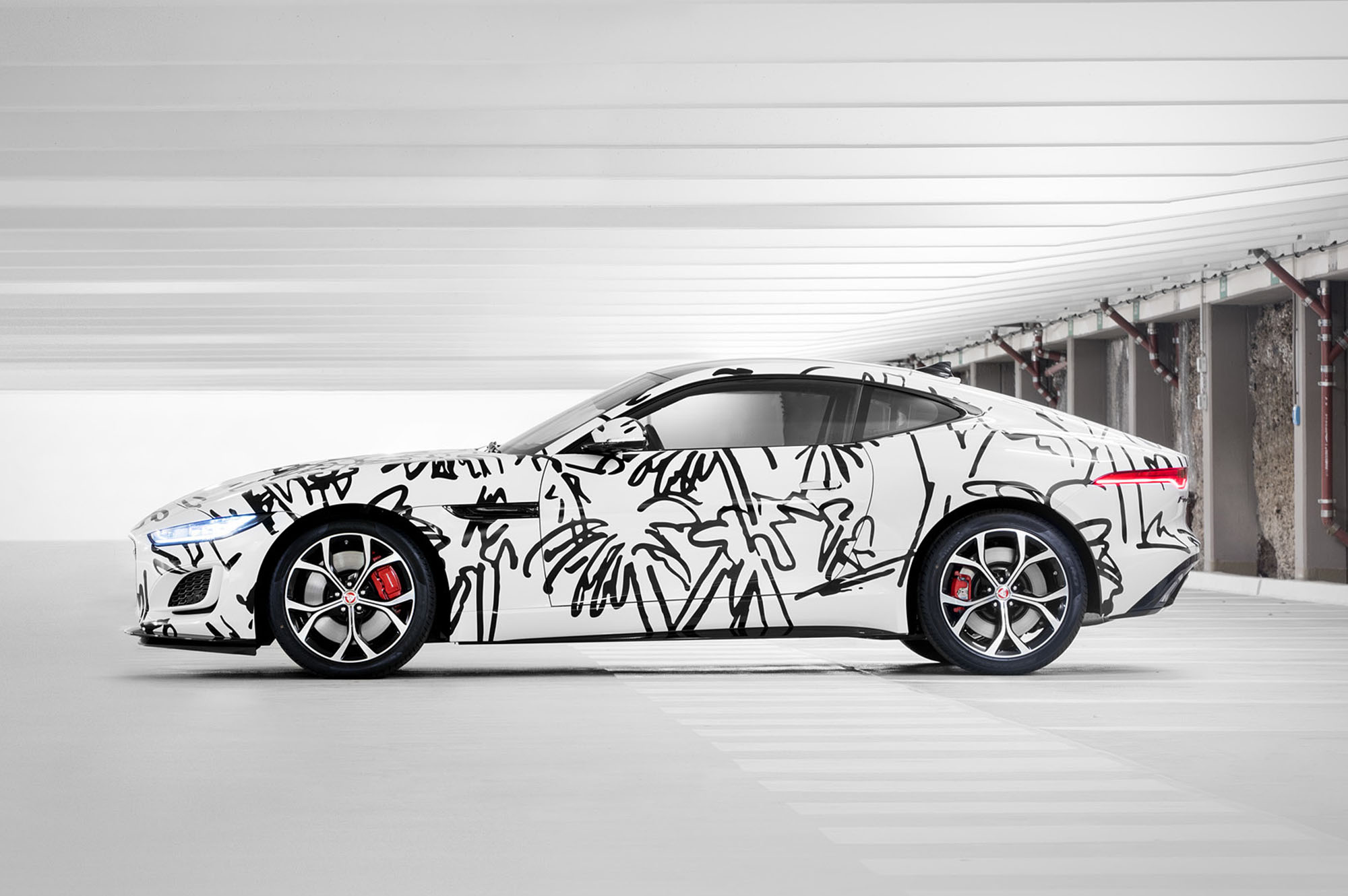 2021
Peter Jellitsch Art Car 2021
(photos: © Leonhard Hilzensauer / except photo no.1/7: © Lukas Gansterer )
Partners
In cooperation with Jaguar Landrover Austria GmbH & Aichlseder Car GmbH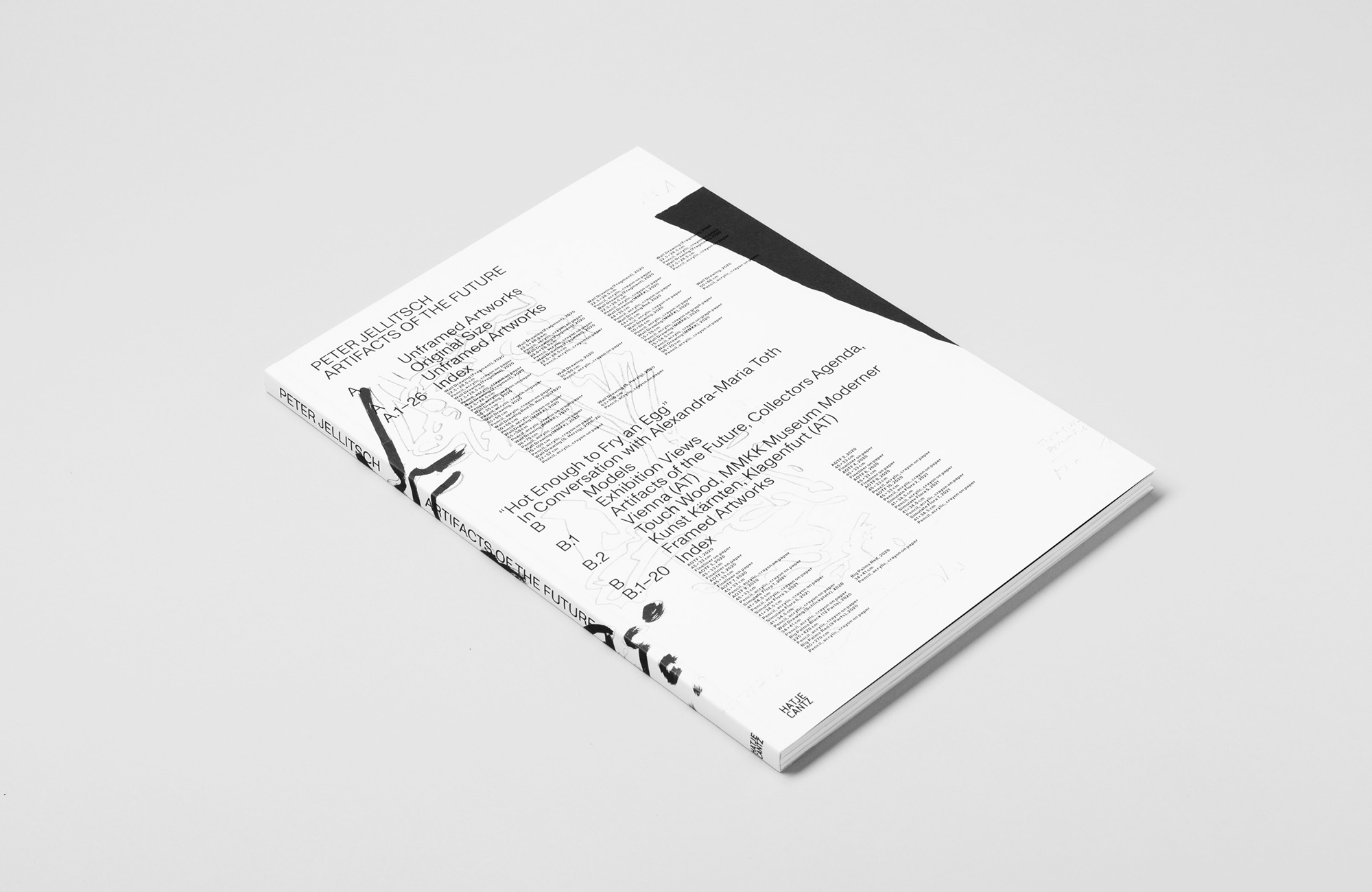 2022
Artifacts of the Future
Paperback, 140 pages, 31 x 22 cm, ills. in color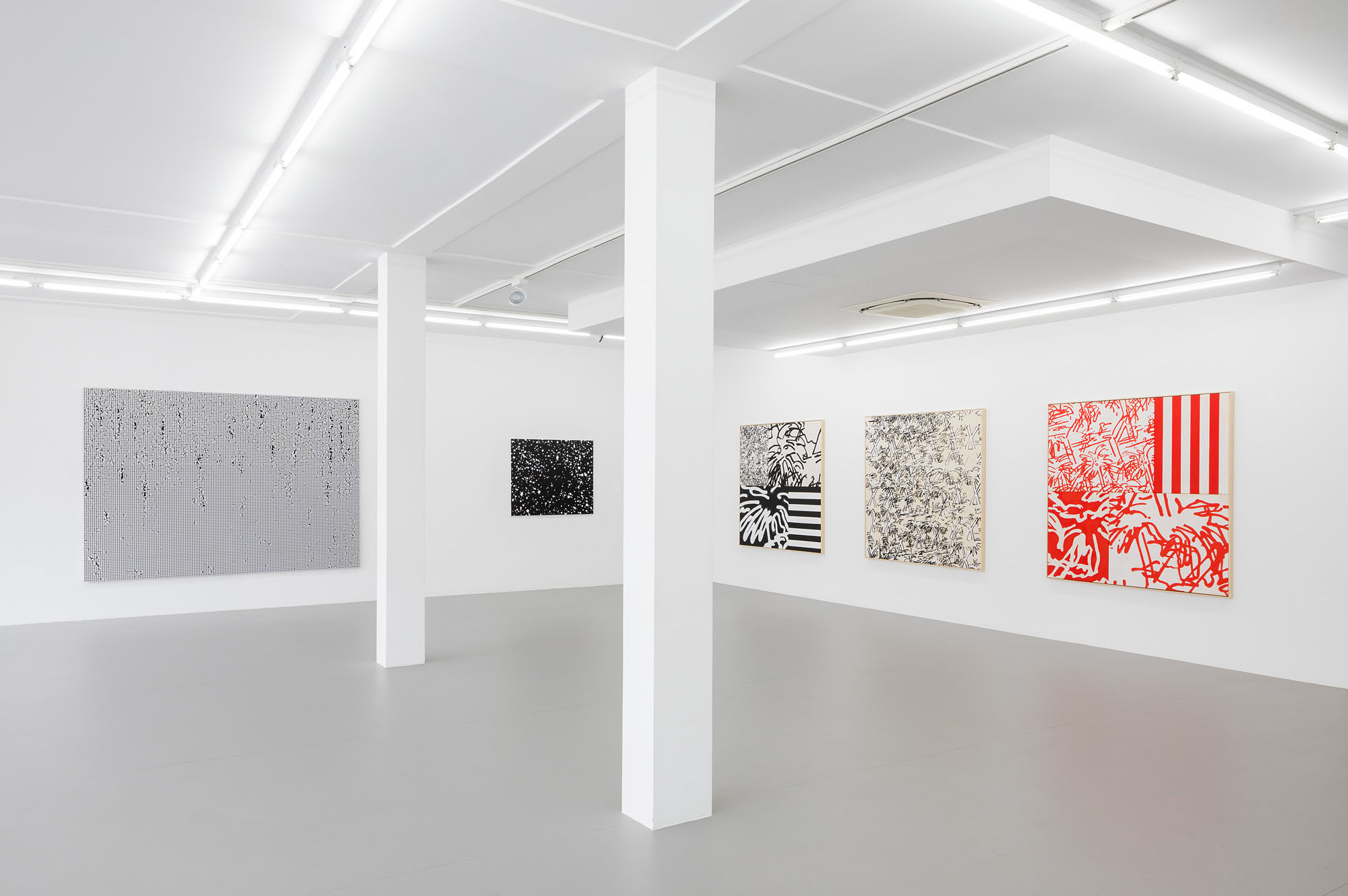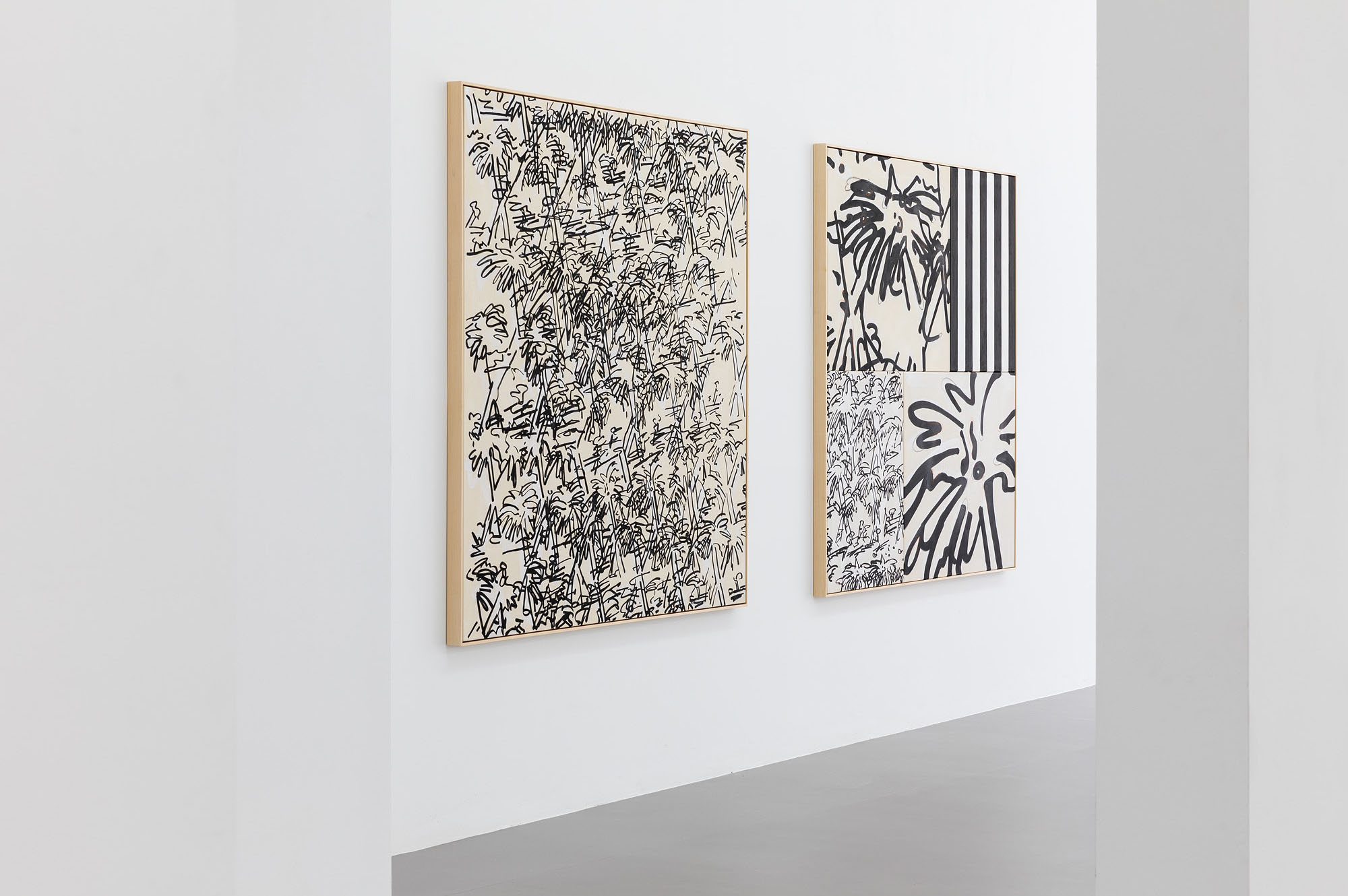 2021
Structural Desires (with Esther Stocker)
Location
Collectors Depot, Pörtschach (AT)
Artists
Esther Stocker & Peter Jellitsch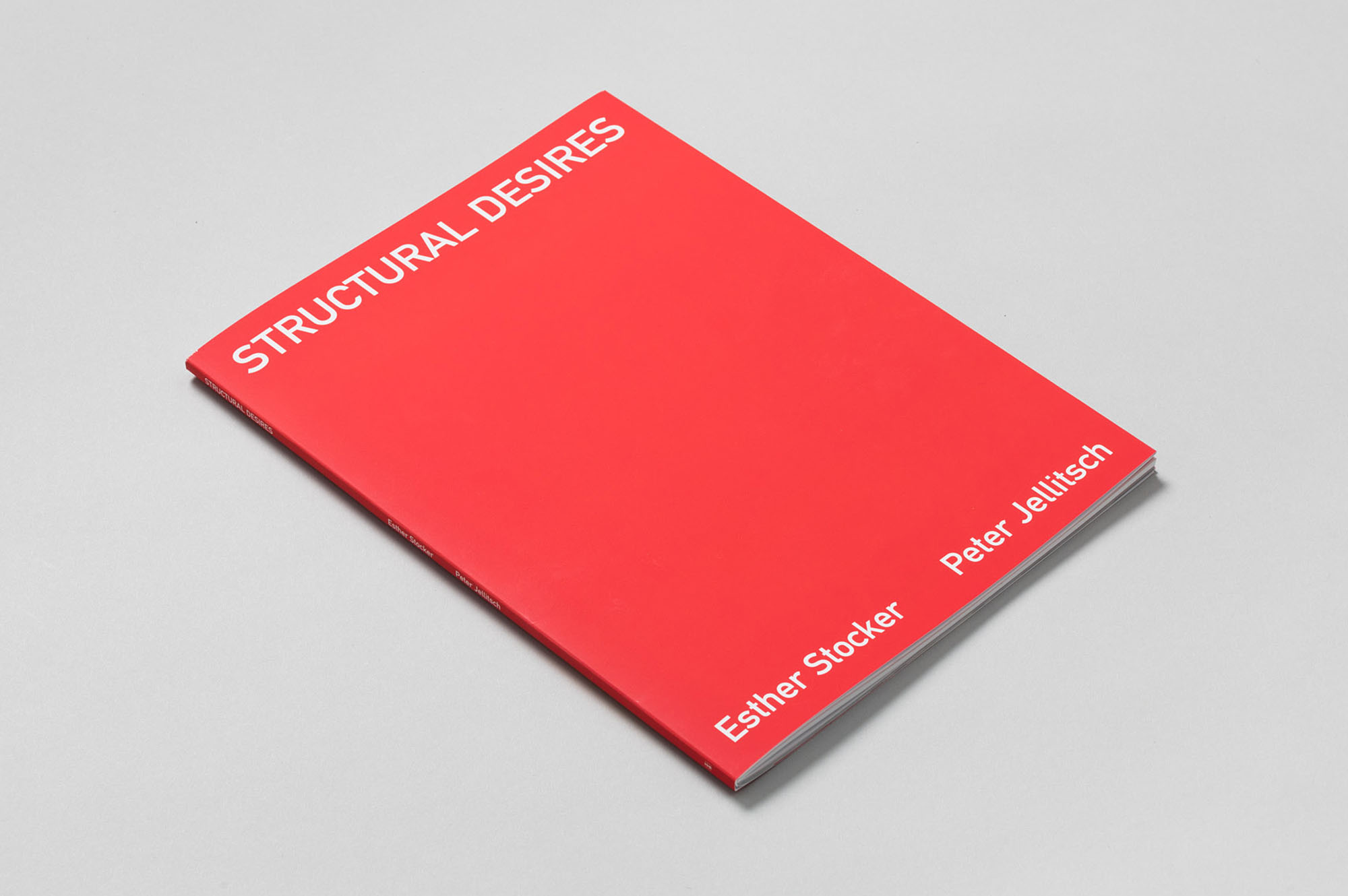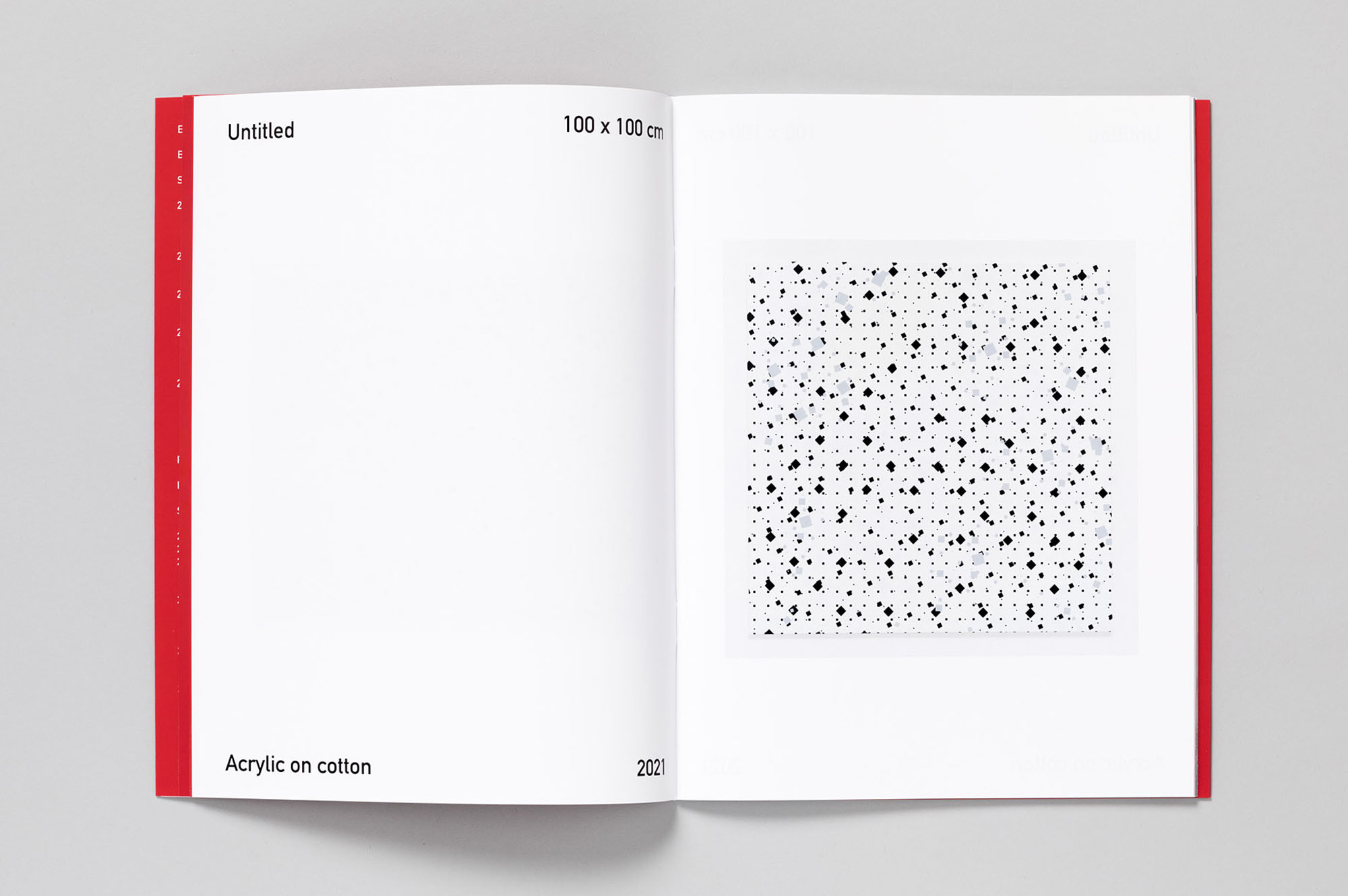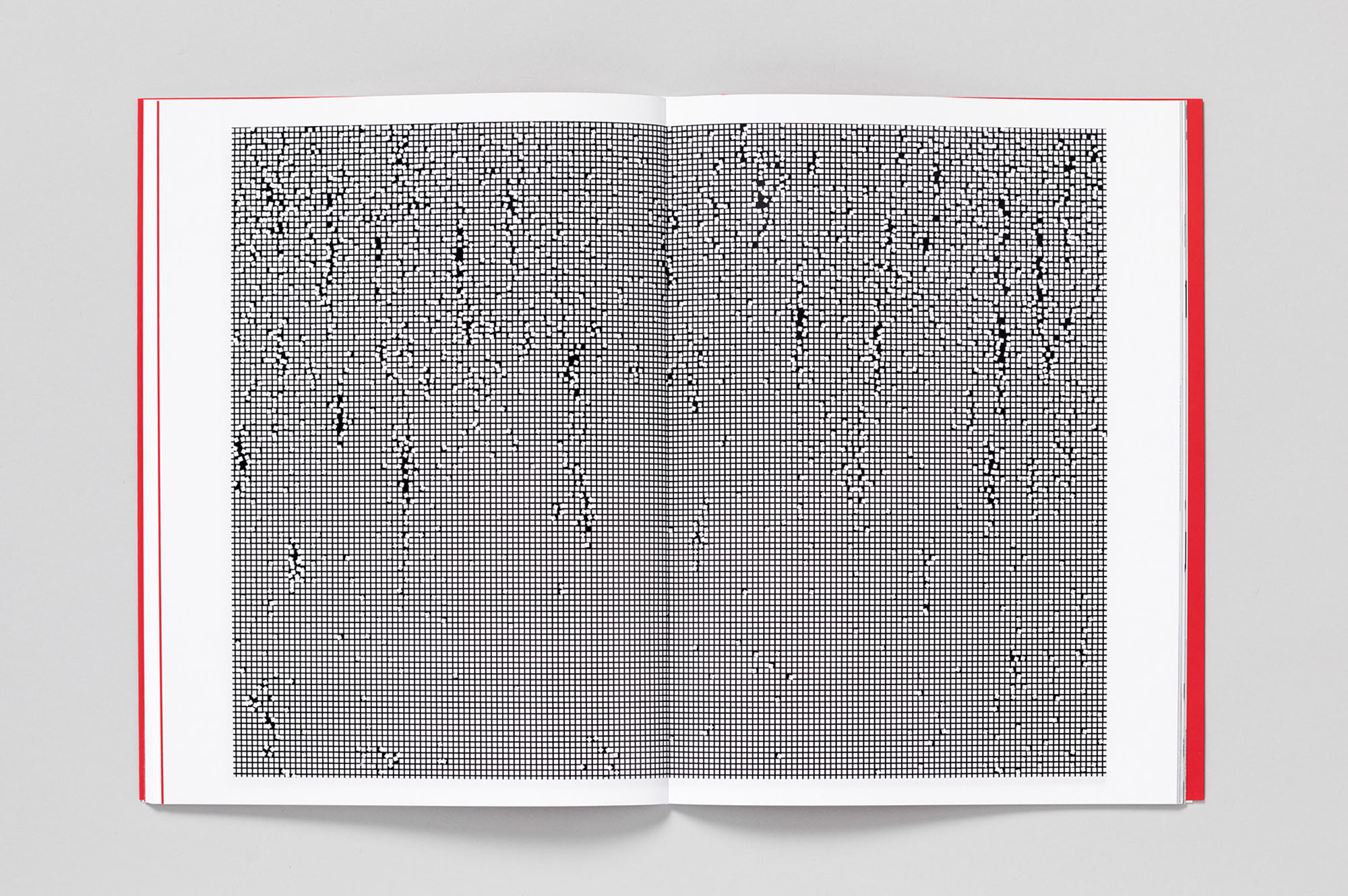 2021
Structural Desires
Softcover, 82 pages, 26 x 19,5 cm, ills. in color
Editors
Esther Stocker & Peter Jellitsch
Design
Studio Peter Jellitsch with Gašper Kunšič
2021
Talk to Me (Modular)
All photos: © Leonhard Hilzensauer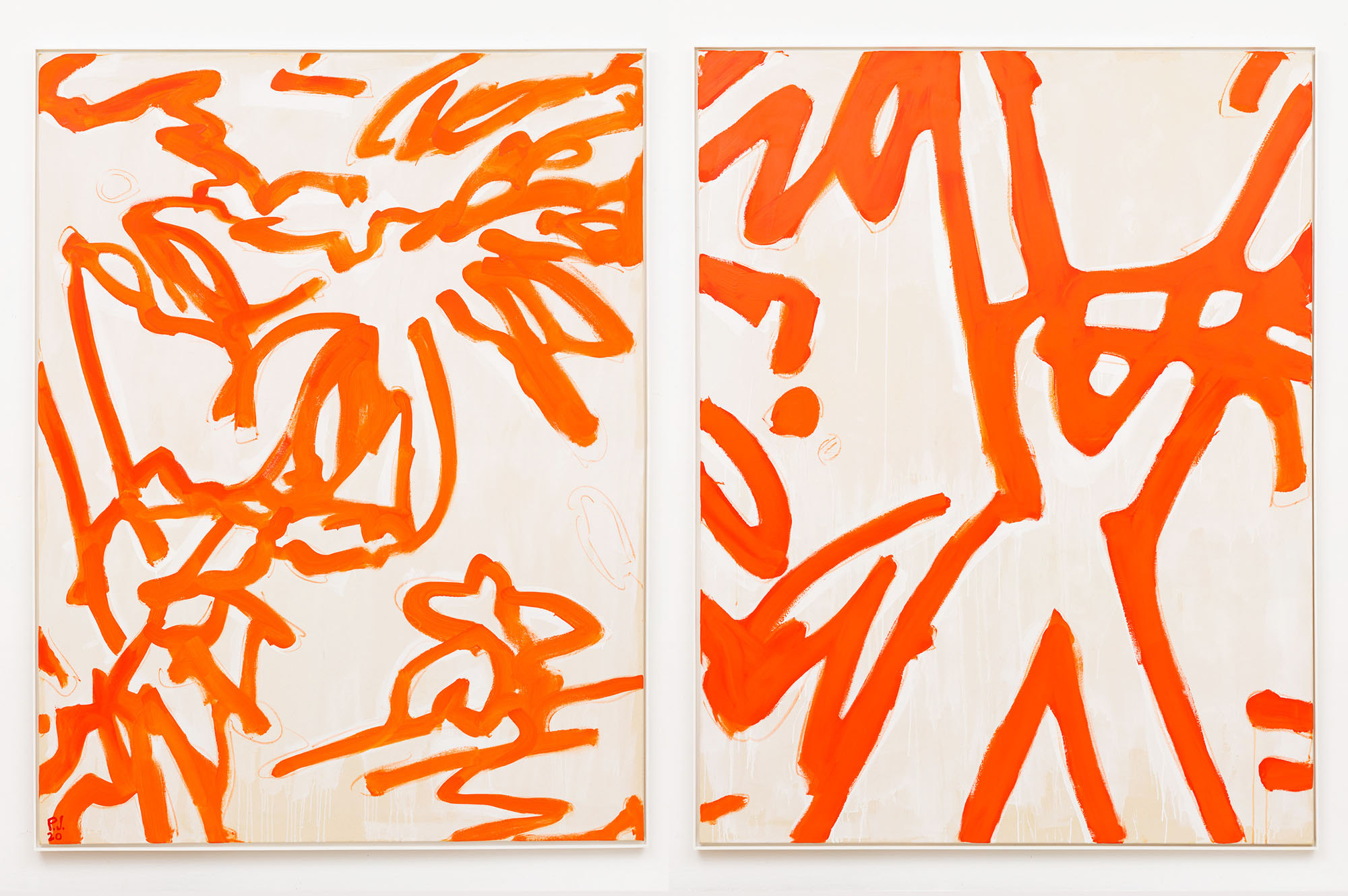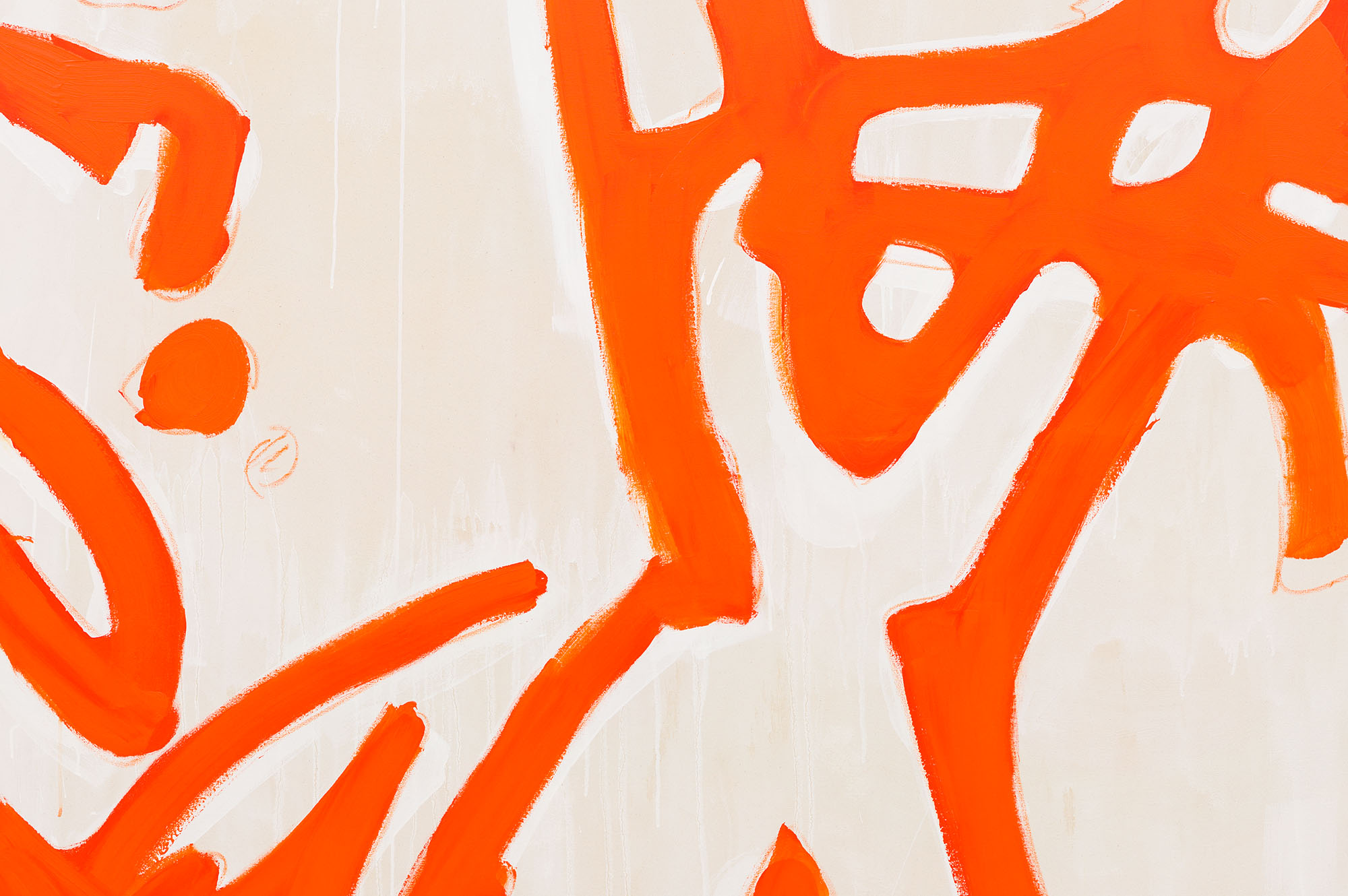 2020
Simulate Flora
All photos: © Leonhard Hilzensauer
2021
Simulate Flora (drafts)
All photos: © Leonhard Hilzensauer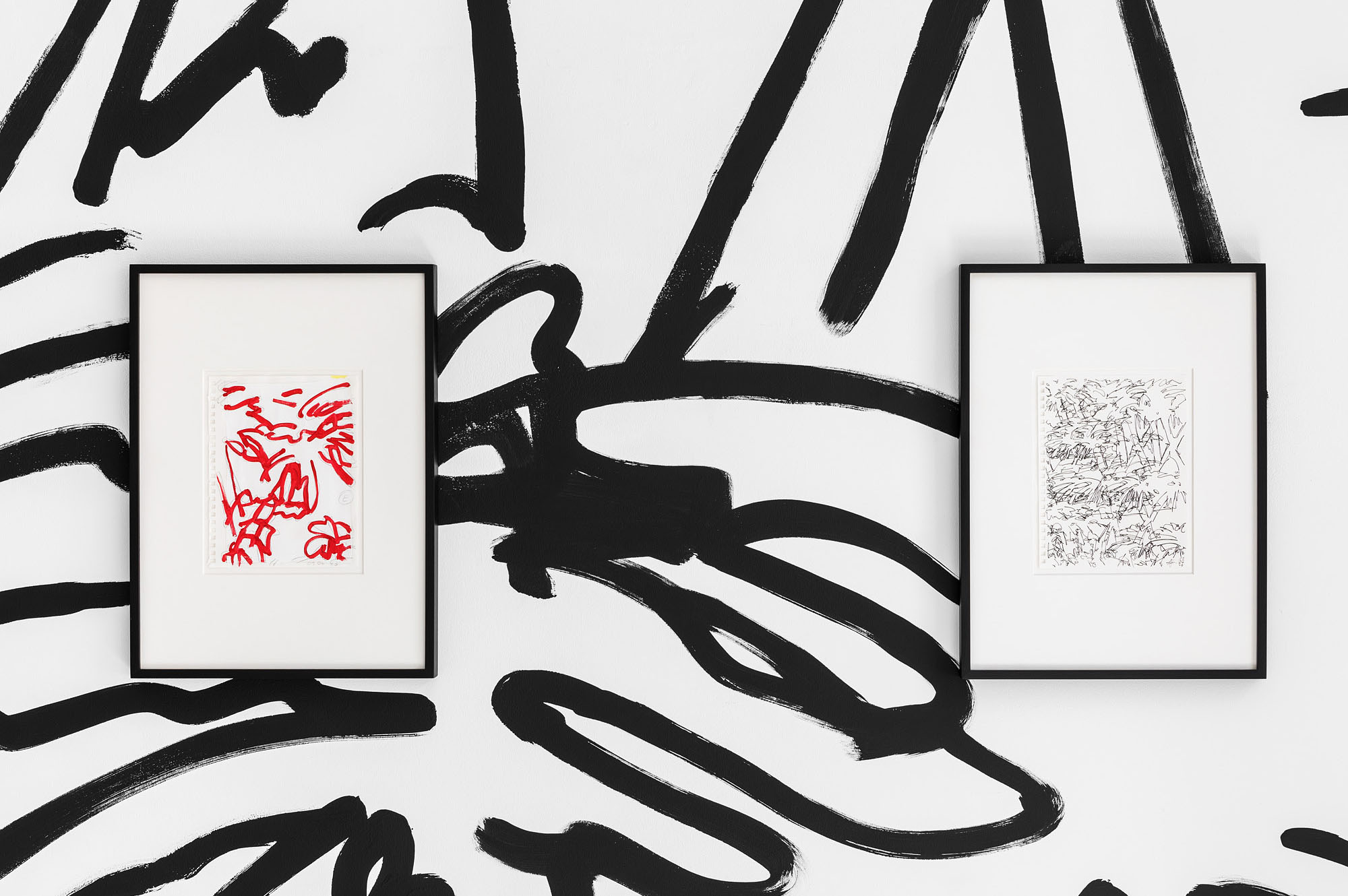 2020
Artifacts of the Future
LOCATION
Collectors Agenda, Vienna (AT)
2020
Big Palms
All photos: © Leonhard Hilzensauer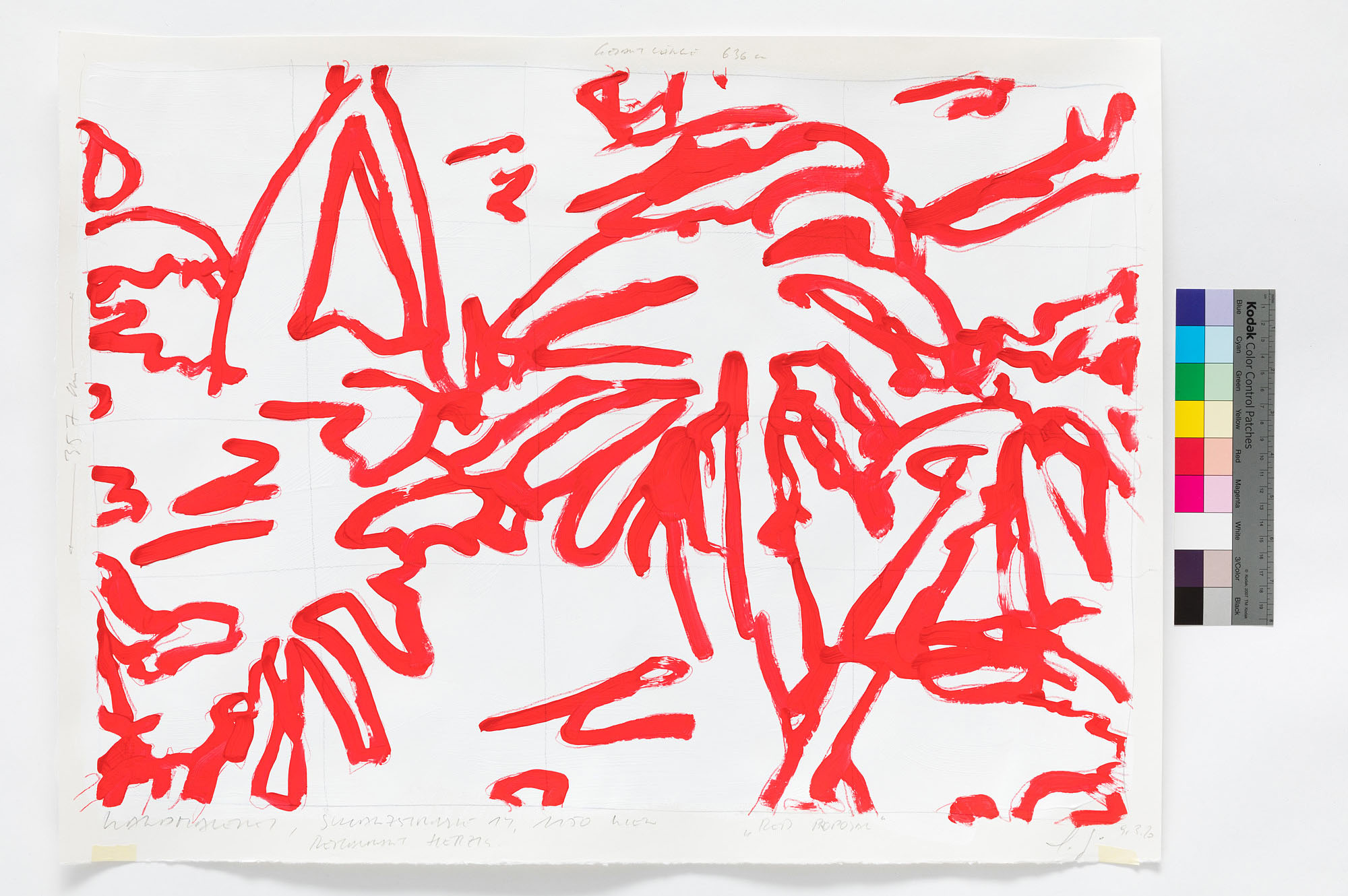 2020
Wall Drawings (drafts)
All photos: © Leonhard Hilzensauer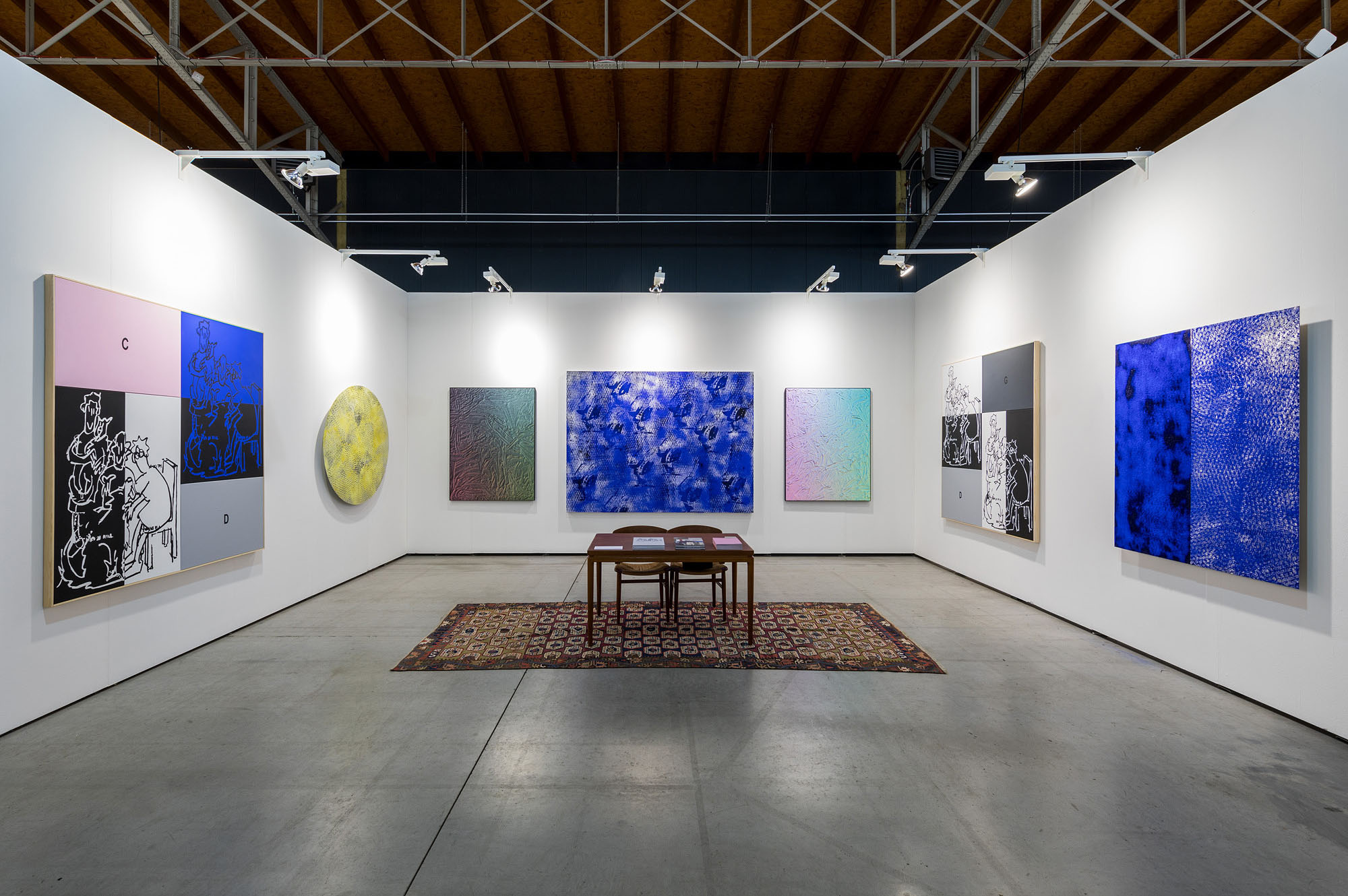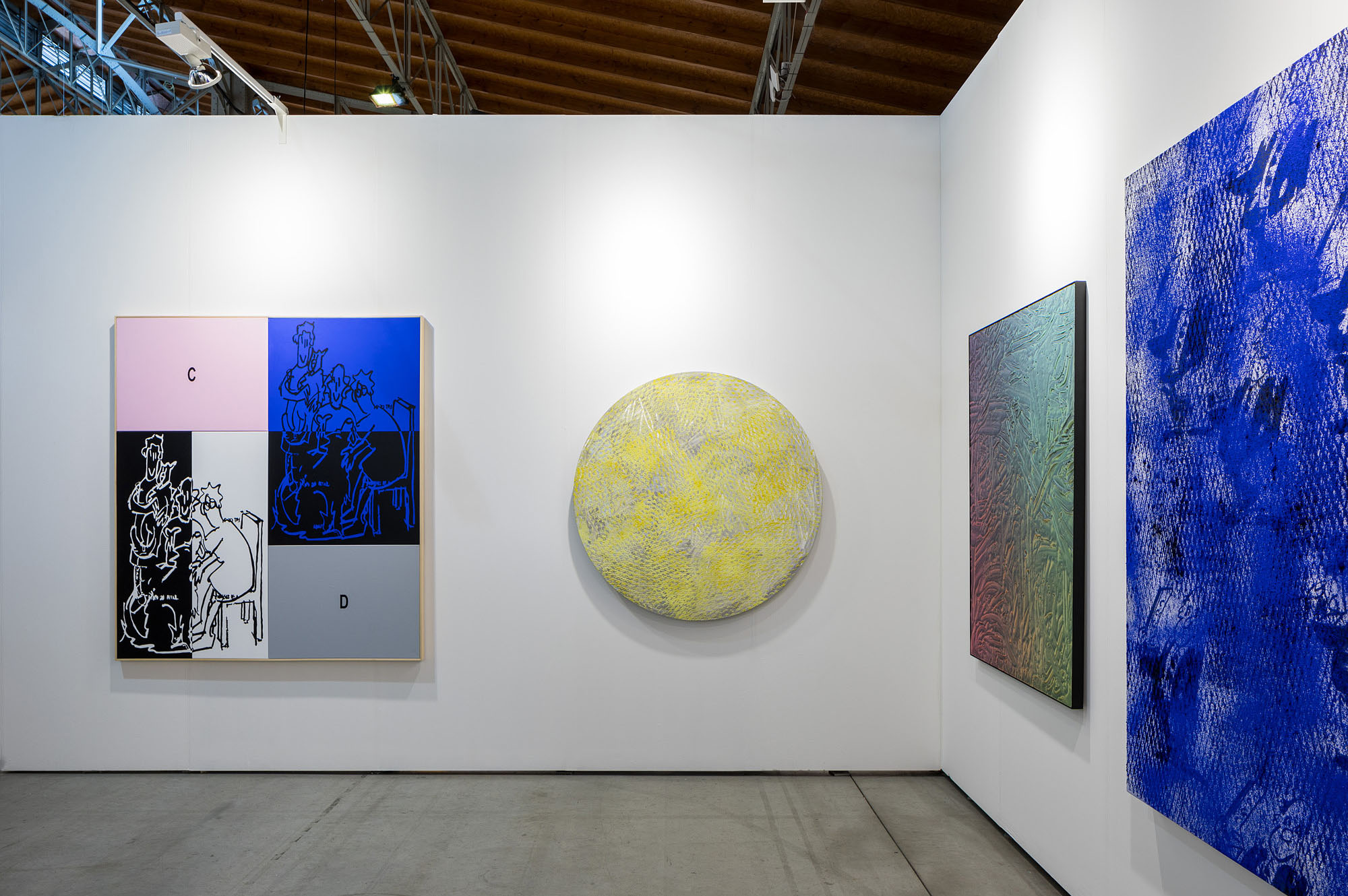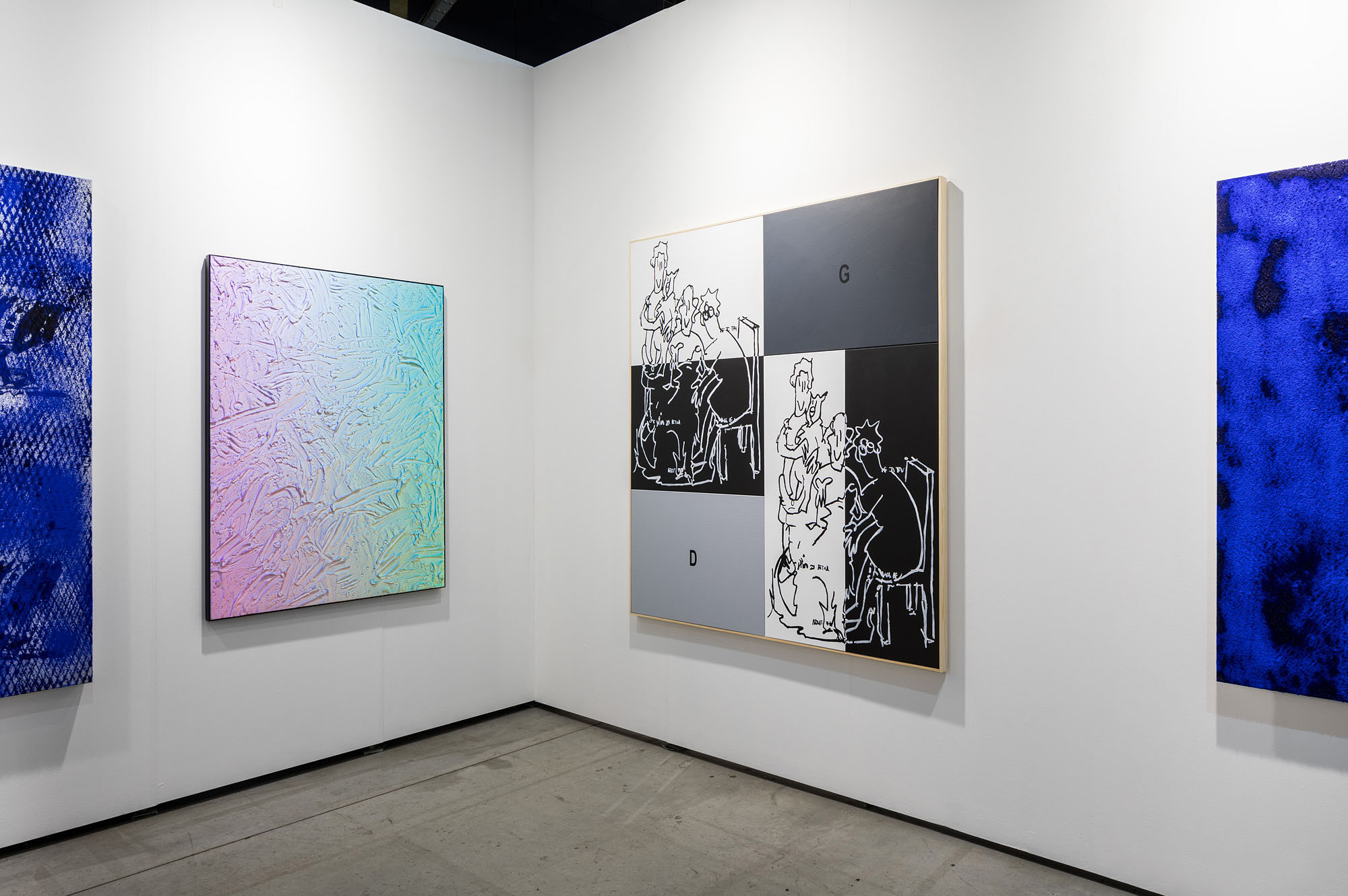 2019
Viennacontemporary (Peter Jellitsch, Michael Staniak, Clemens Wolf)
LOCATION
Viennacontemporary, Marx Halle, Vienna (AT)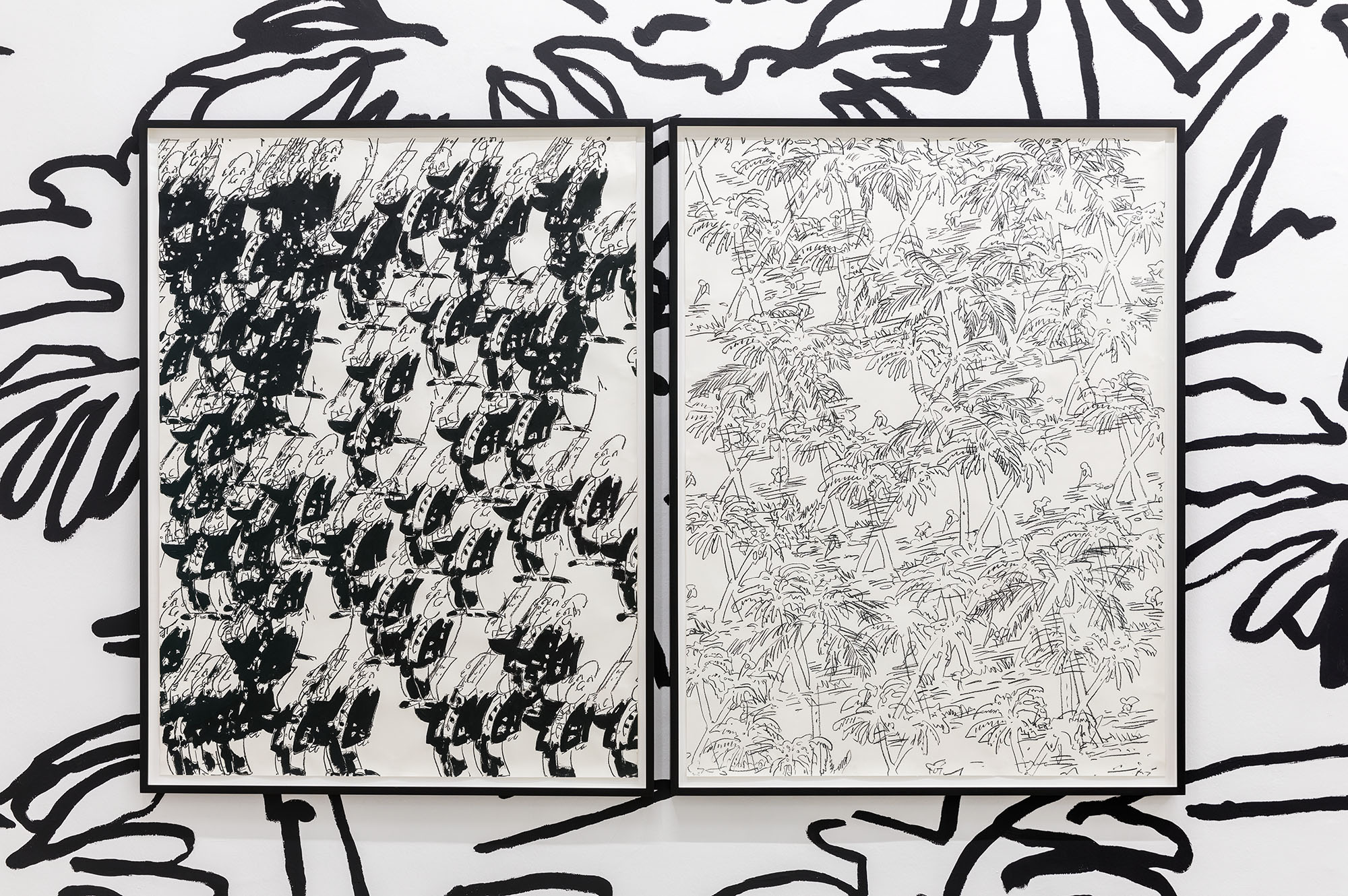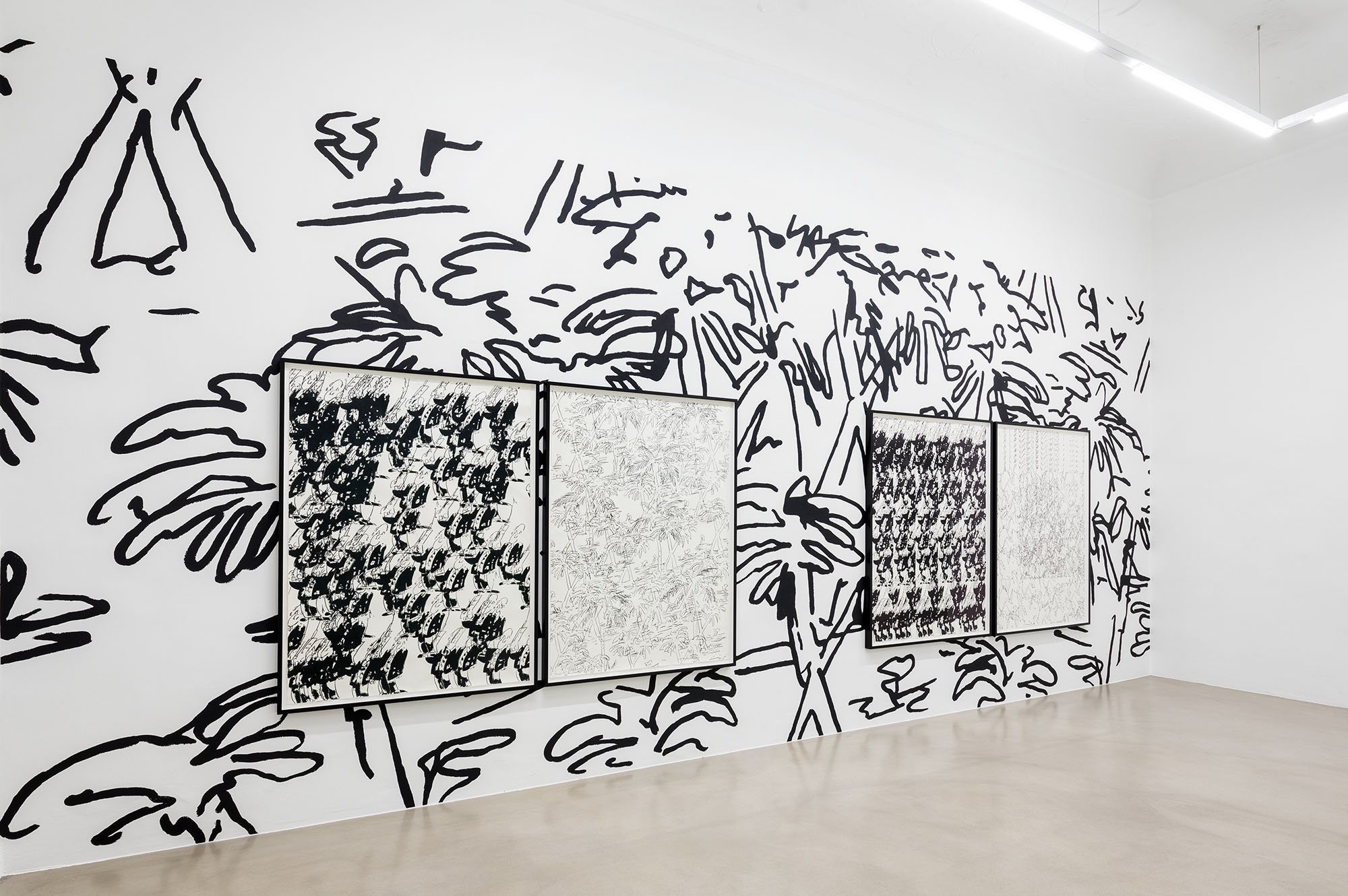 2019
Touch Wood
Location
MMKK Museum Moderner Kunst Kärnten, Klagenfurt (AT)
Date
19 September—05 January 2020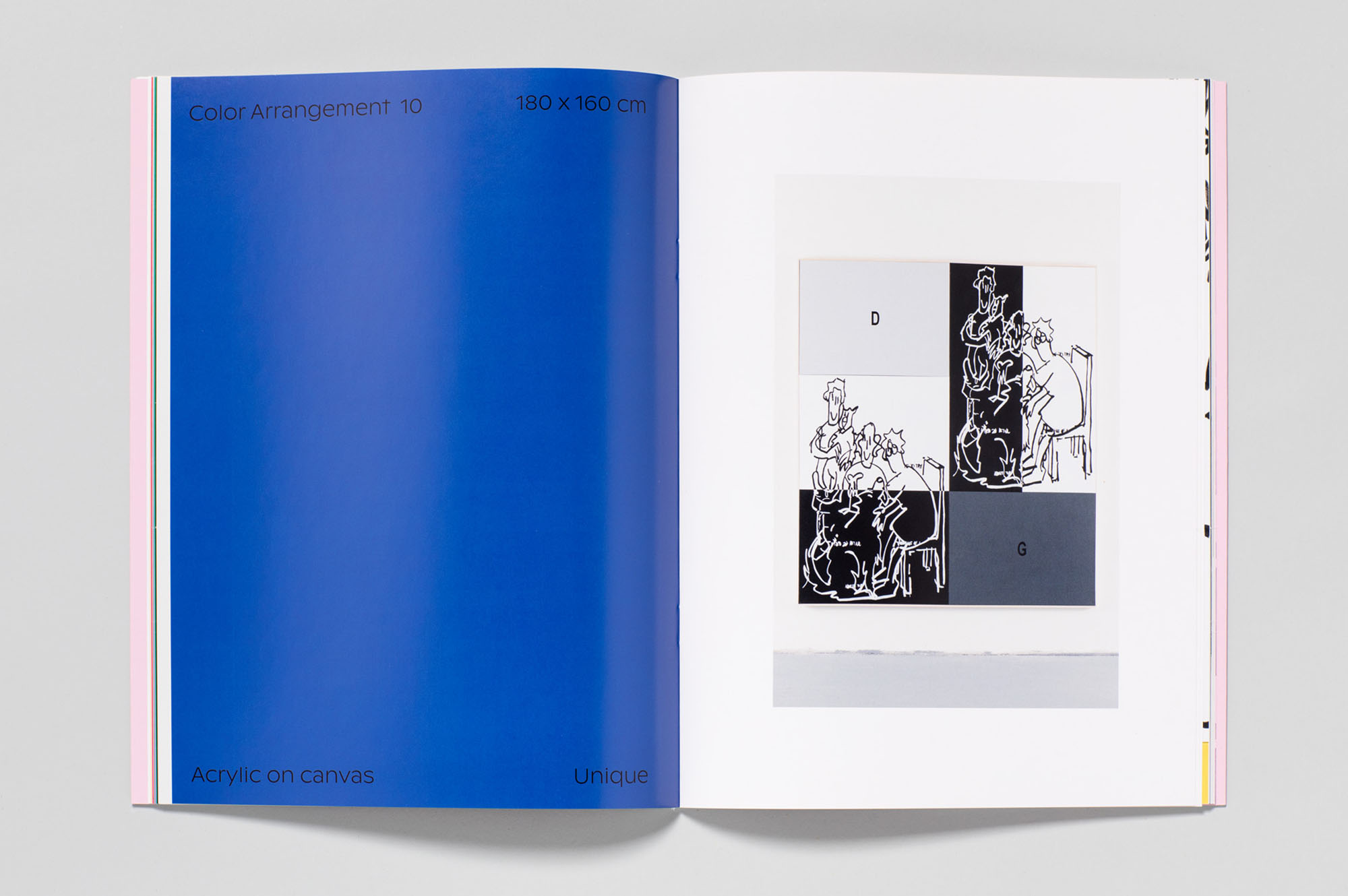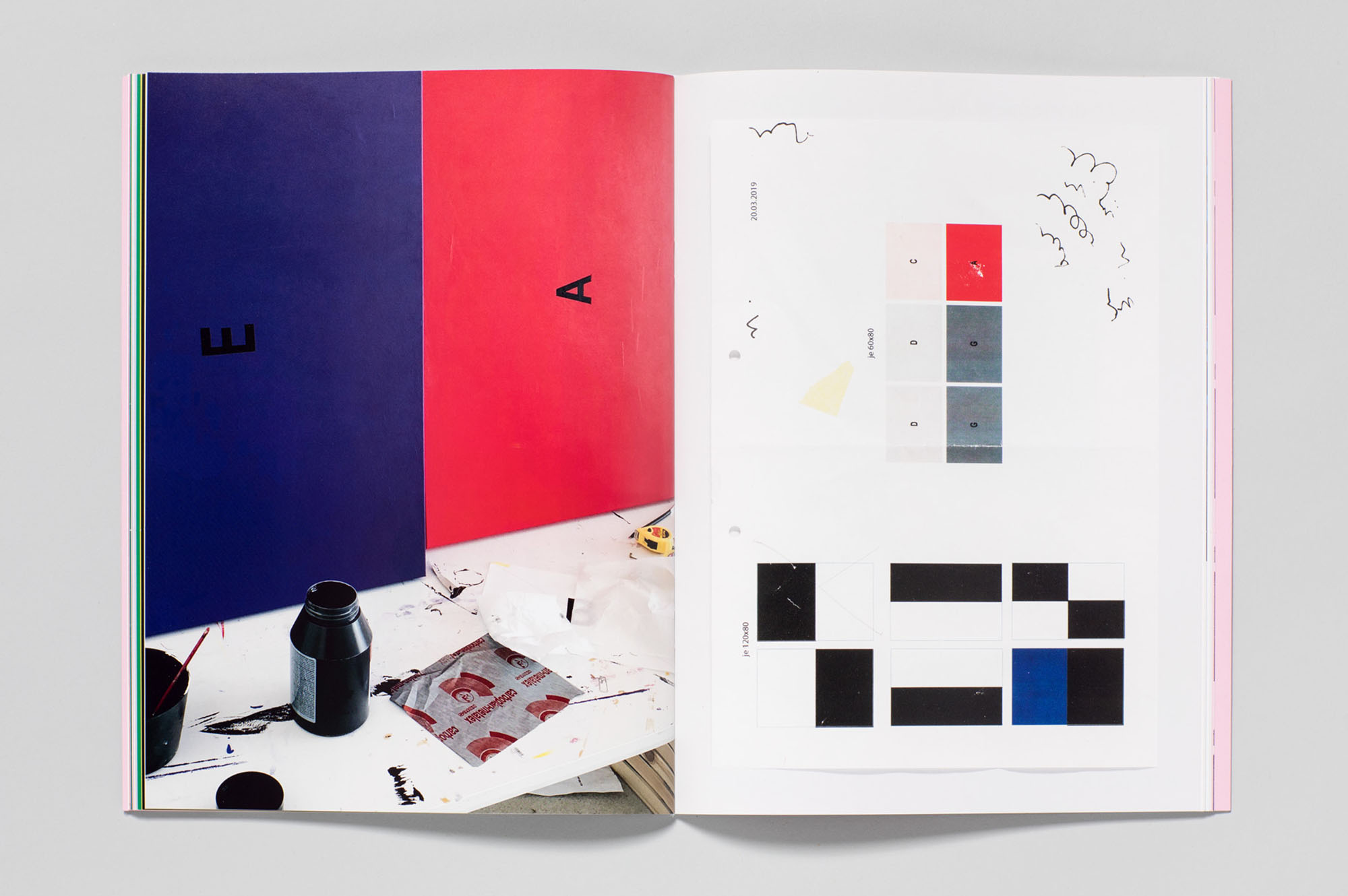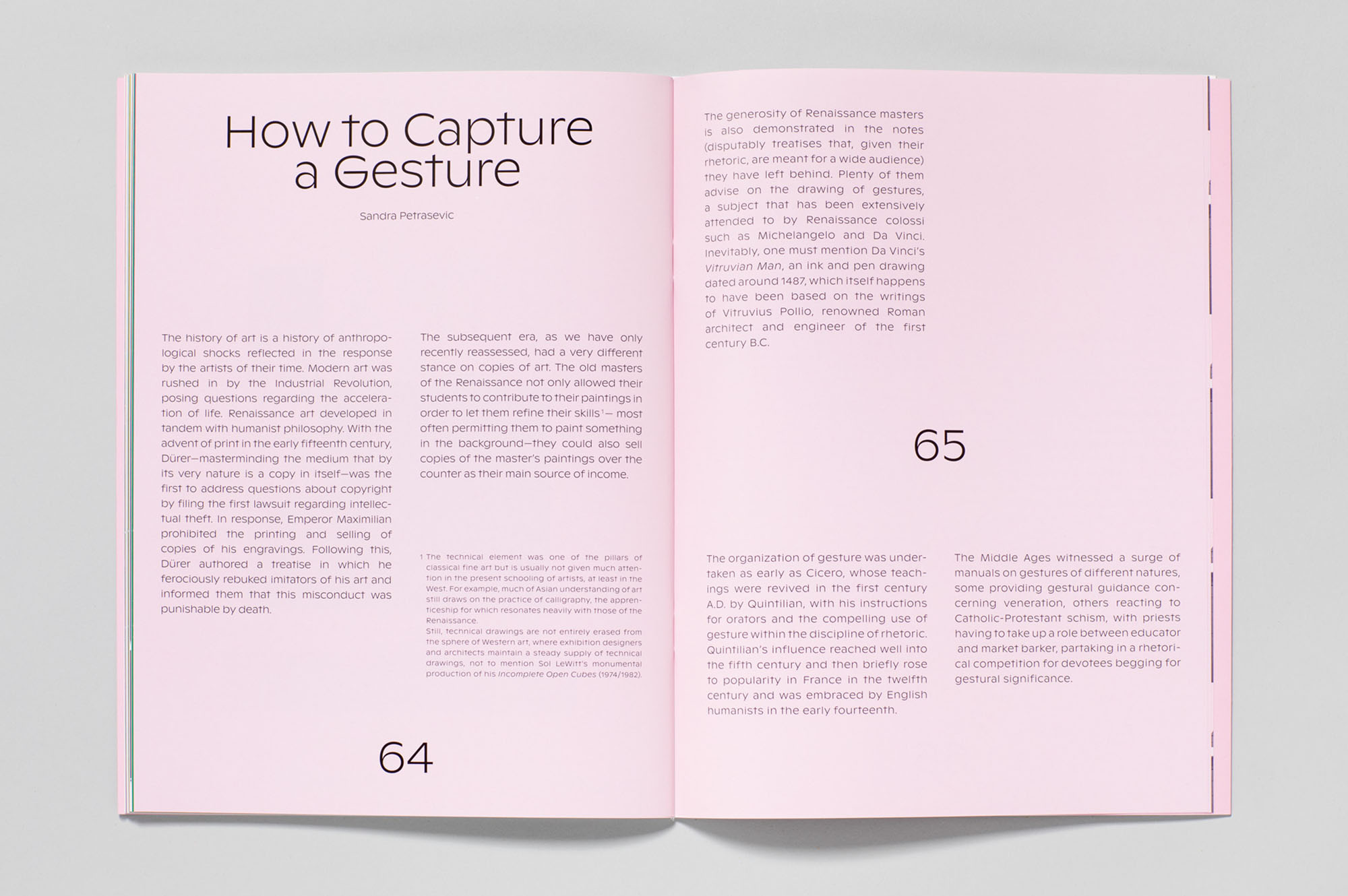 2019
Color Arrangements
Softcover, 70 pages, 26 x 19,5 cm, ills. in color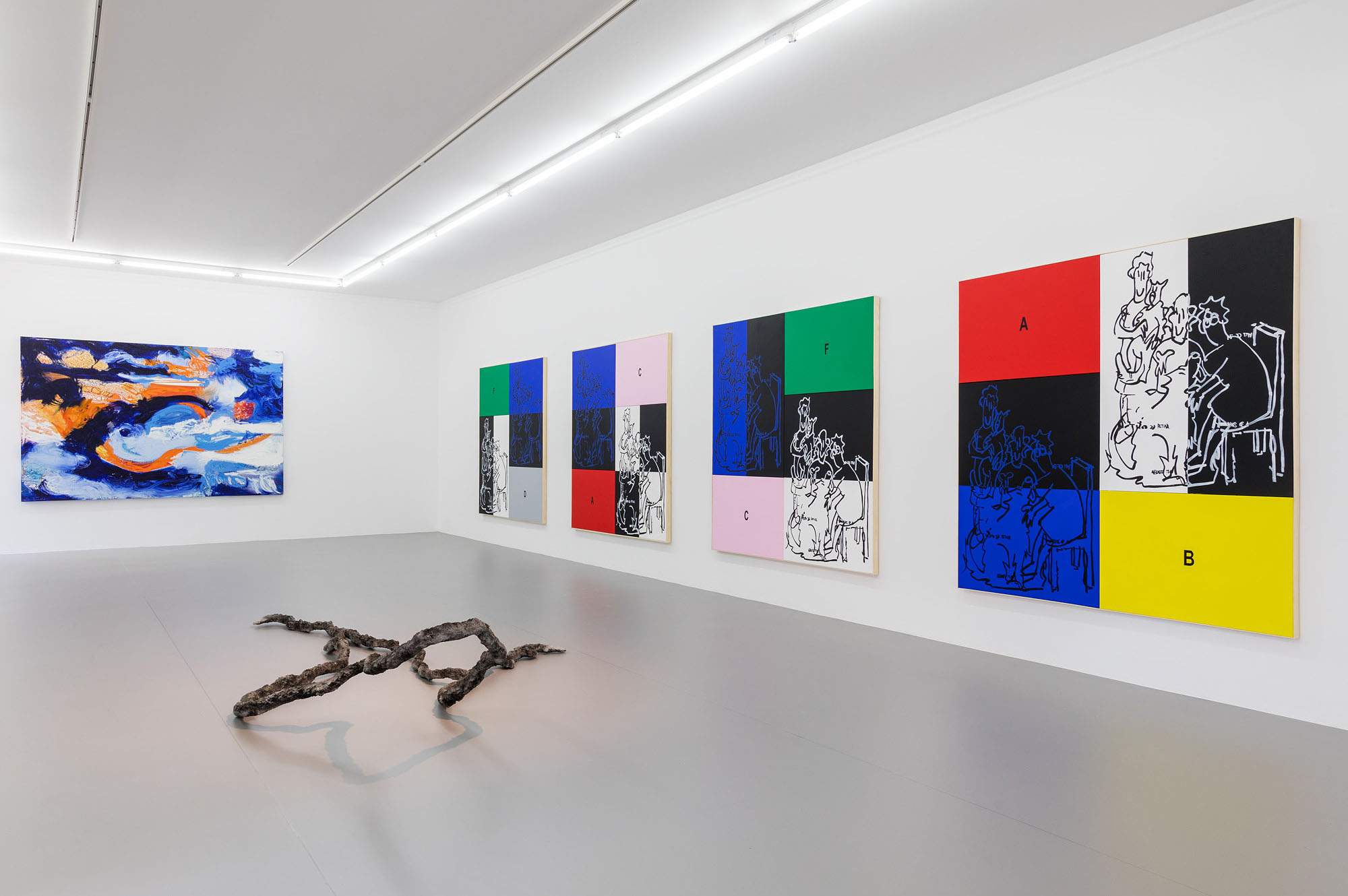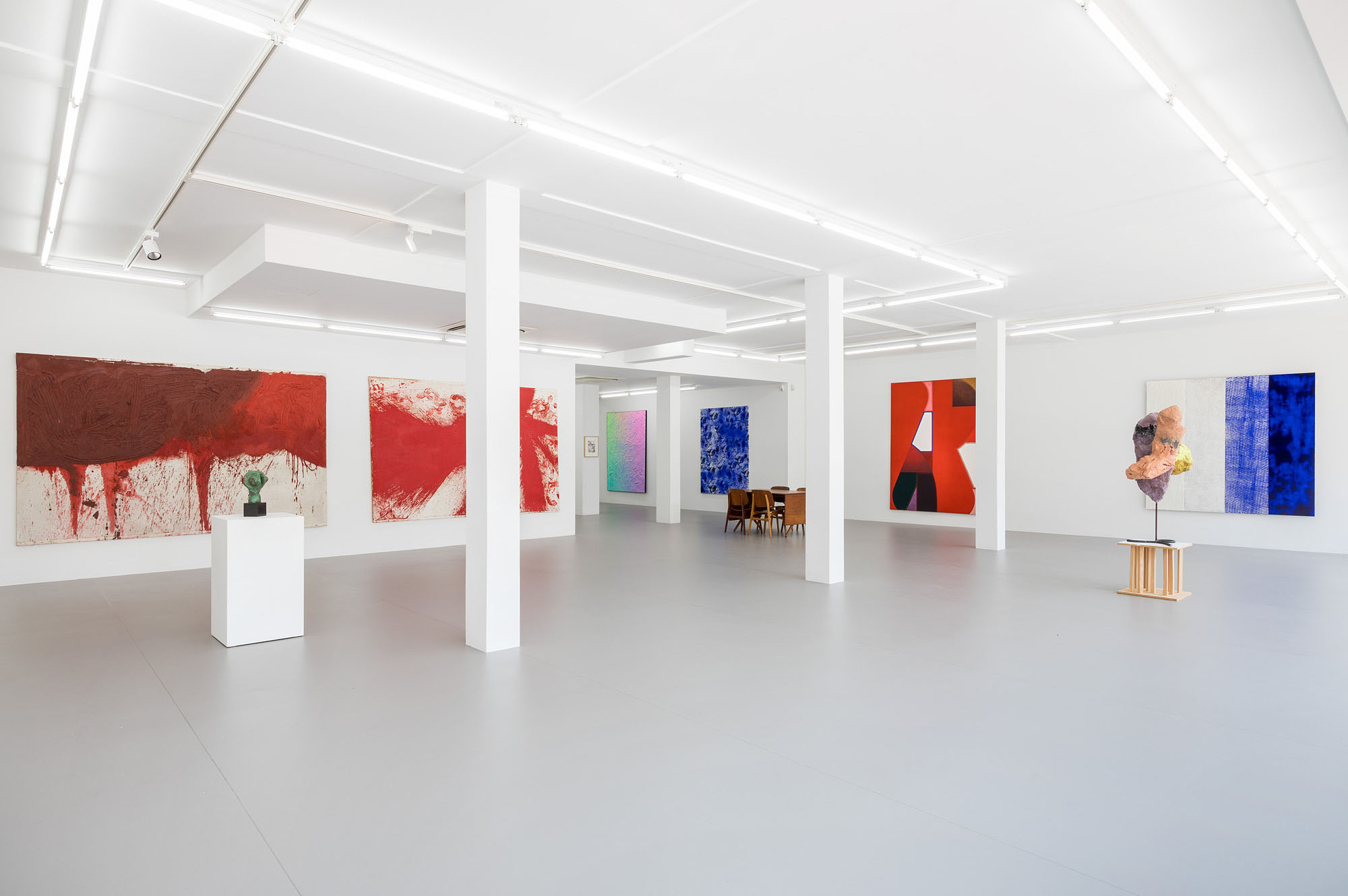 2019
TBD WWS
Location
Collectors Depot, Pörtschach (AT)
Date
27 July—02 September 2019
Artists
Franz West, Hermann Nitsch, Gregor Hildebrandt, Jiri Dokoupil, Donna Huanca, Svenja Deininger, Clemens Wolf, Angelika Loderer, Vincent Szarek, Koen Delaere, Peter Jellitsch, Michael Staniak, Markus Gadient, Henry Moore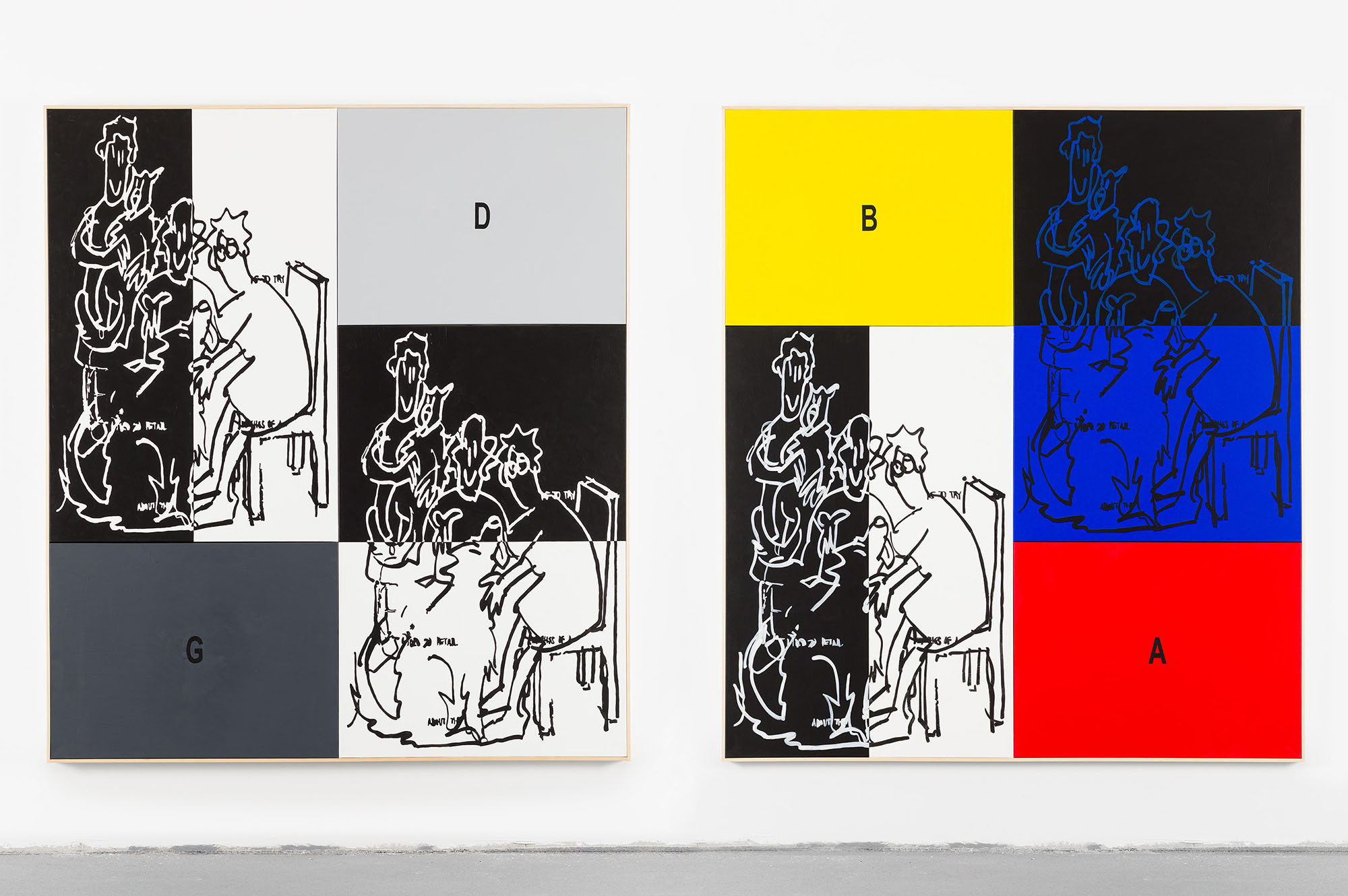 2019
Color Arrangements
All photos: © Leonhard Hilzensauer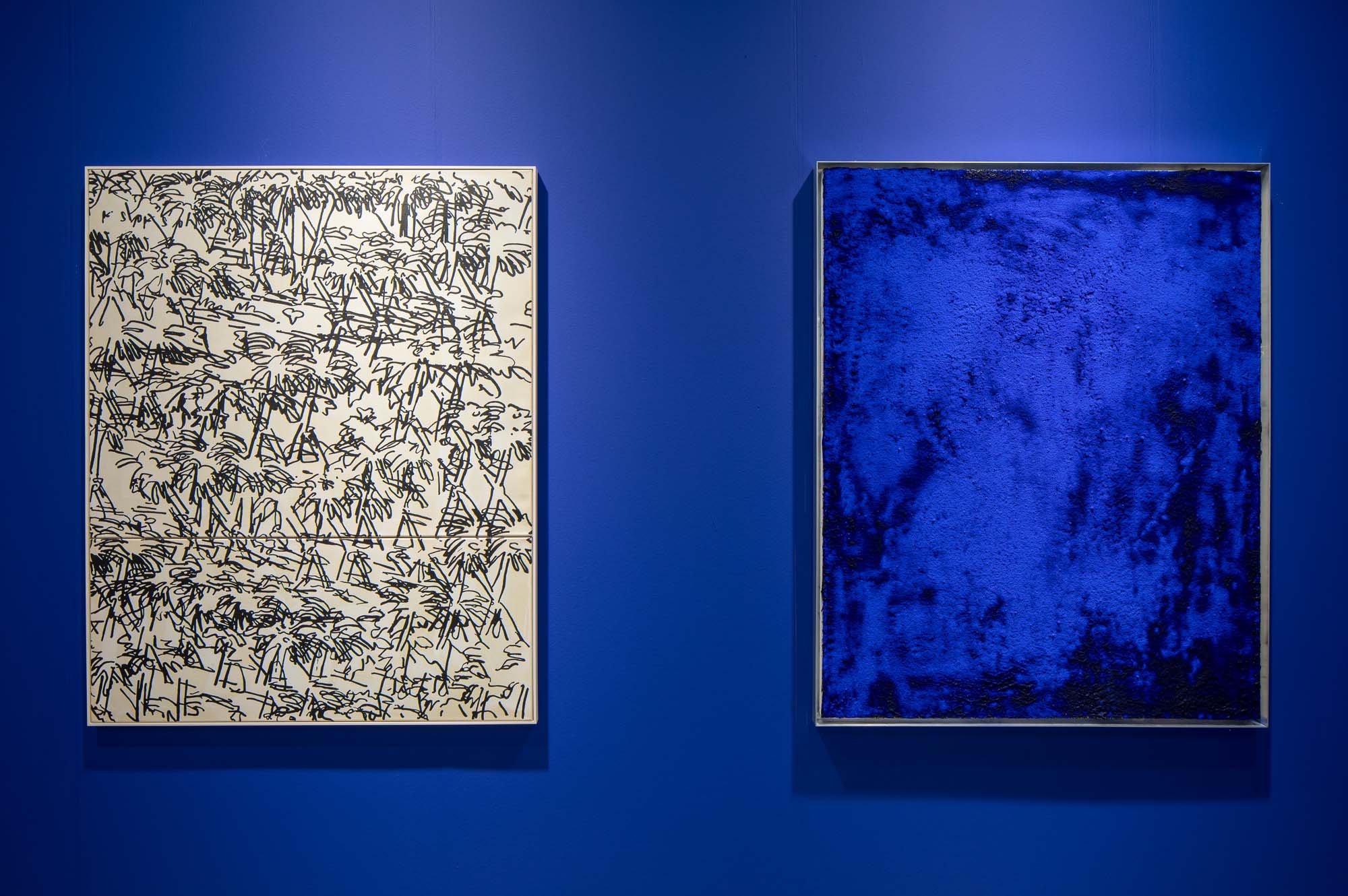 2018
Viennacontemporary (Peter Jellitsch, Clemens Wolf)
Location
Viennacontemporary, Marx Halle, Vienna (AT)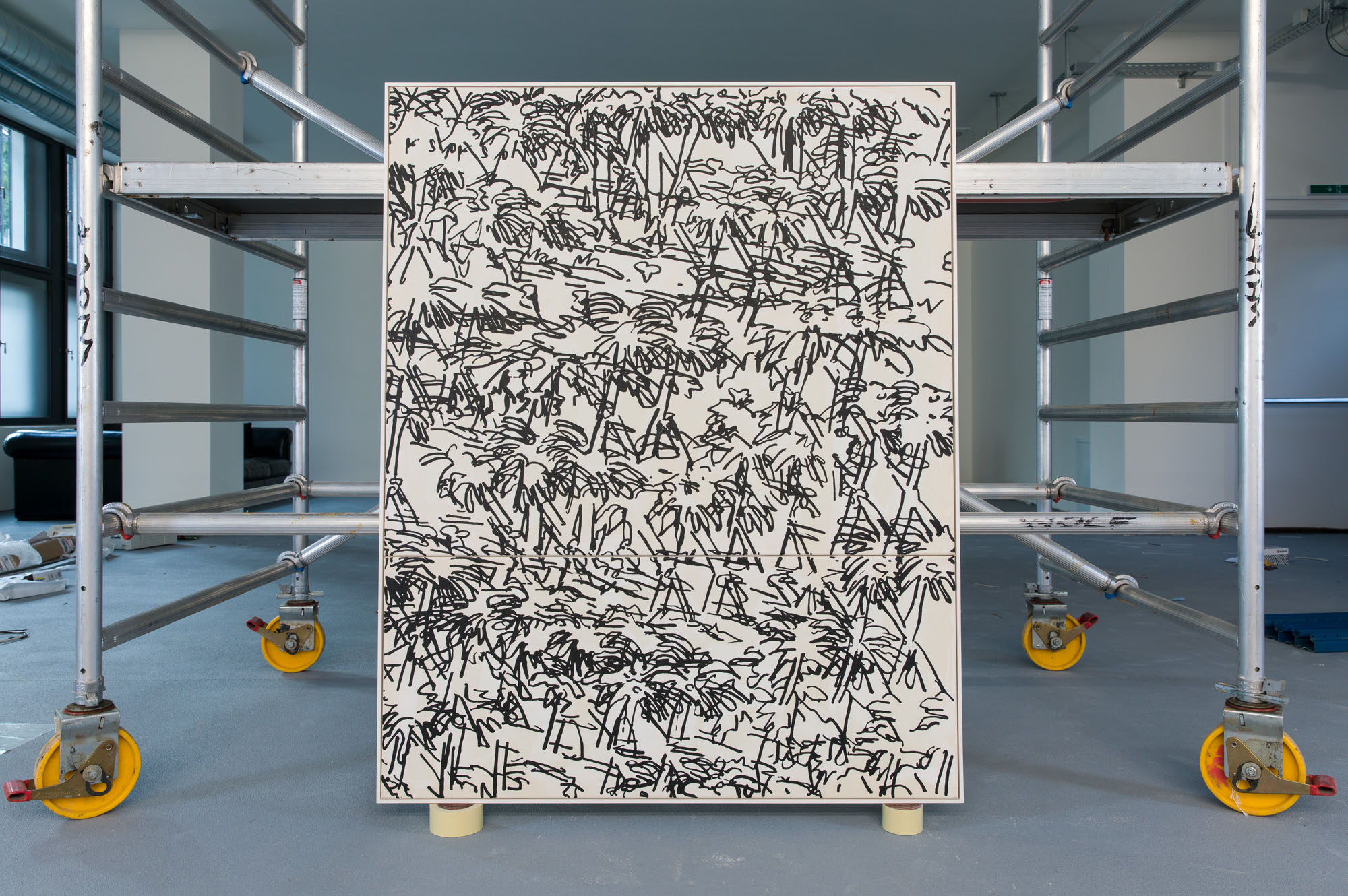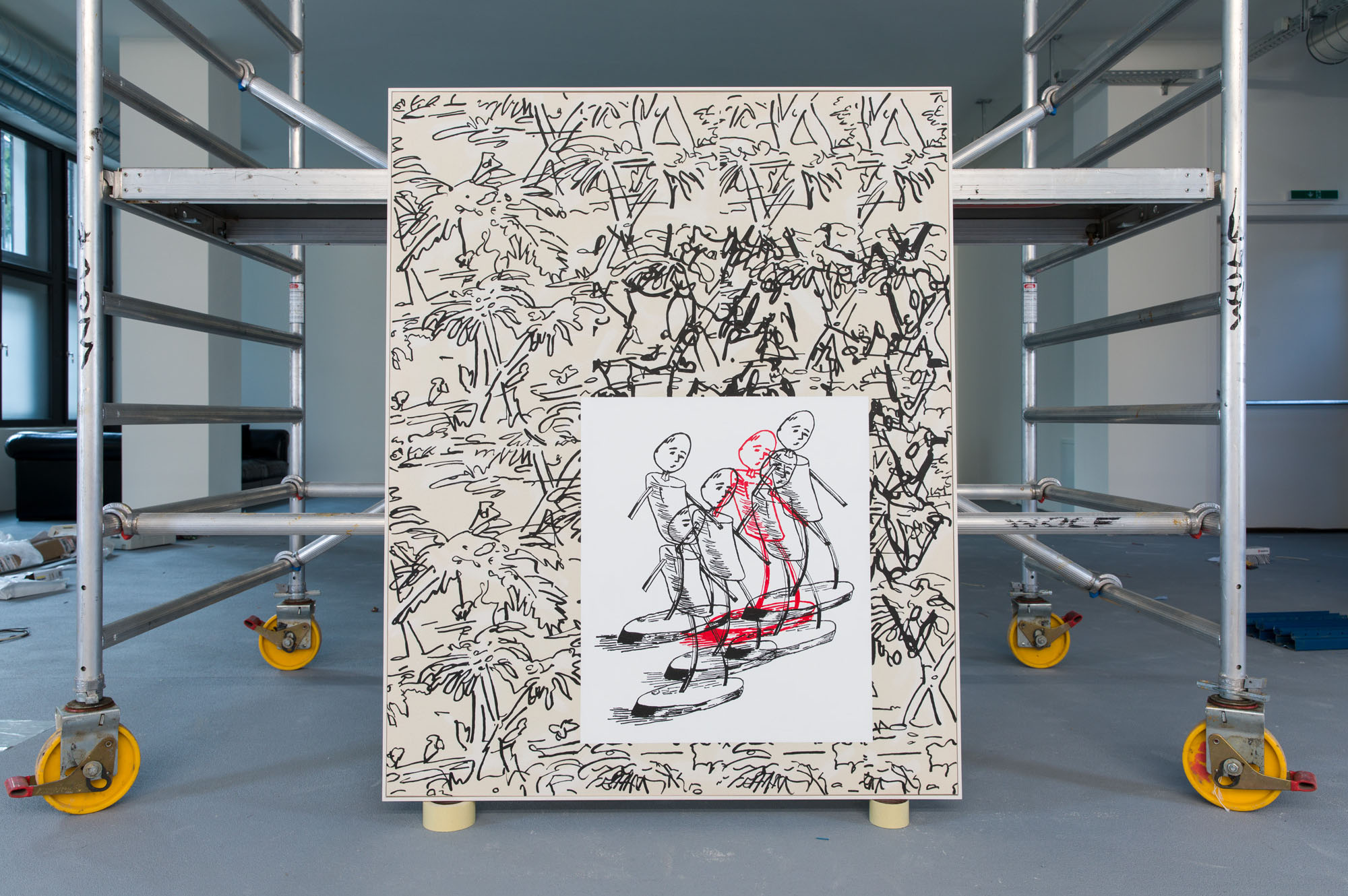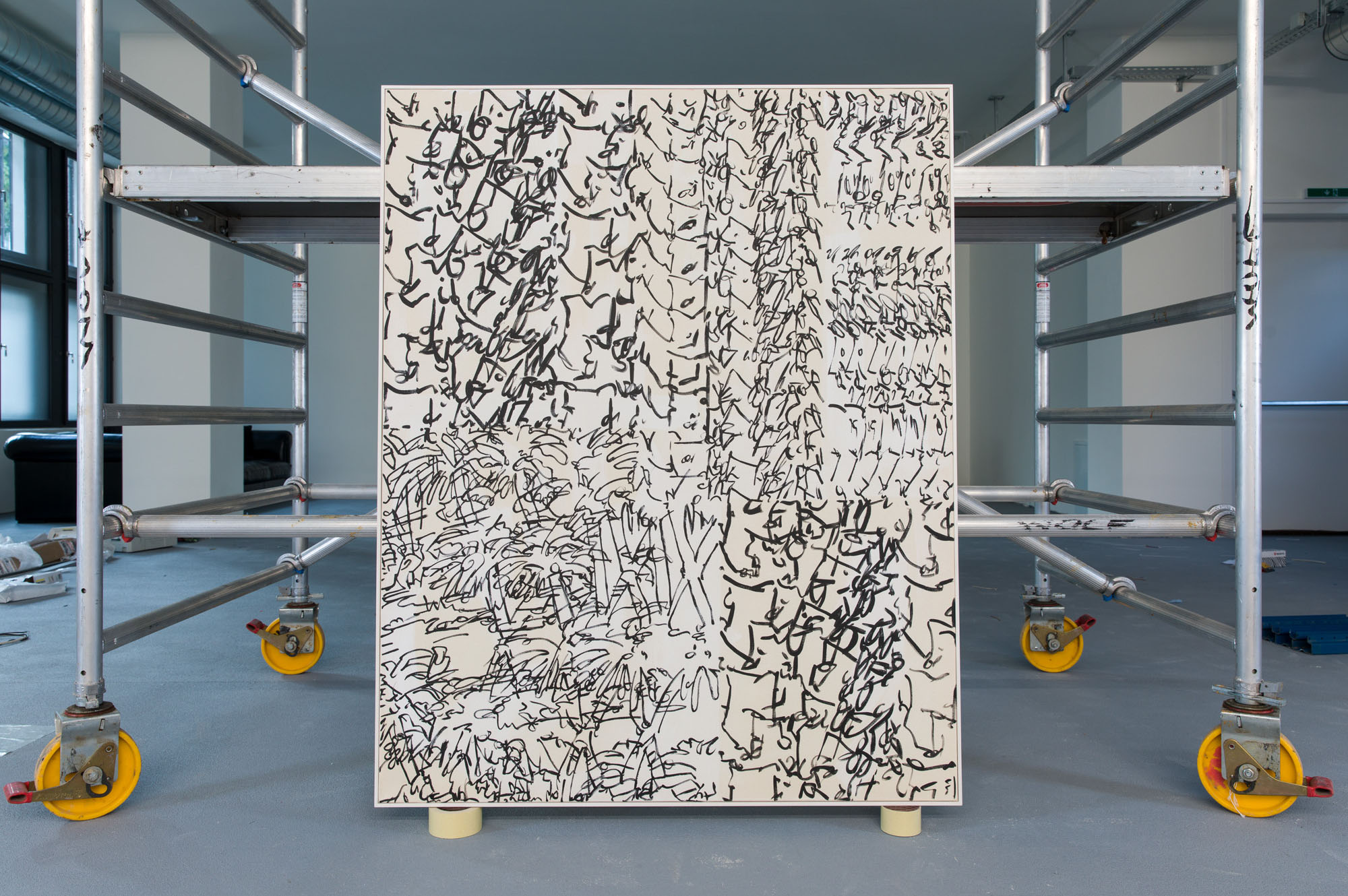 2018
Talk To Me
All photos: © Leonhard Hilzensauer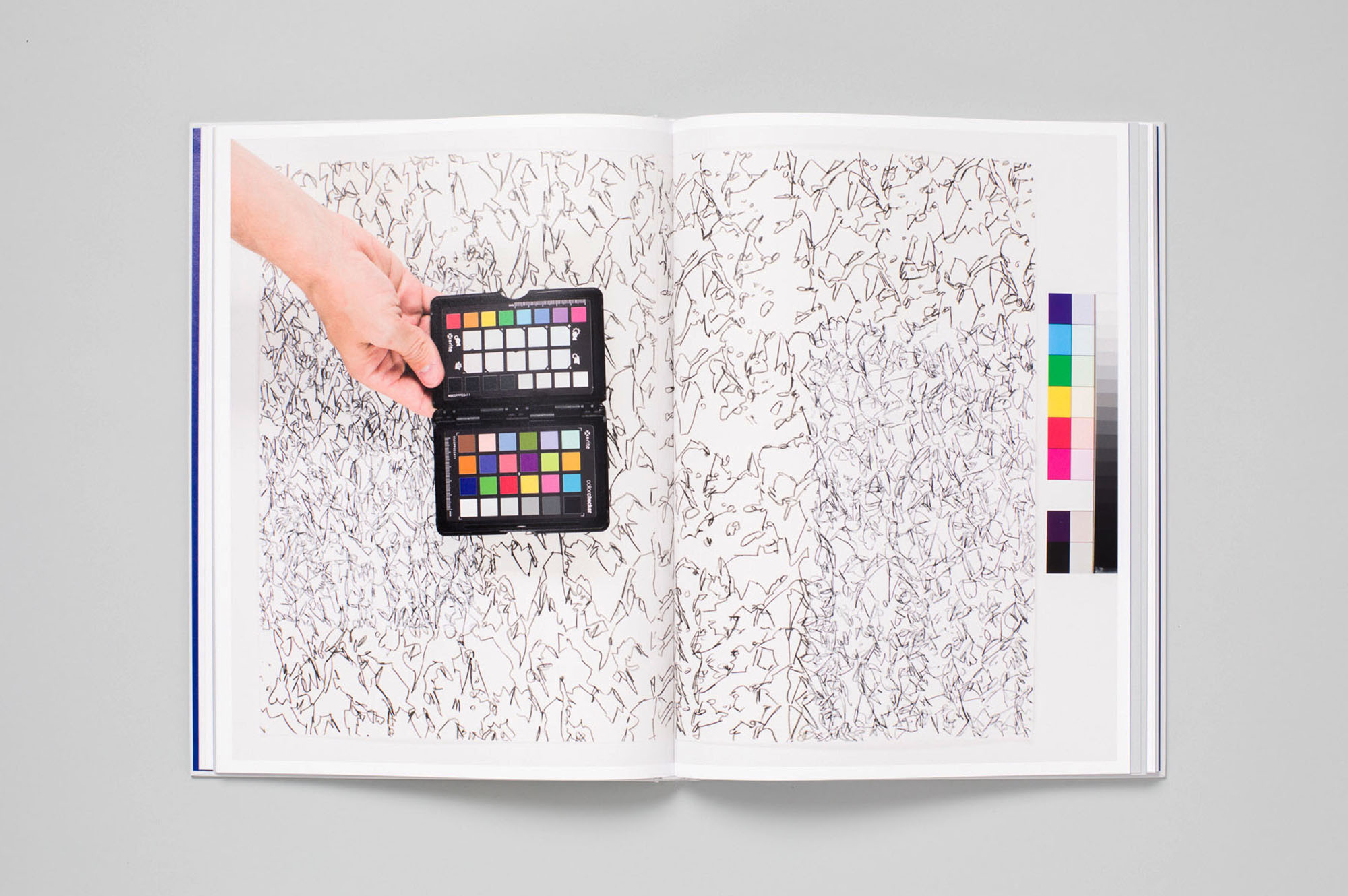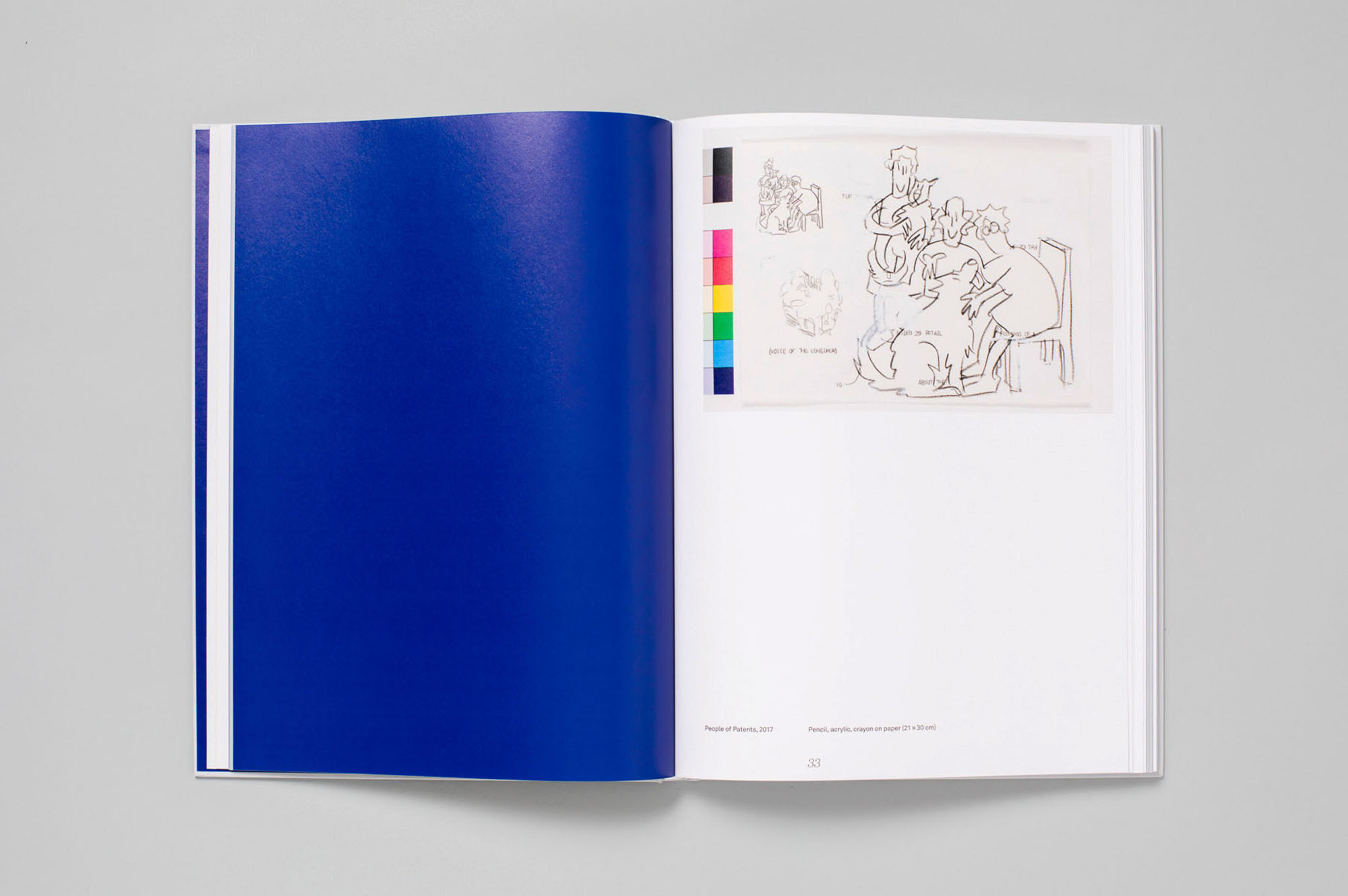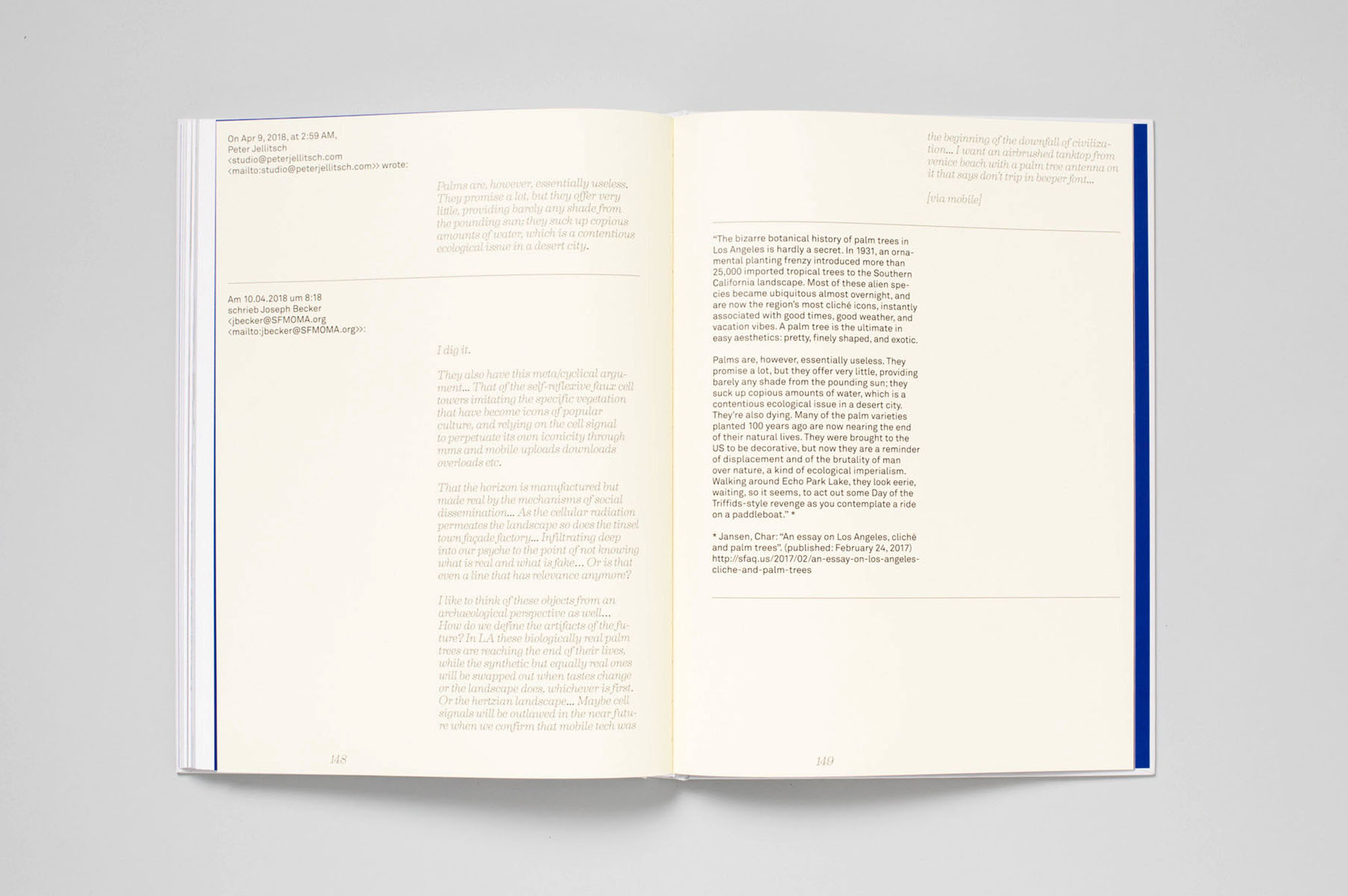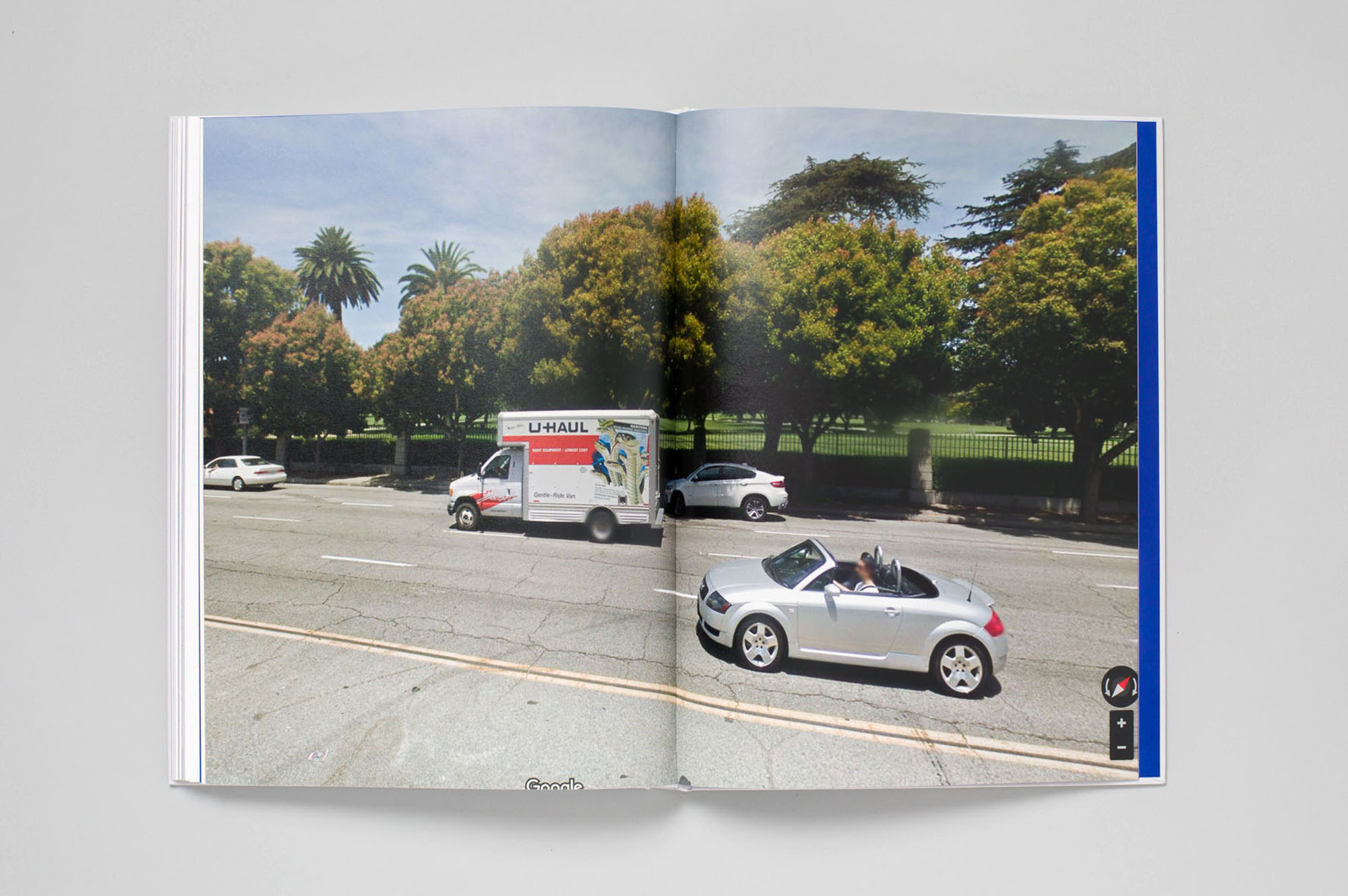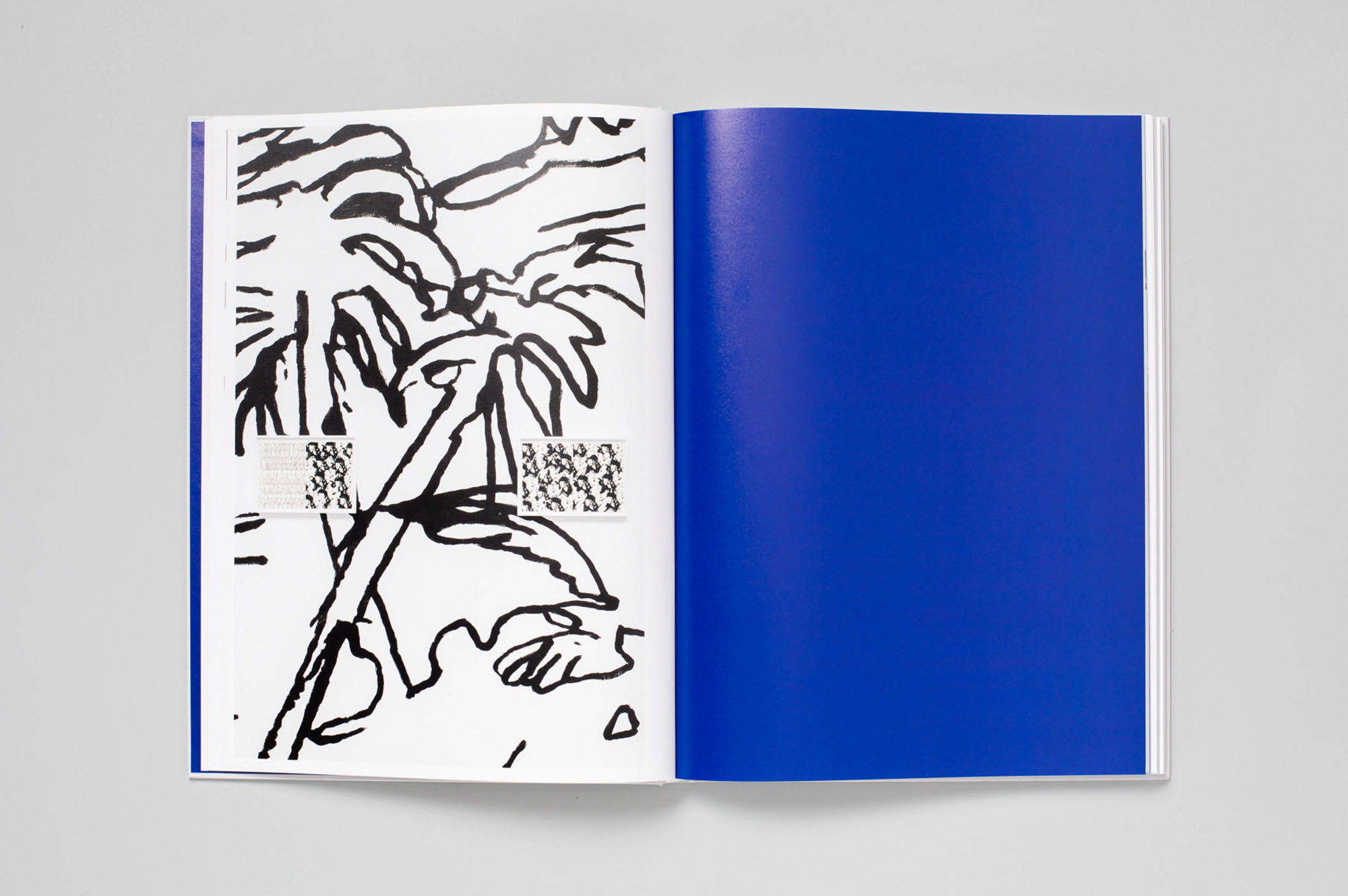 2018
Automatic Writing & Everything Else
Hardcover, 160 pages, 31 x 24 cm, ills. in color
Editor
Birgit Lauda Art Foundation
Text
Joseph Becker, Sandra Petrasevic
2018
Home by the Sea
Location
Collectors Depot, Pörtschach (AT)
Artists
Hanakam & Schuller, Peter Jellitsch, Angelika Loderer, Clemens Wolf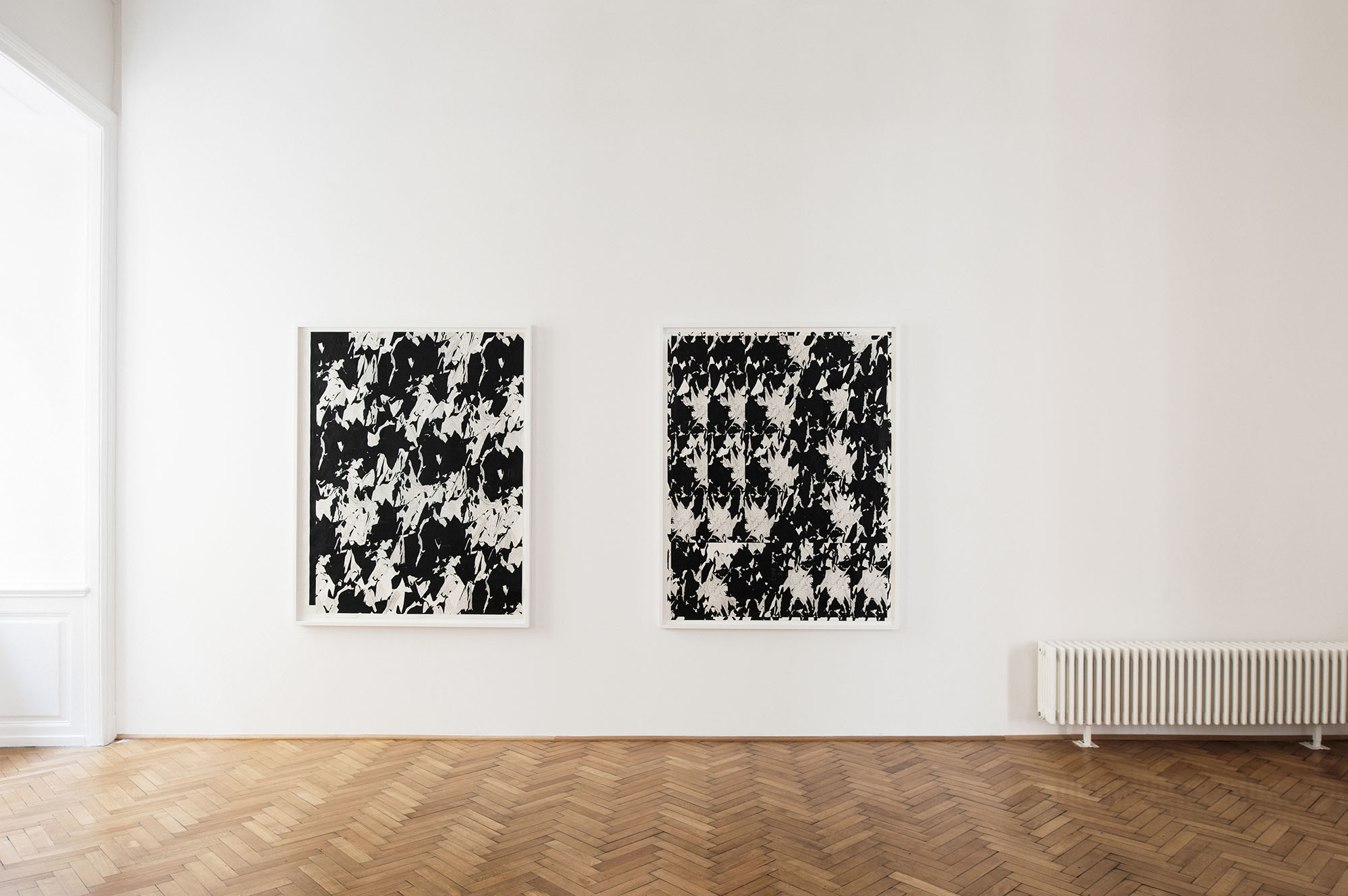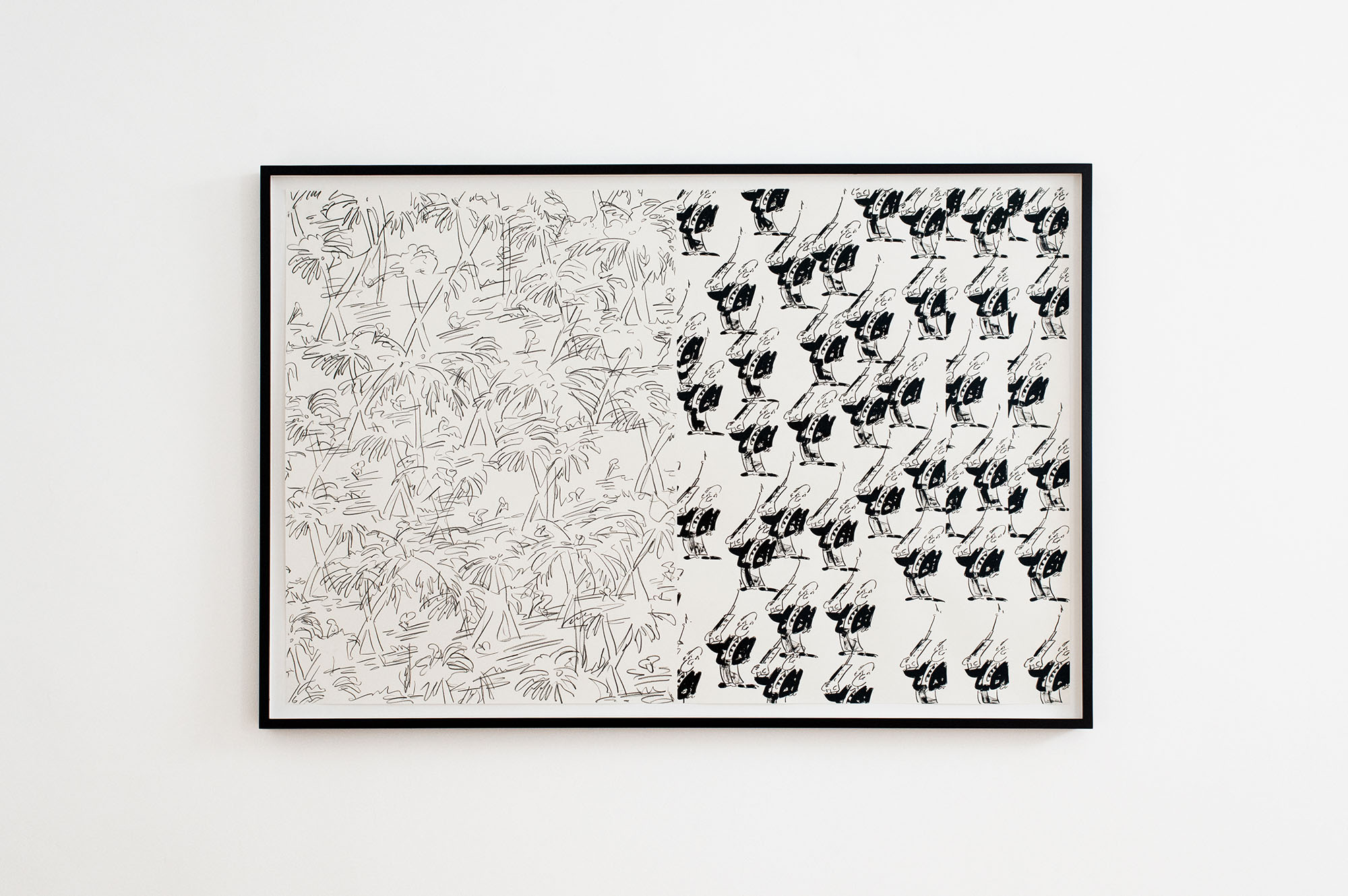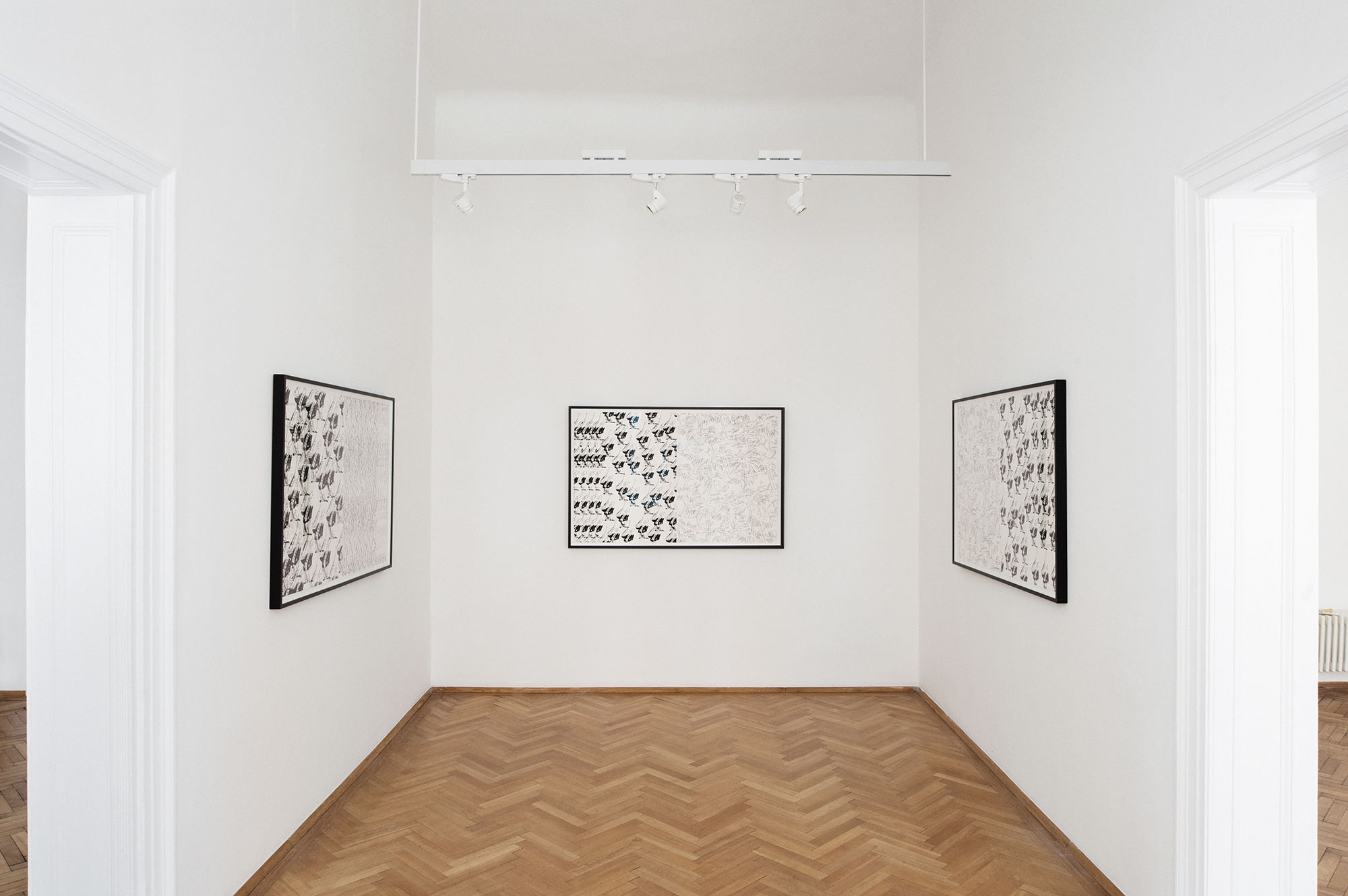 2018
Jetzt Für Immer
Location
Birgit Lauda Art Foundation, Vienna (AT)
Artists
Peter Jellitsch & Rade Petrasevic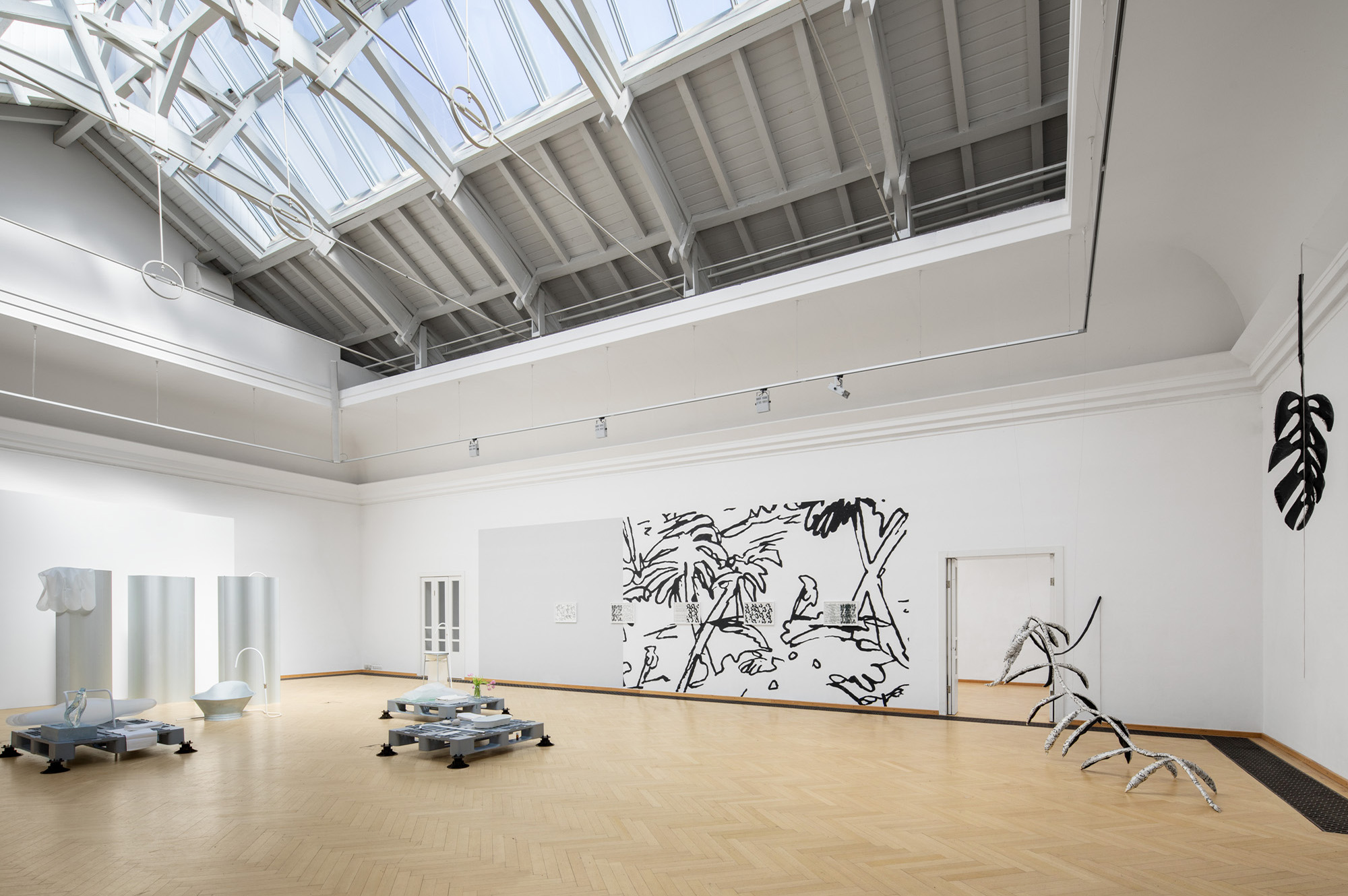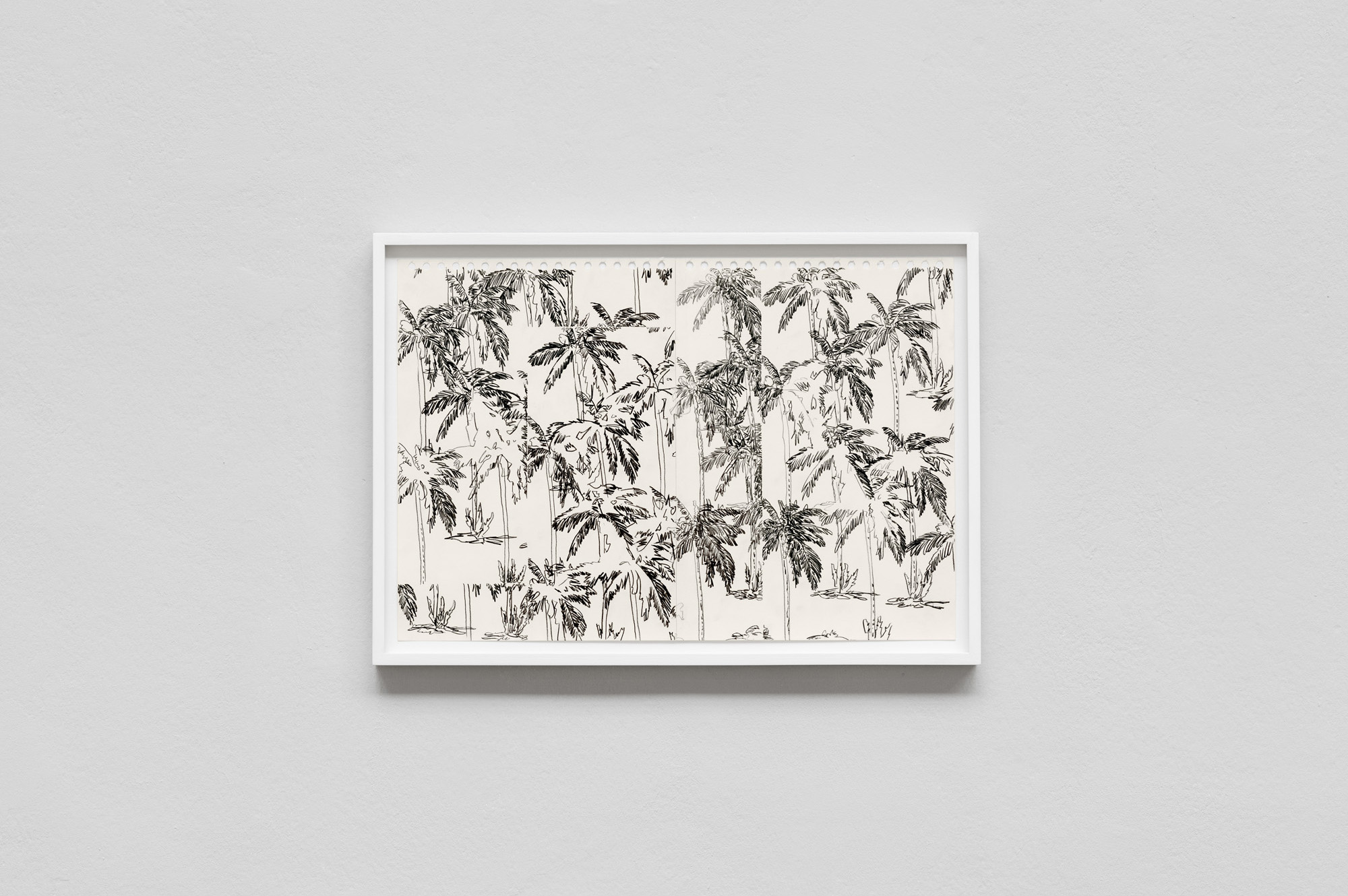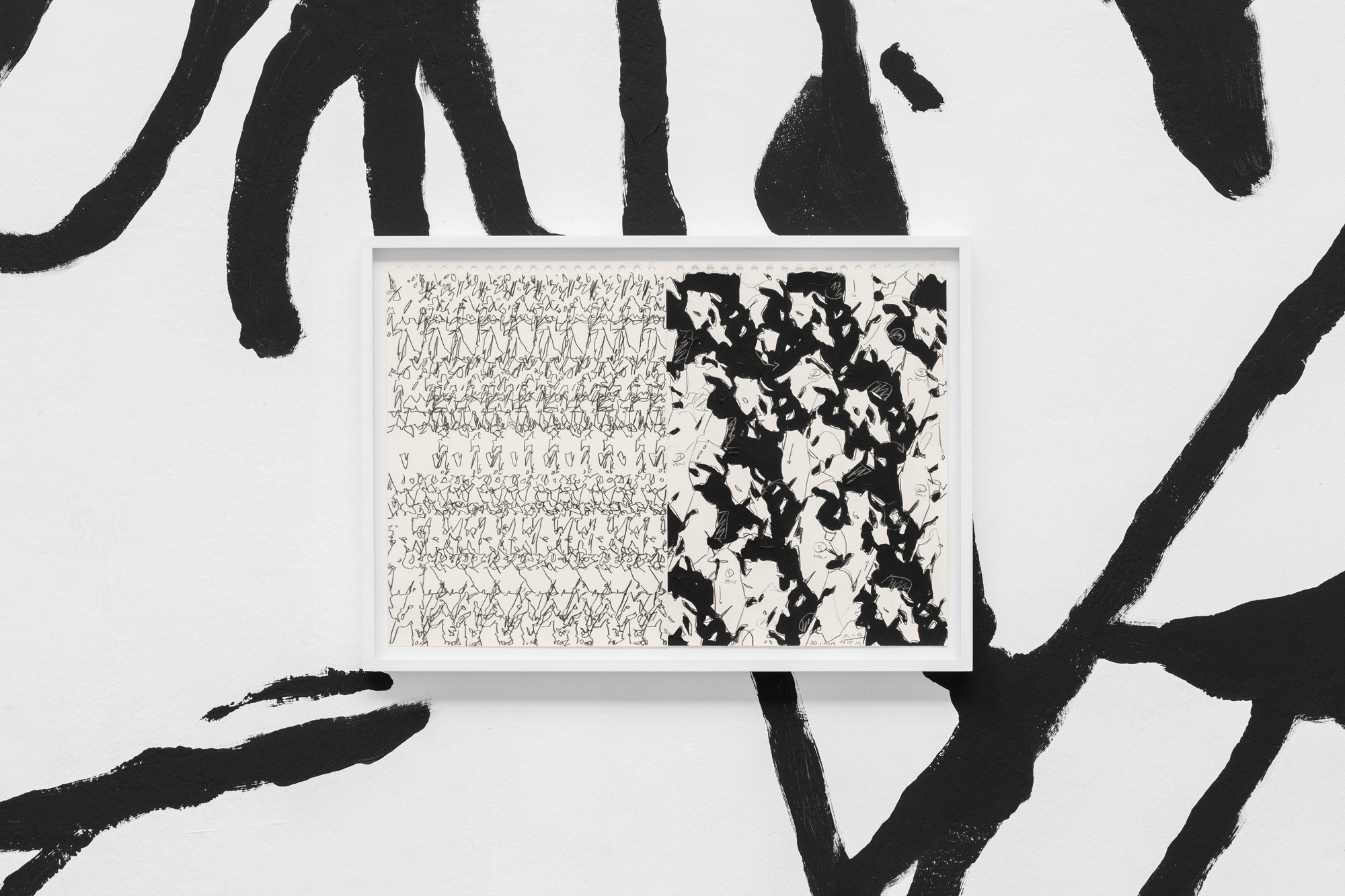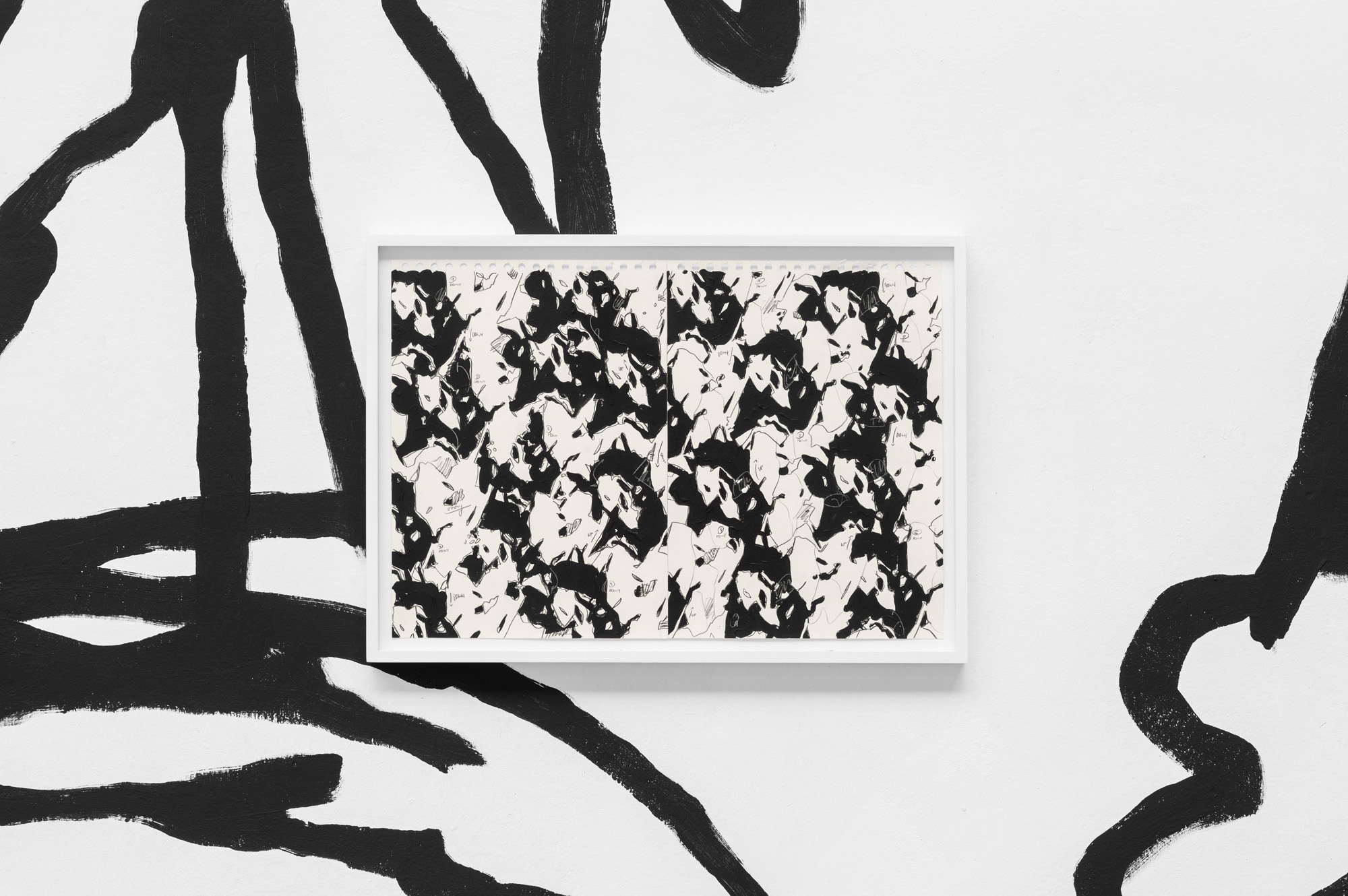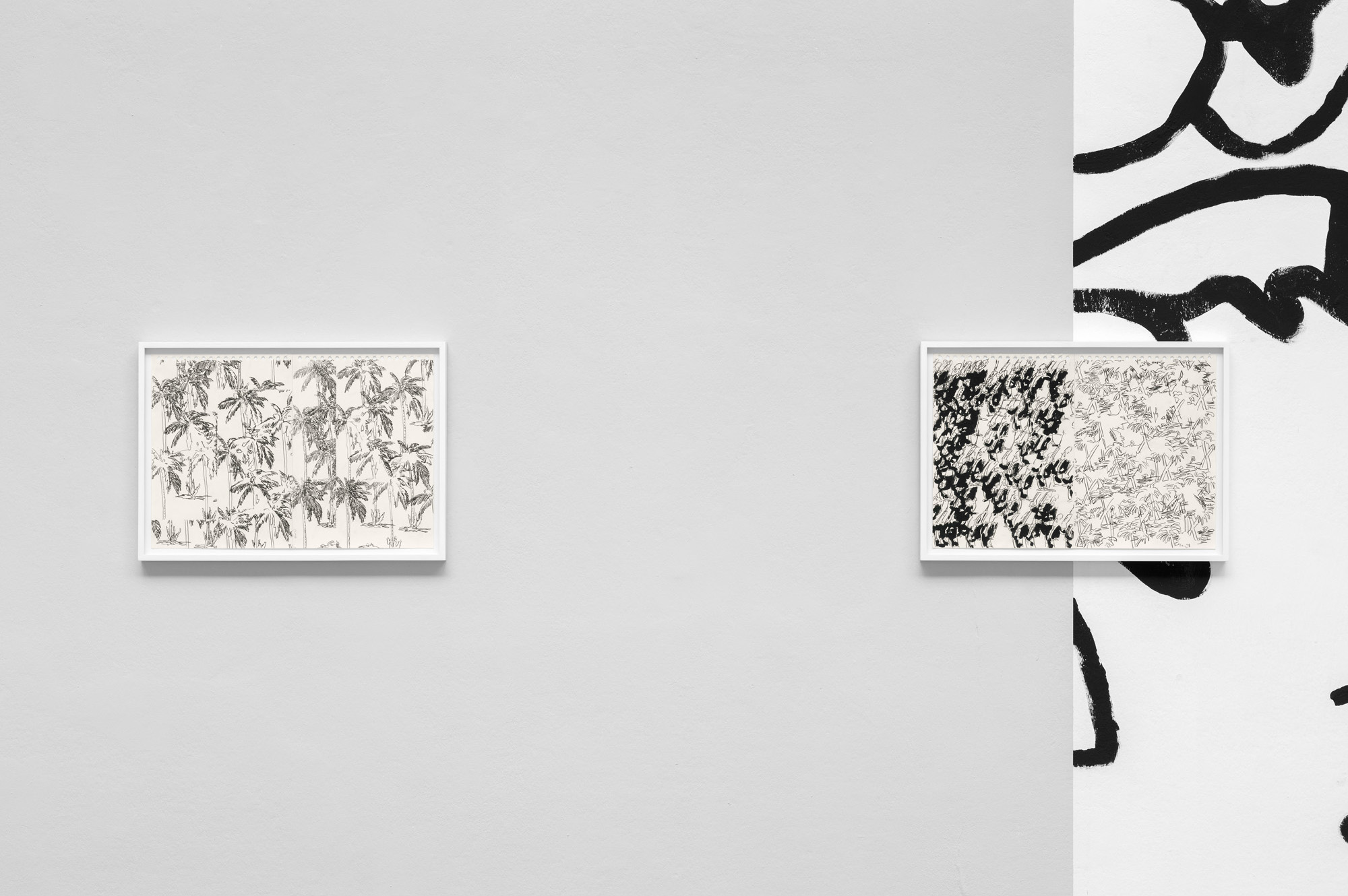 2018
Filter Bubble
Location
Kunstverein Kärnten, Klagenfurt (AT)
Artists
Eva Funk, Lukas Maria Kaufmann, Peter Jellitsch, Alexander Martinz, Anna Paul, Céline Struger, zweintopf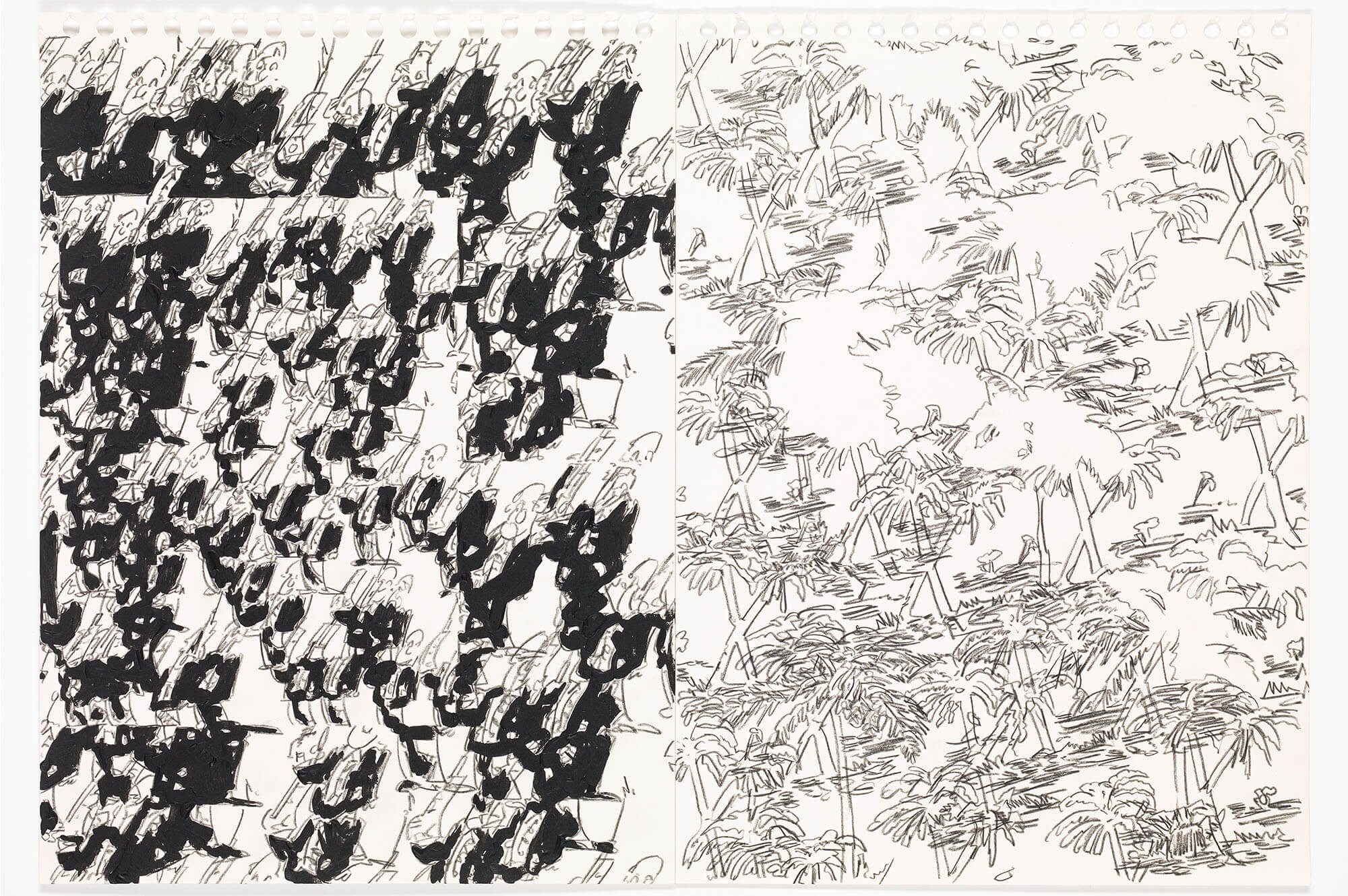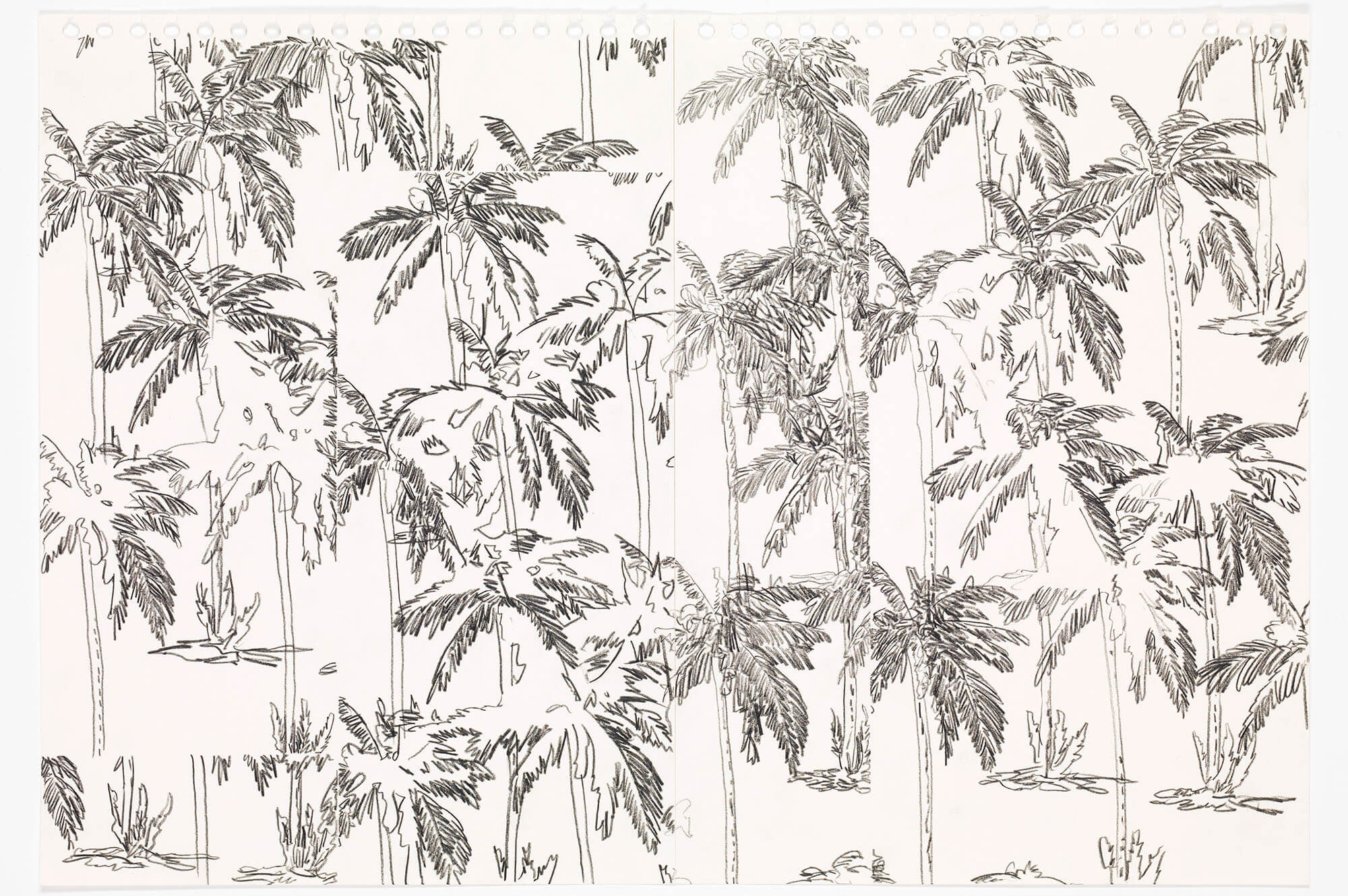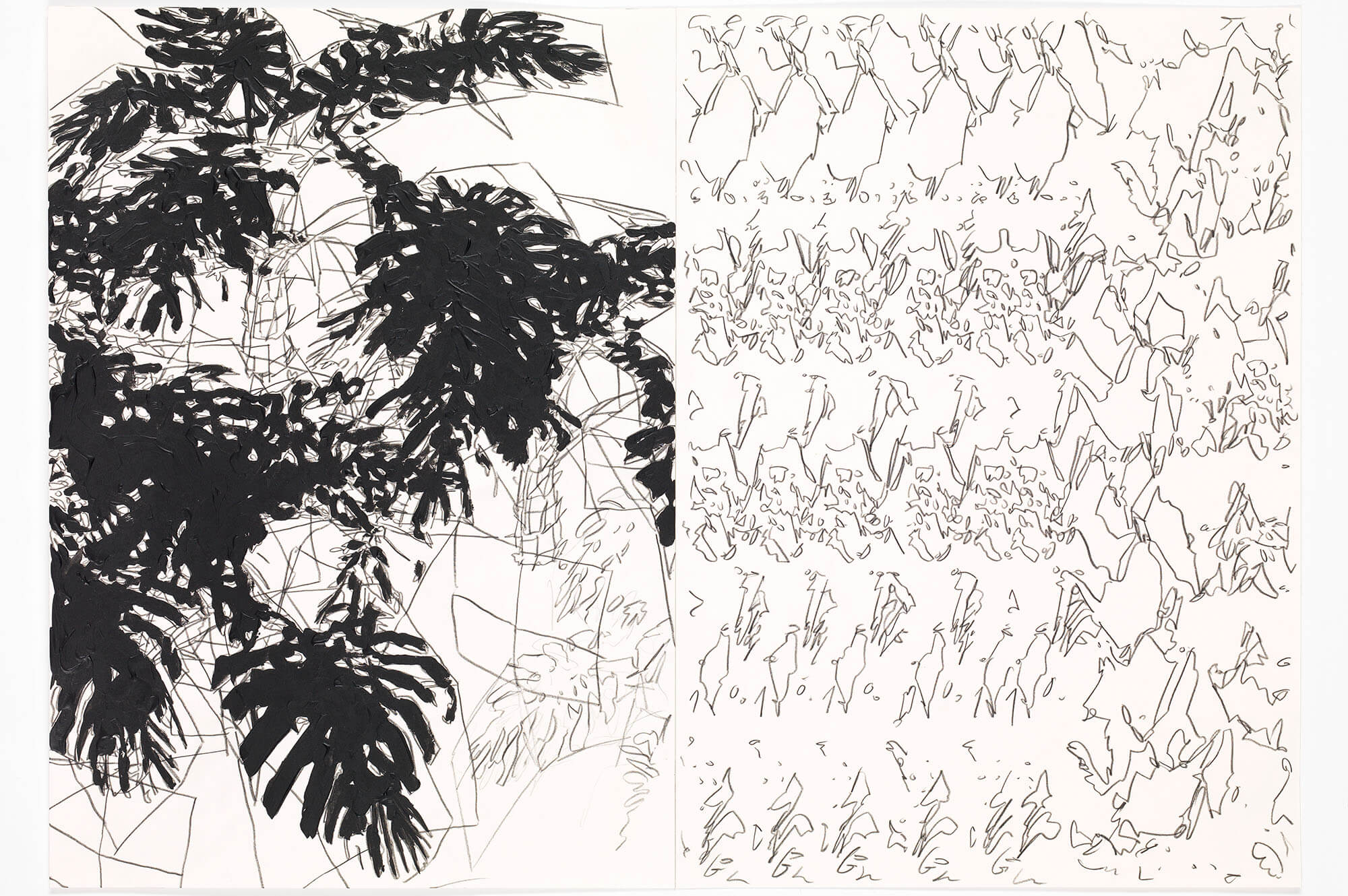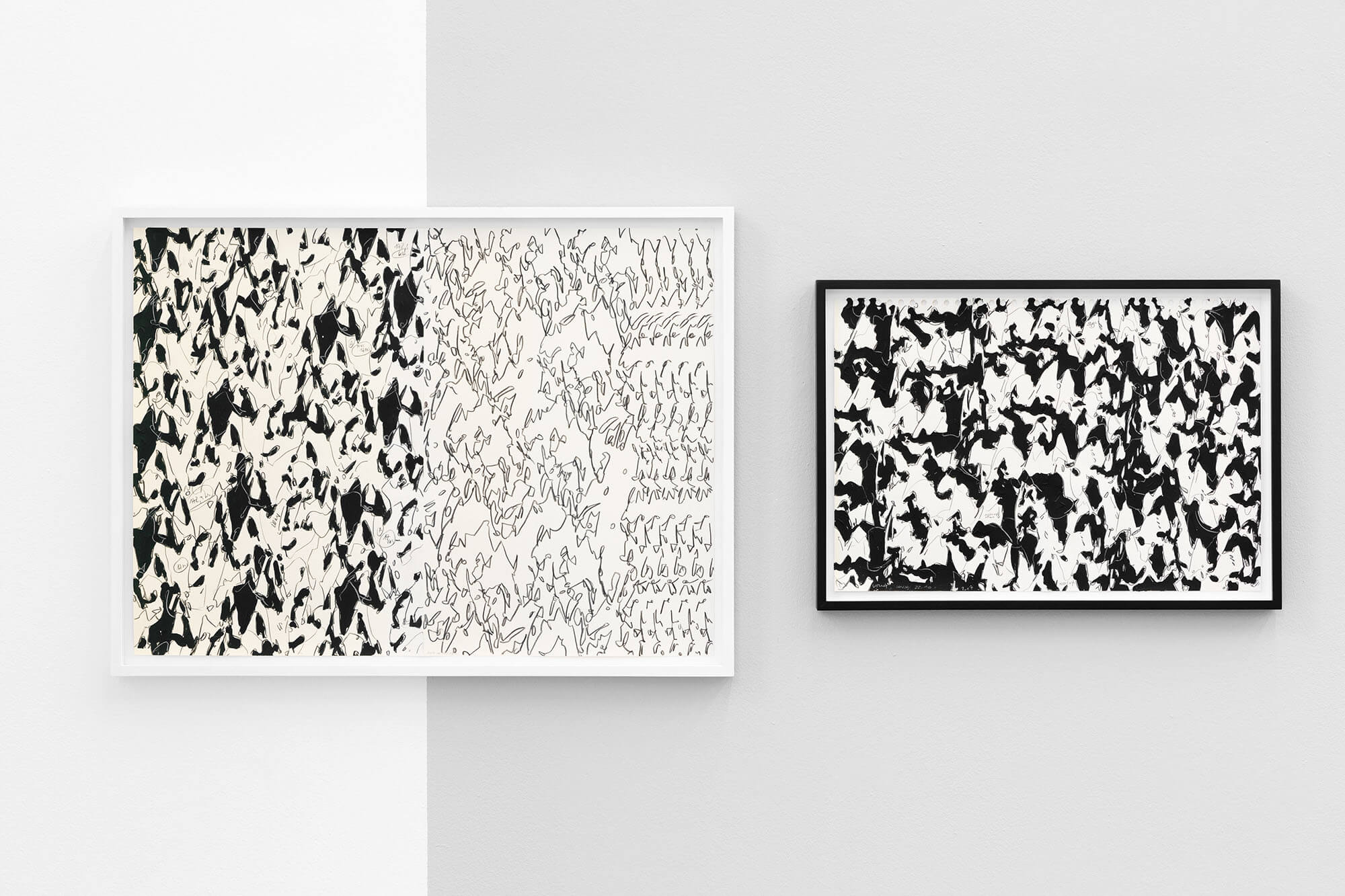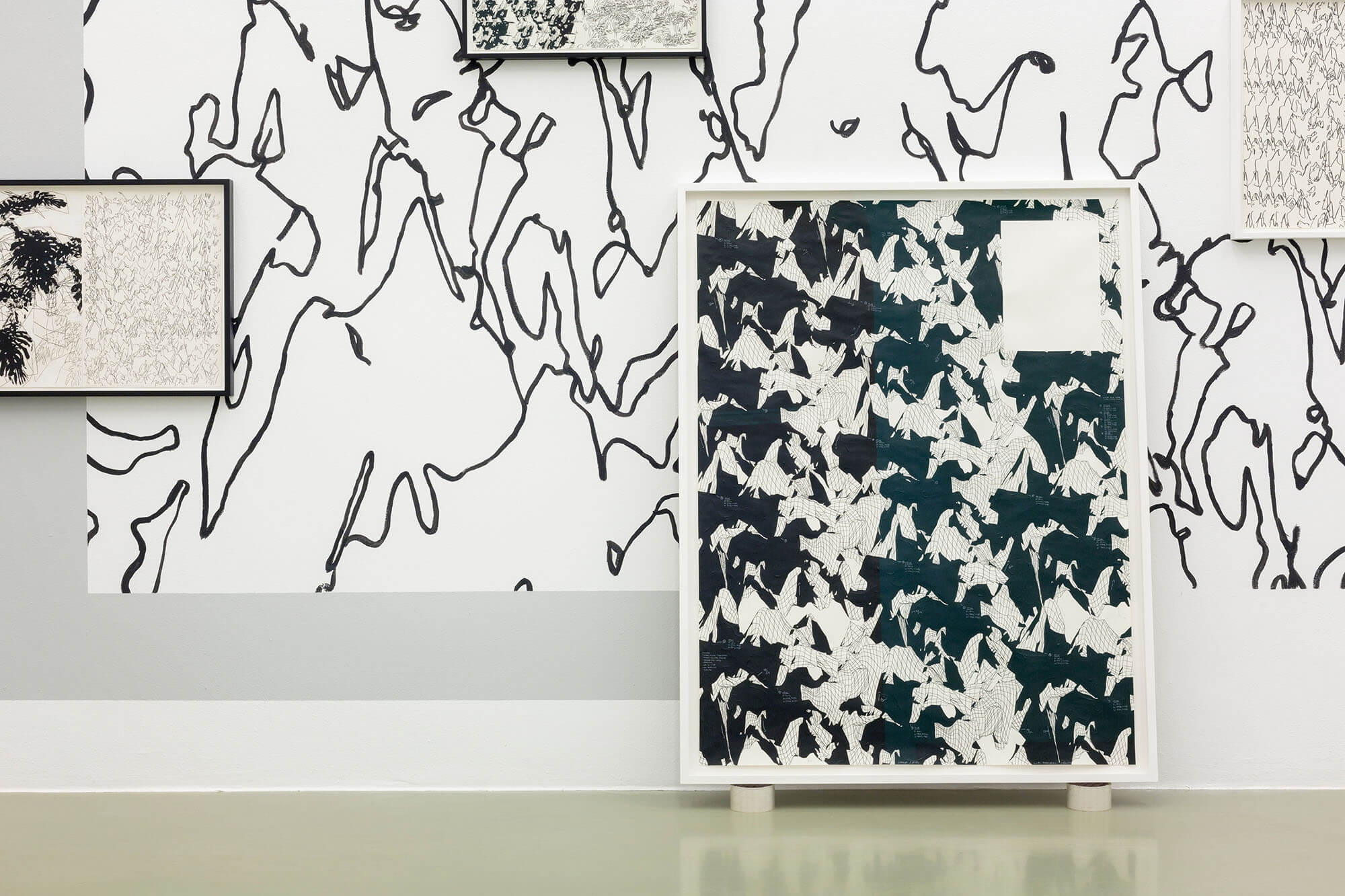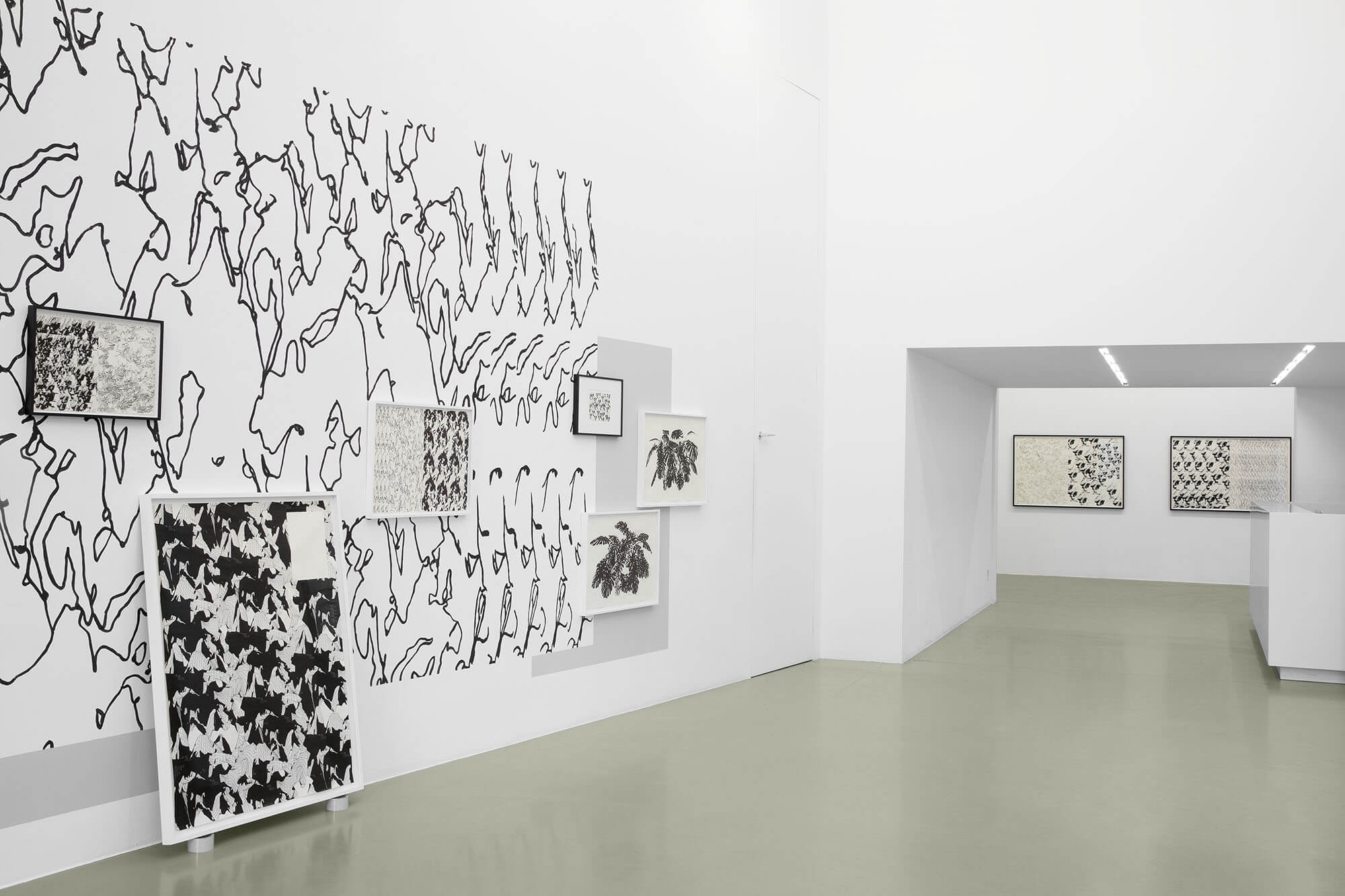 2017
Patents and Palm Trees
Location
Galerie Crone, Vienna (AT)
Date
22 November—13 January 2018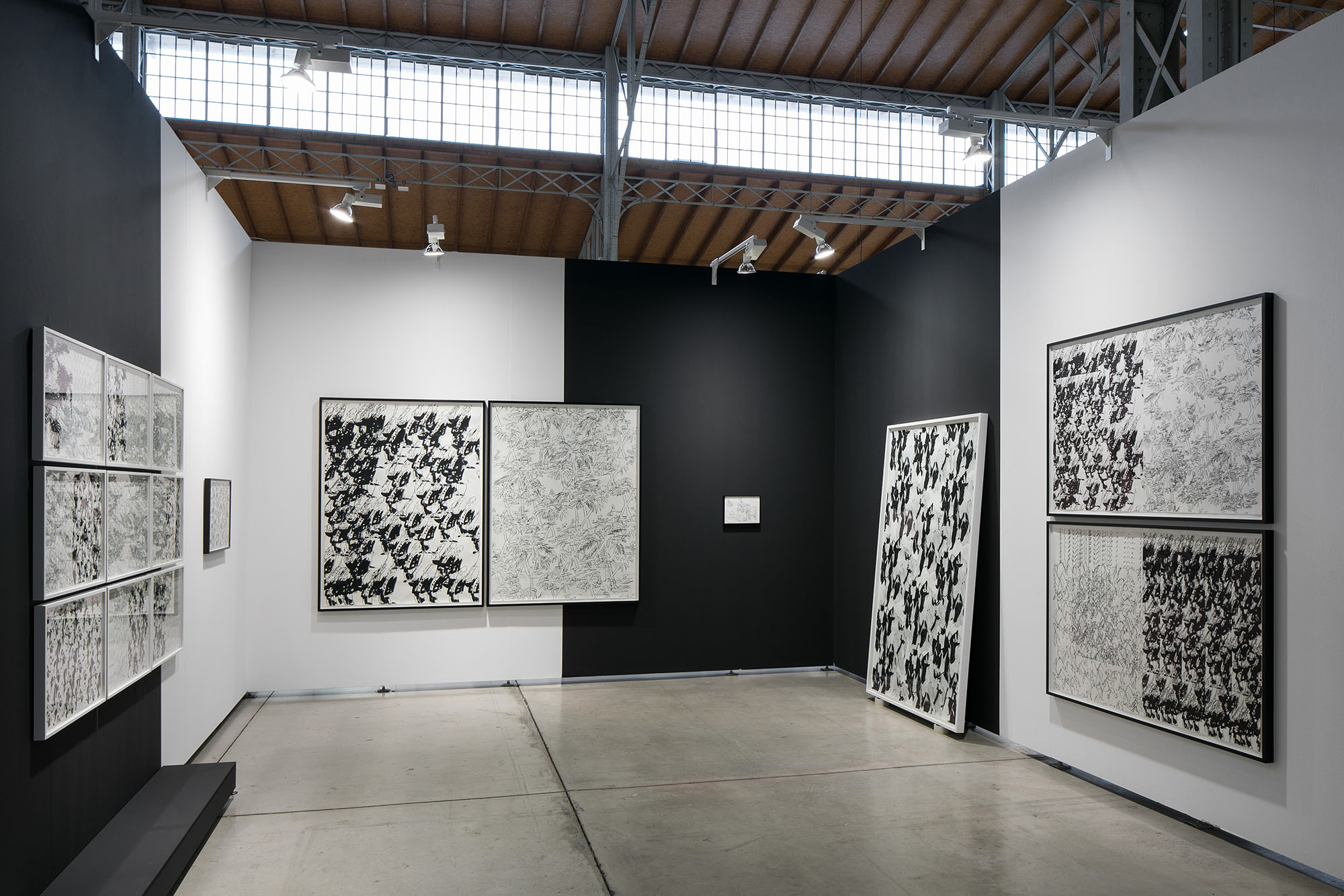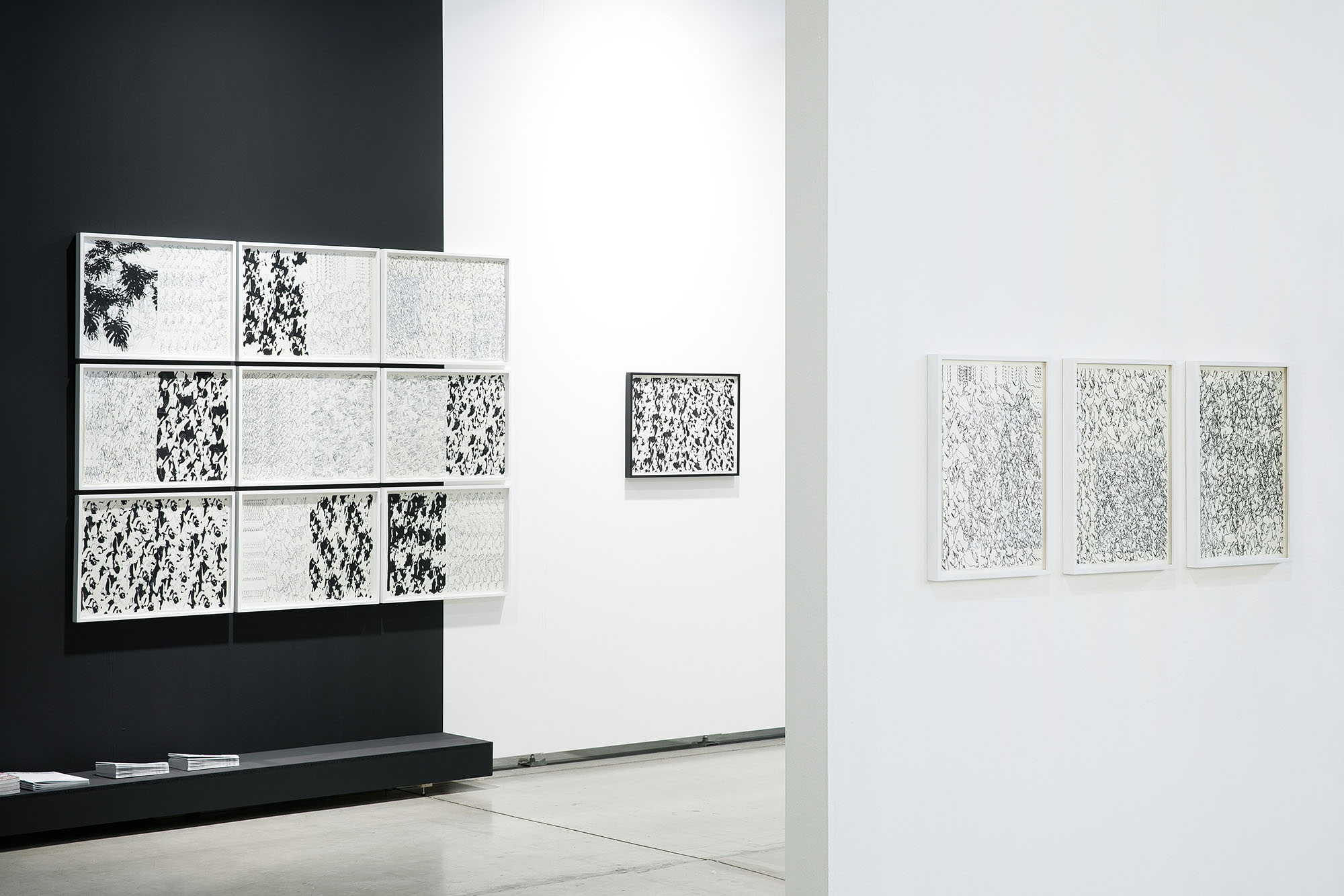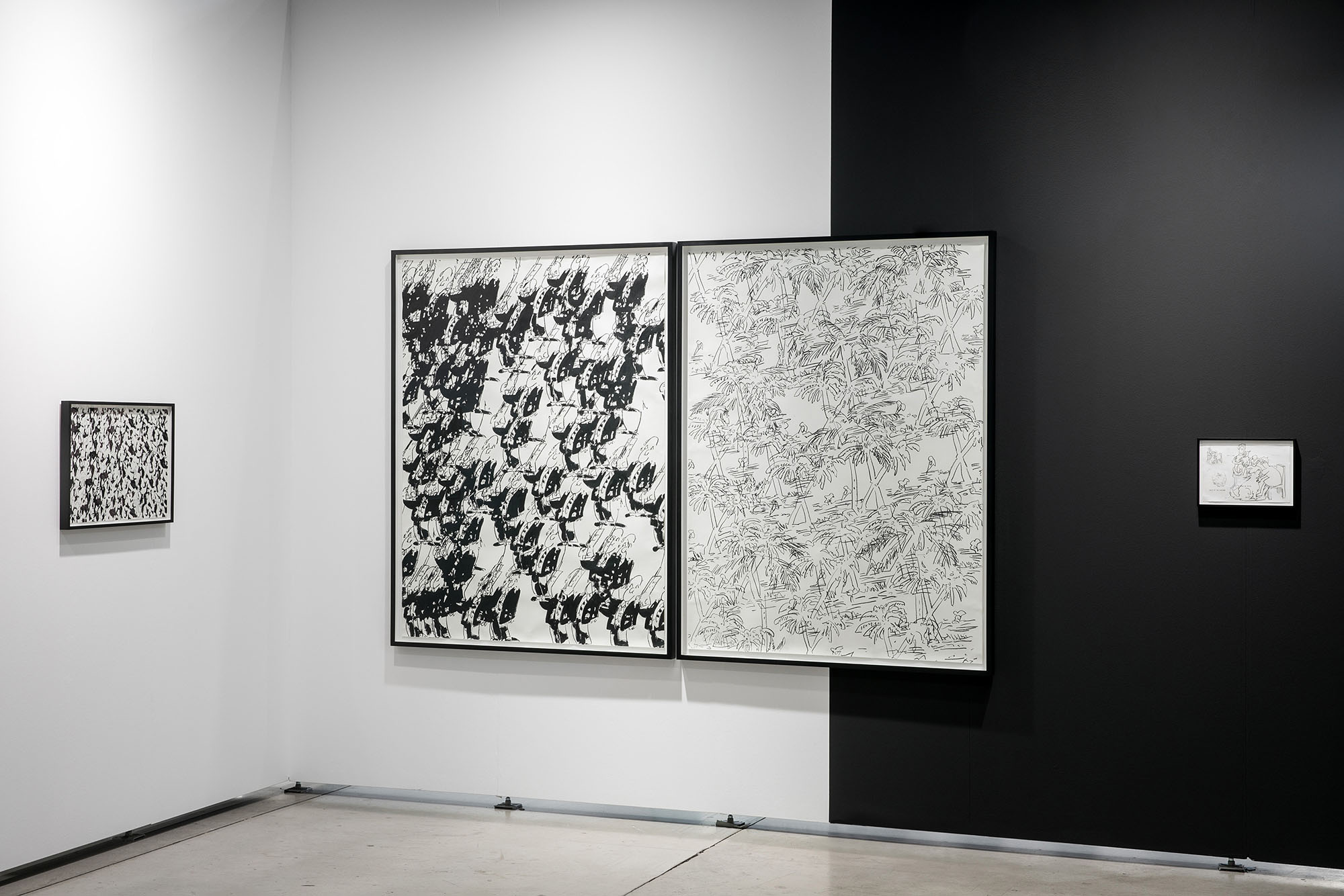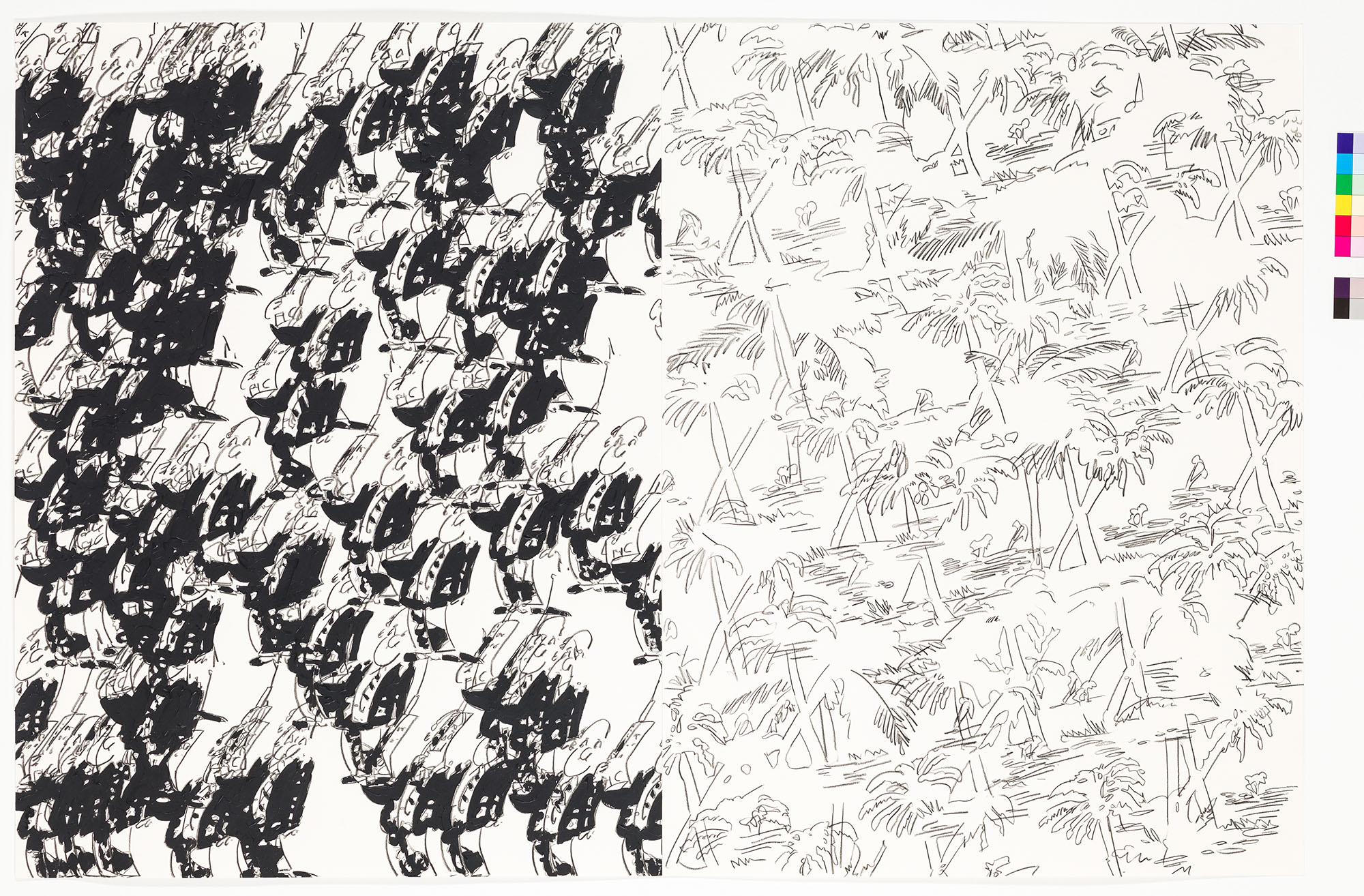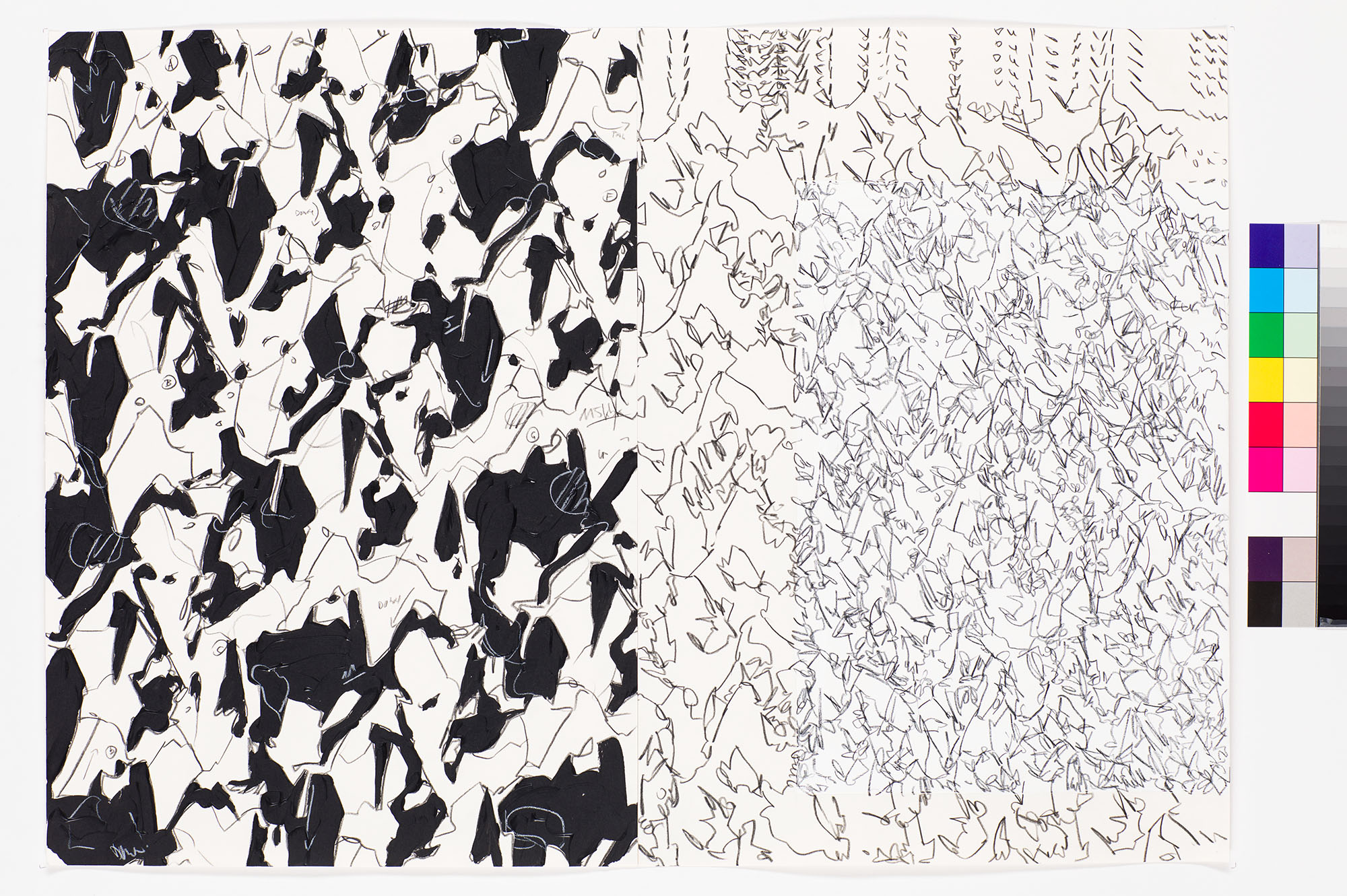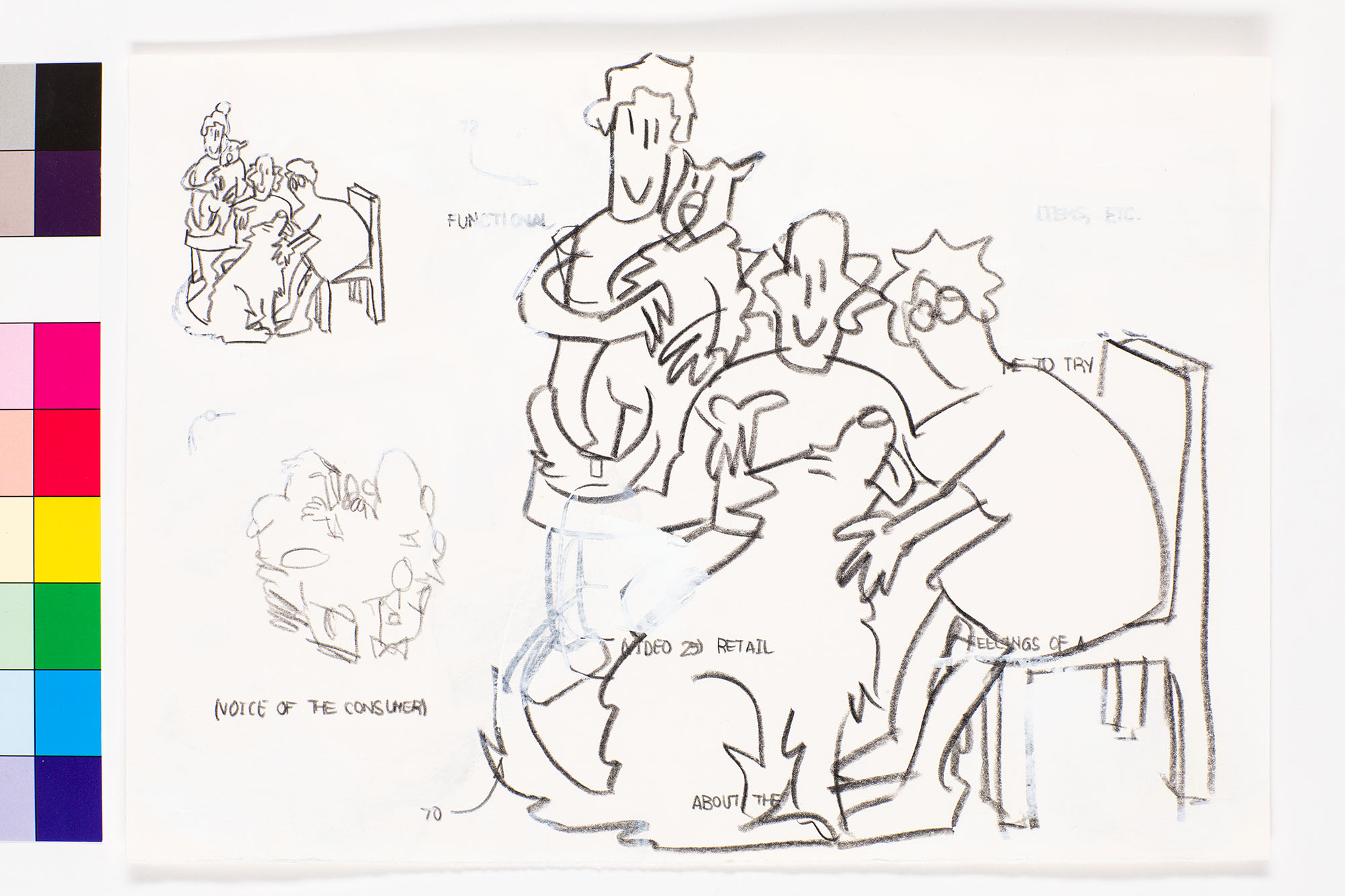 2017
ZONE1 (curated by Marlies Wirth)
Location
Viennacontemporary, Marx Halle, Vienna (AT)
2017
Black is still the new black
Location
Collectors Depot, Pörtschach (AT)
Artists
Clemens Wolf, Lori Hersberger, Otto Zitko, Peter Jellitsch, Joyce Pensato, Thomas Rhube, Jiri Dokoupil, Matt Mignanelli, Campana Brothers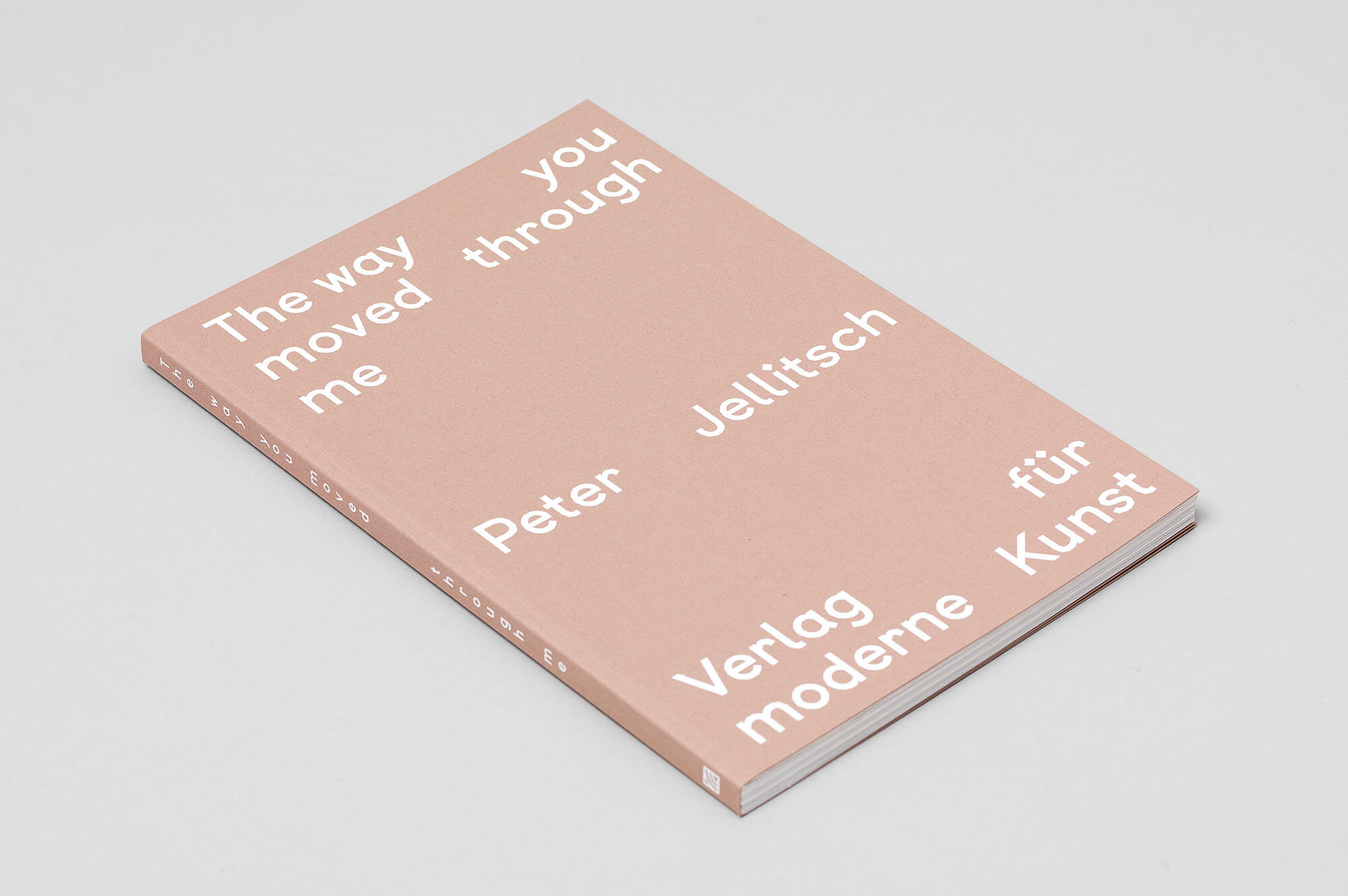 2016
The way you moved through me
Paperback, 144 pages, 30 x 20 cm, ills. in color & bw
Text
Joseph Becker, Sébastien Pluot, Marlies Wirth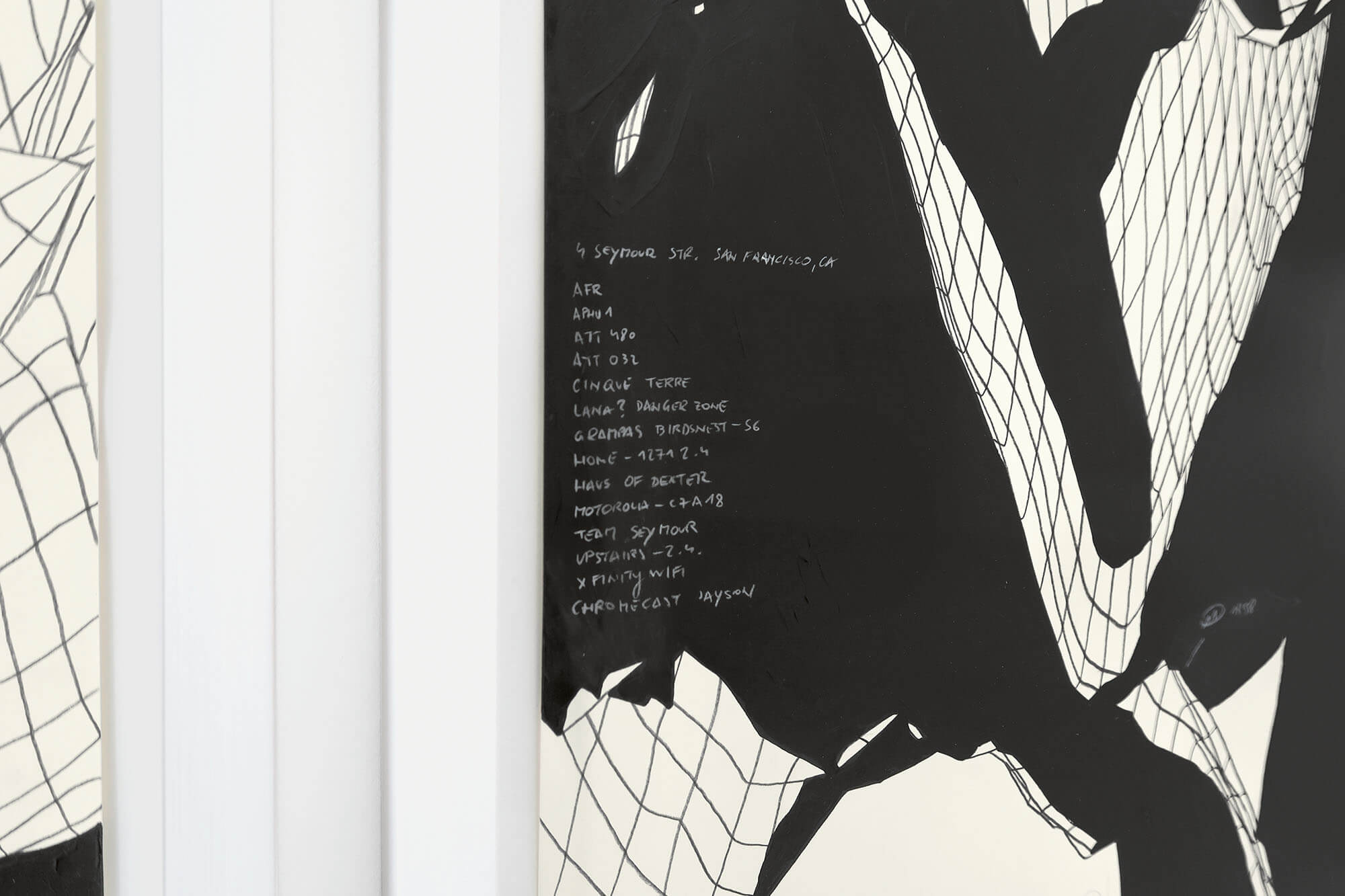 2016
Sequenced Perceptions
Location
Galerie Clemens Gunzer, Zürich (CH)
Artists
Peter Jellitsch, Zane Lewis, Matt Mignanelli, Konrad Wyrebek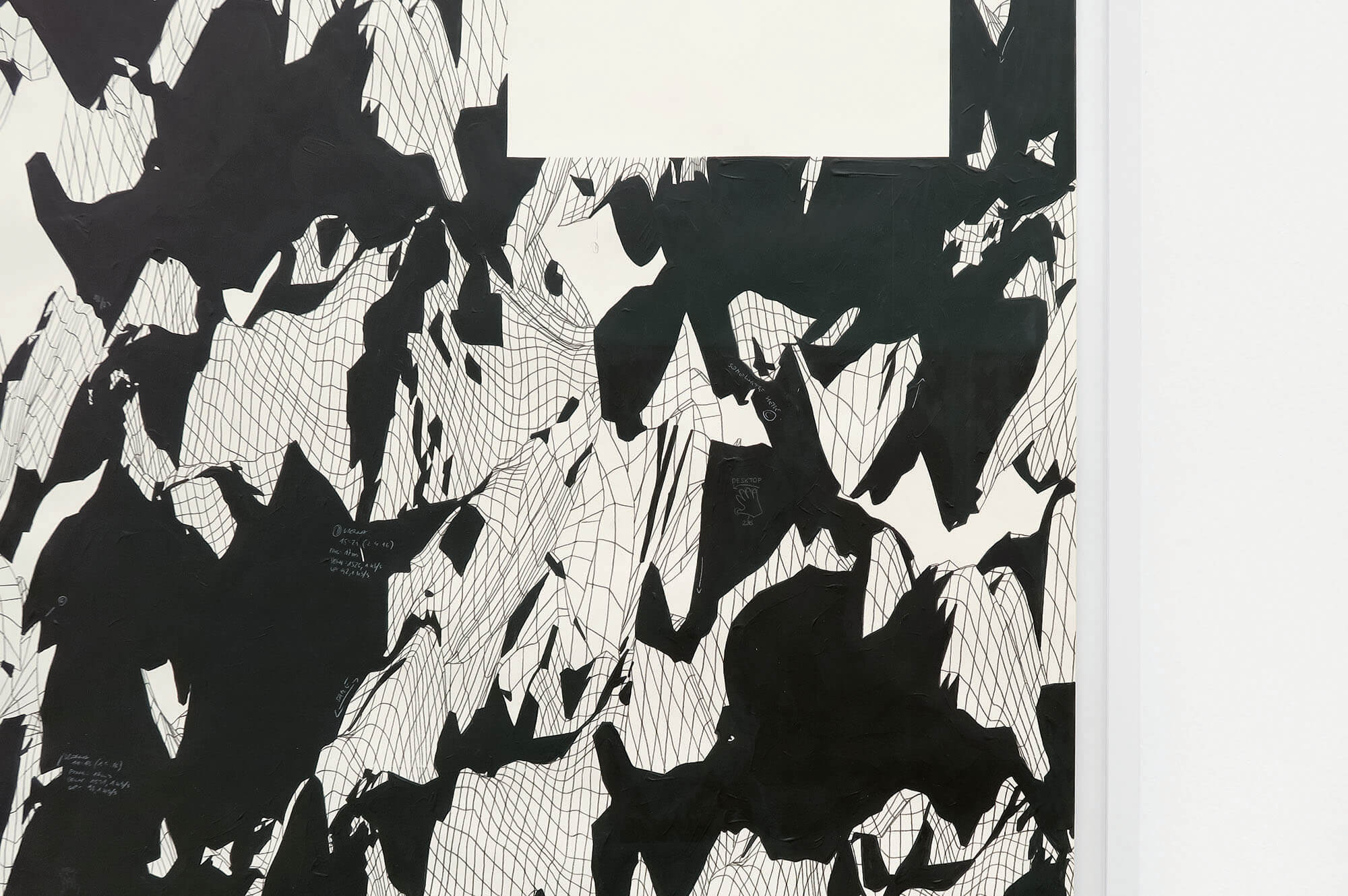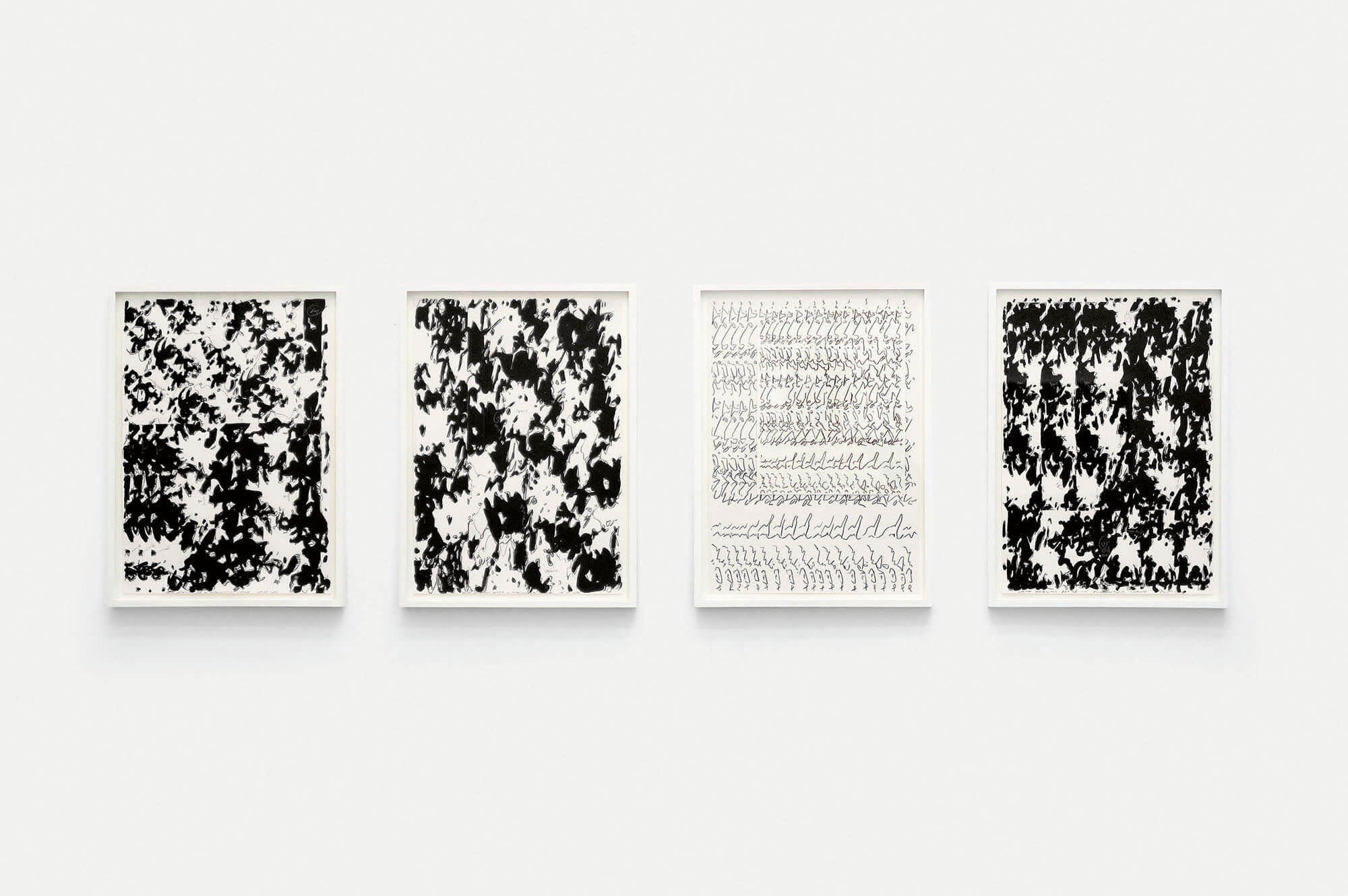 2016
Only the Memory
Location
Galerie Crone, Vienna (AT)
2016
Palm Tree Antenna
Numbered Edition of 300, 48 pages, full color, 21 x 26,5 cm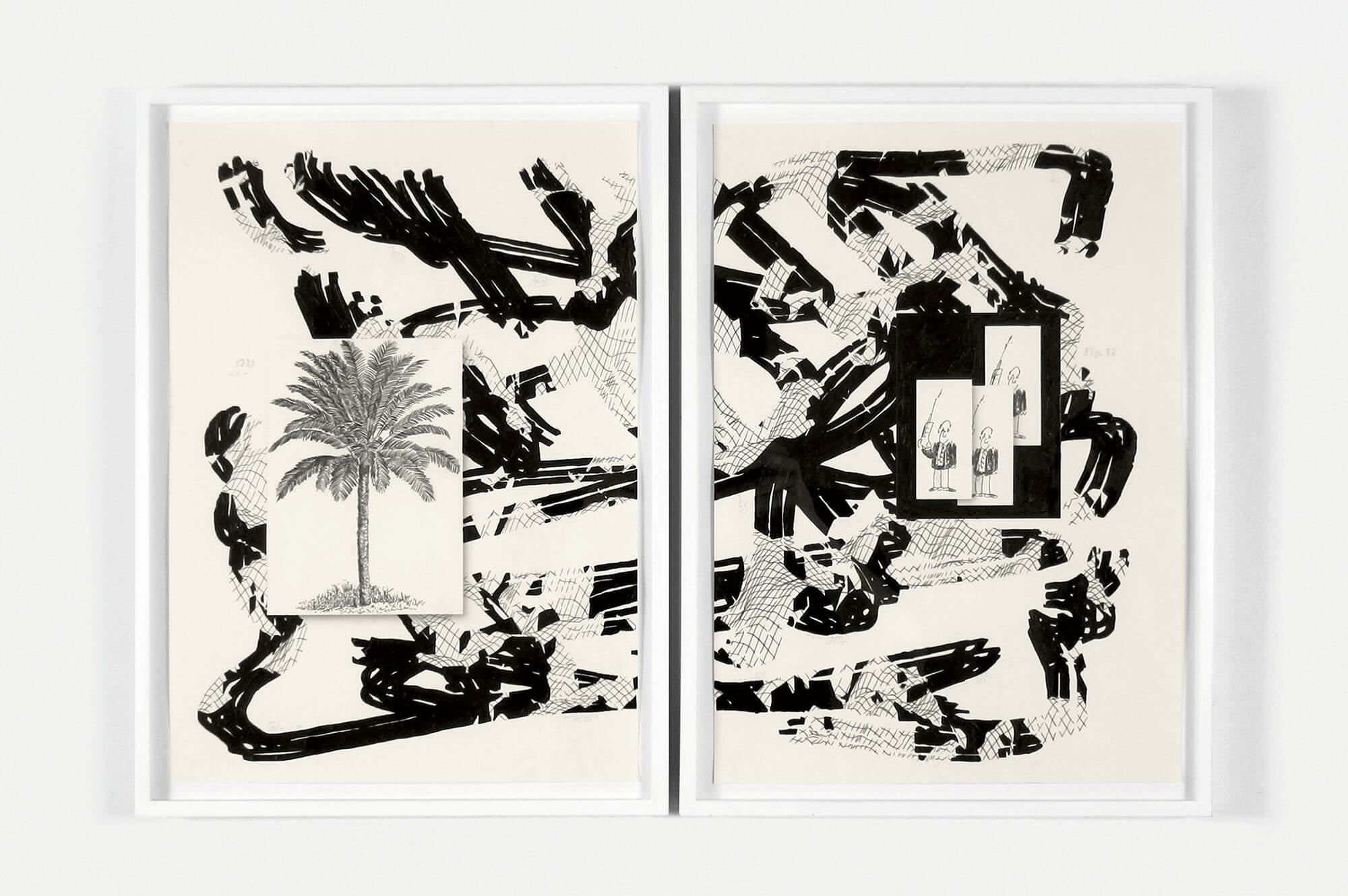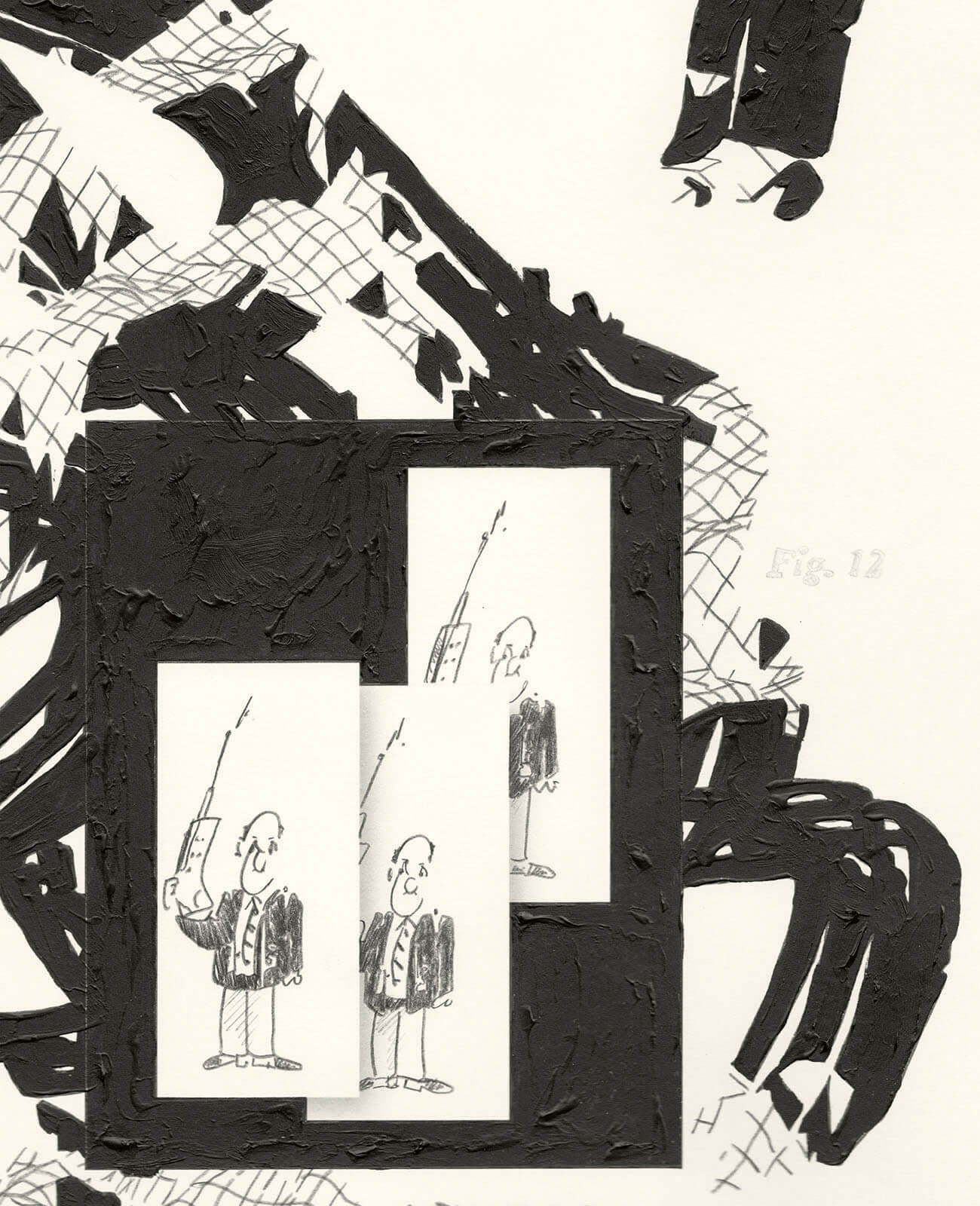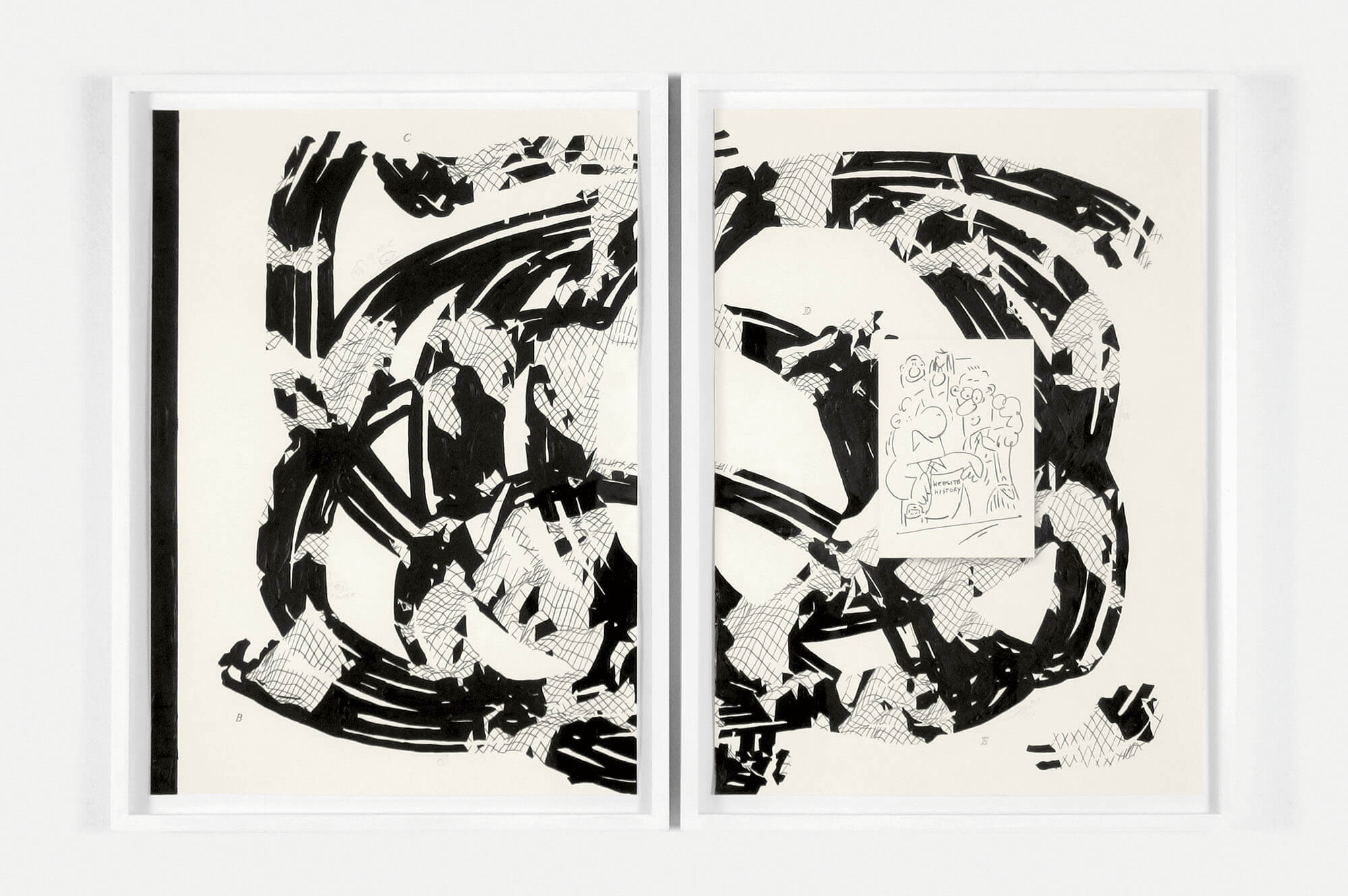 2015
Parallel Vienna 2015
Location
Alte Post, Dominikanerbastei, Vienna (AT)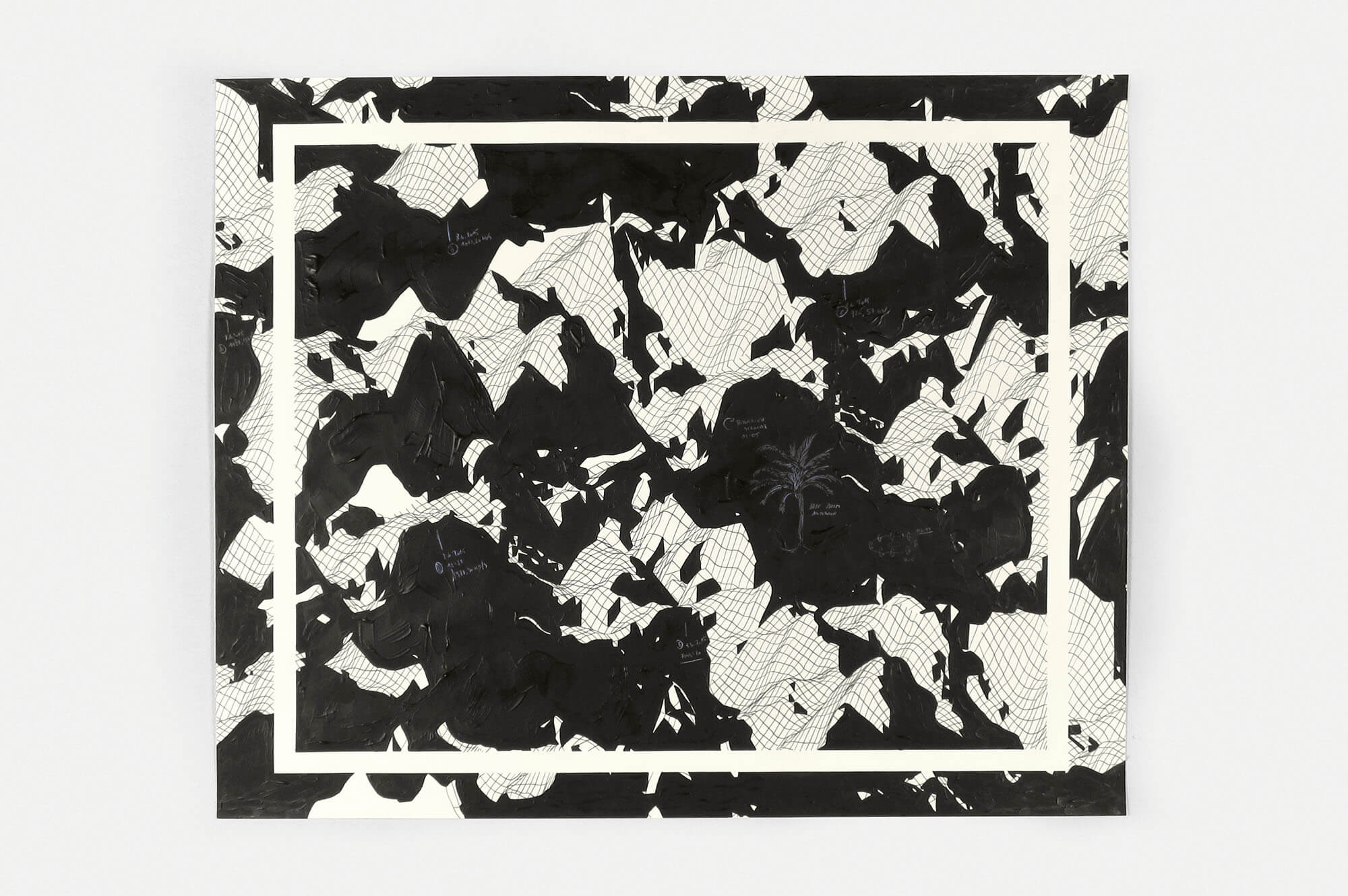 ongoing
Data Drawings
Peter Jellitsch's Data Drawings are based on what has become an indispensable component of our modern-day (work) life: the Internet and the constant availability of a wireless connection to it. The artist repetitively translates measurable data from Wi-Fi connections in the form of ping, download, and upload speeds into formally complex drawings reminiscent of landscape topographies in pencil and acrylic. He lends form to the invisible digital processes around us and declares them the starting point and necessary basis of his work as an artist. Each Data Drawing is a snapshot and a survey of a specific place at a certain point in time. The numerical values precisely measured with an iPhone app have the appearance of an abstract artistic gesture on the paper with the unmistakable variance of human imprecision. The physical act of drawing is combined with the ubiquitous flows of information that we use and create at the same time: a potentially infinite and never complete creation of value from nothing.
Excerpt from "Without You I'm Nothing", a text by Marlies Wirth.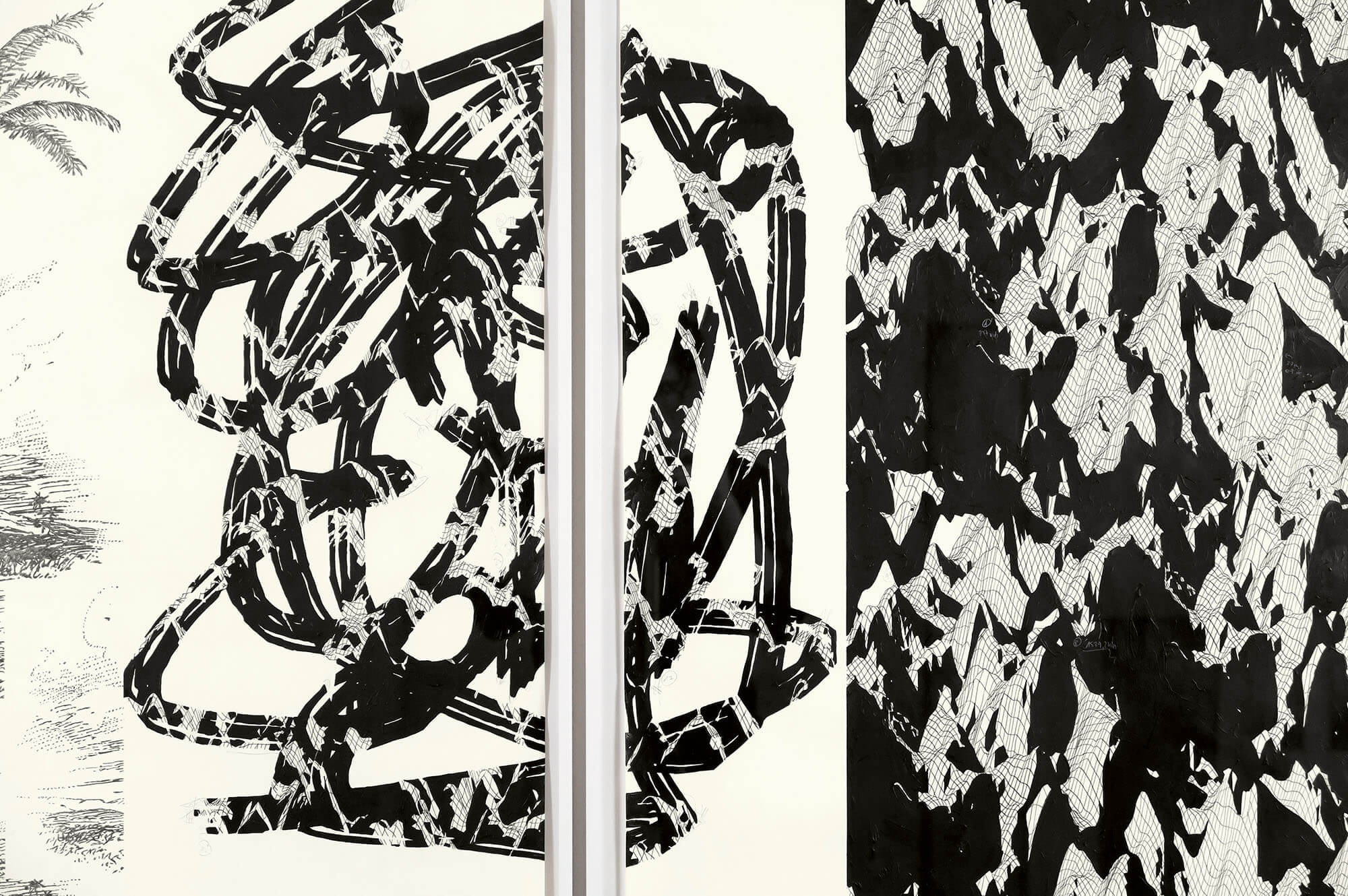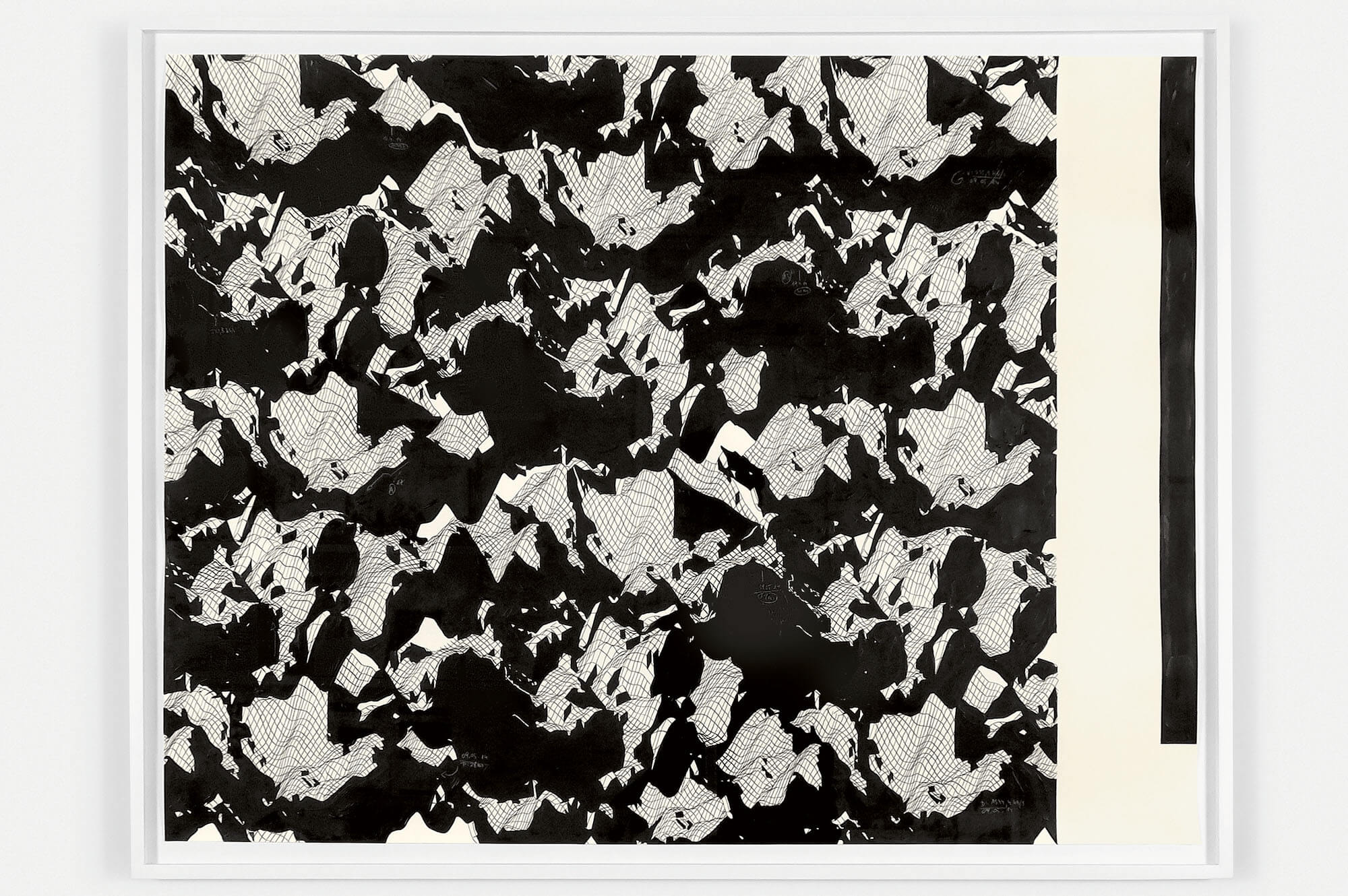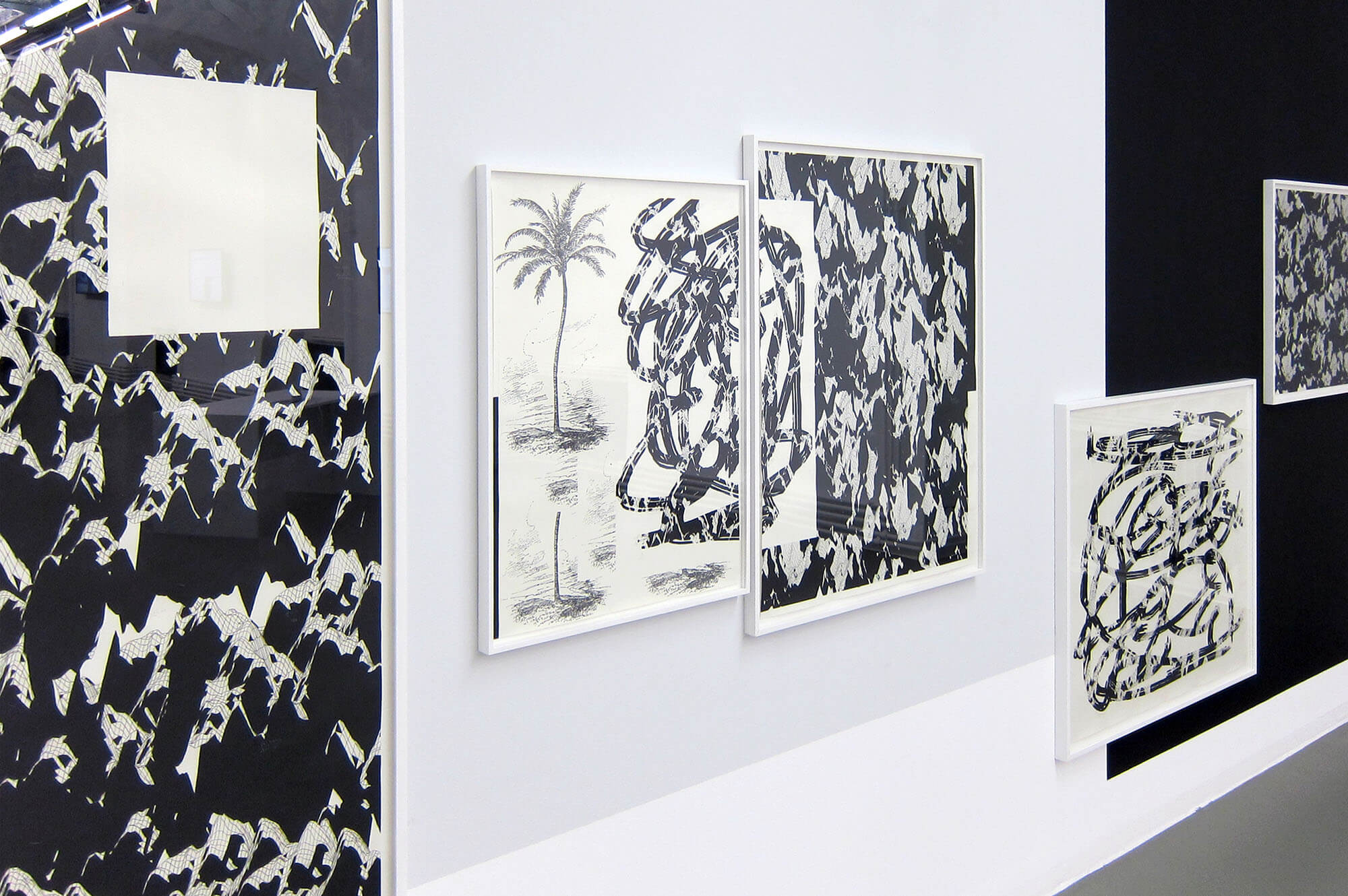 2015
24/7: the human condition
Location
MAK – Austrian Museum of Applied Arts / Contemporary Art, Vienna (AT)
Artists
Ben Thorp Brown, Verena Dengler, Carola Dertnig, Harm van den Dorpel, Andreas Duscha, Andreas Fogarasi, Franz Graf, Kathi Hofer, Peter Jellitsch, Lazar Lyutakov, Mahony, Christian Mayer, Ulrich Nausner, Danica Phelps, Lili Reynaud-Dewar, Valentin Ruhry, Seth Weiner, Anna Witt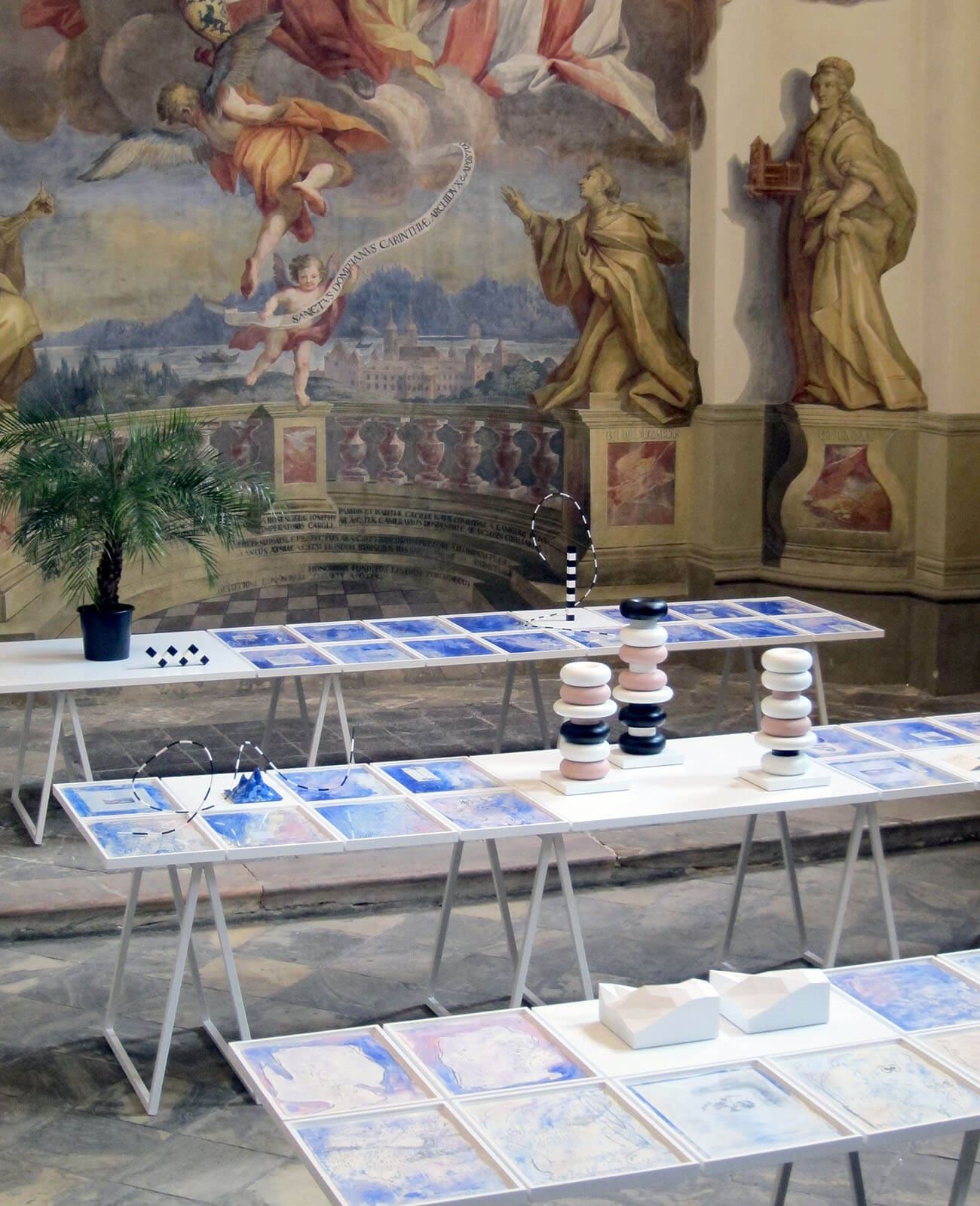 2015
It could be like this…
In the Burgkapelle, Peter Jellitsch takes into account the central fresco by Ferdinand Fromiller. He selects individual parts of the Baroque trompe-l'œil painting – renderings of intangible content, atmospheres, moods, interpersonal connections – and confronts them with an abstract picture analysis. The specific elaborated fragments are shown as drawings and objects on display tables which bring to mind study situations. The viewer then relates the transformations to the original.
Excerpt from the folder "It could be like this…", a text by Christine Wetzlinger-Grundnig.
Location
Museum Moderner Kunst Kärnten
Kunstraum Burgkapelle, Klagenfurt (AT)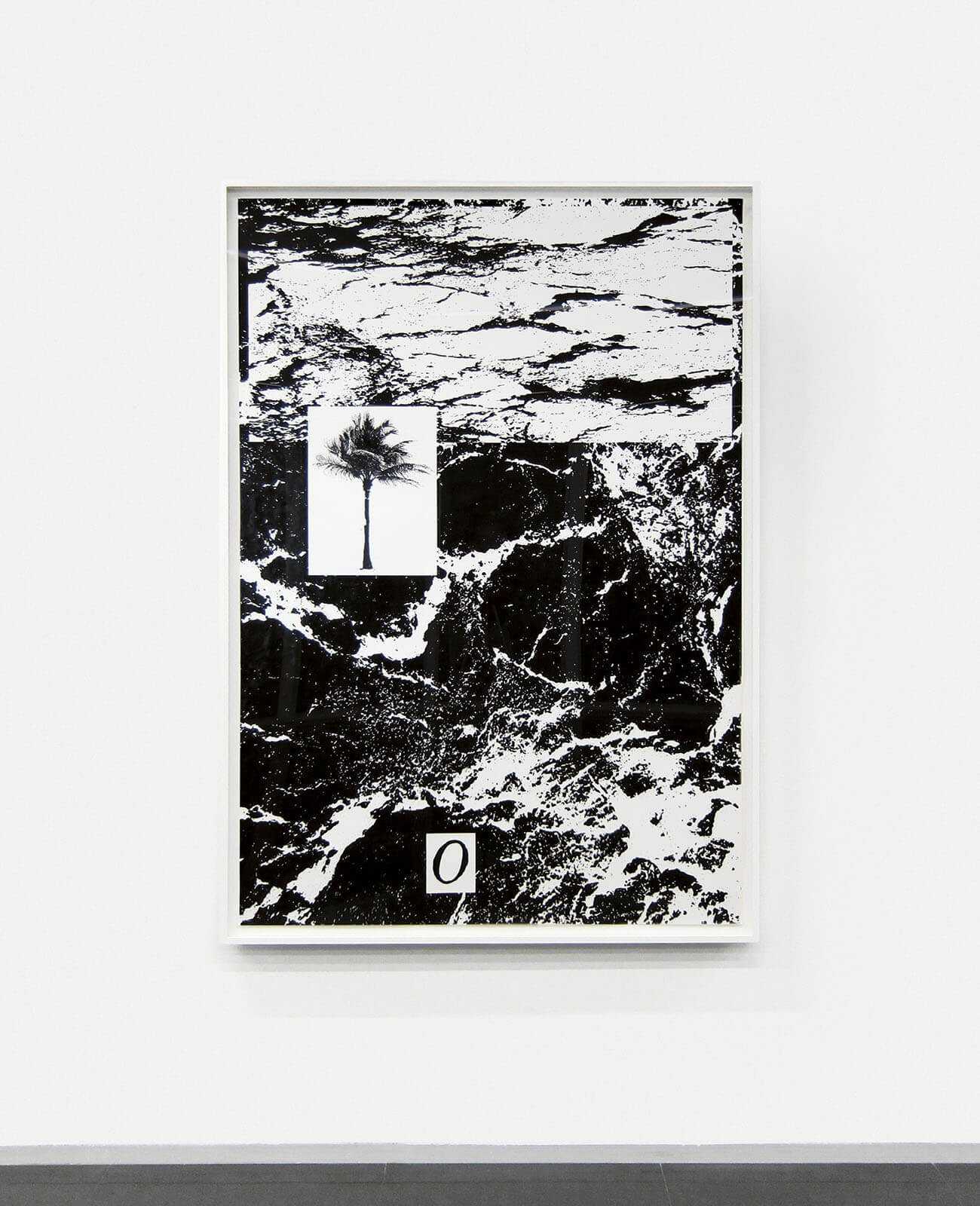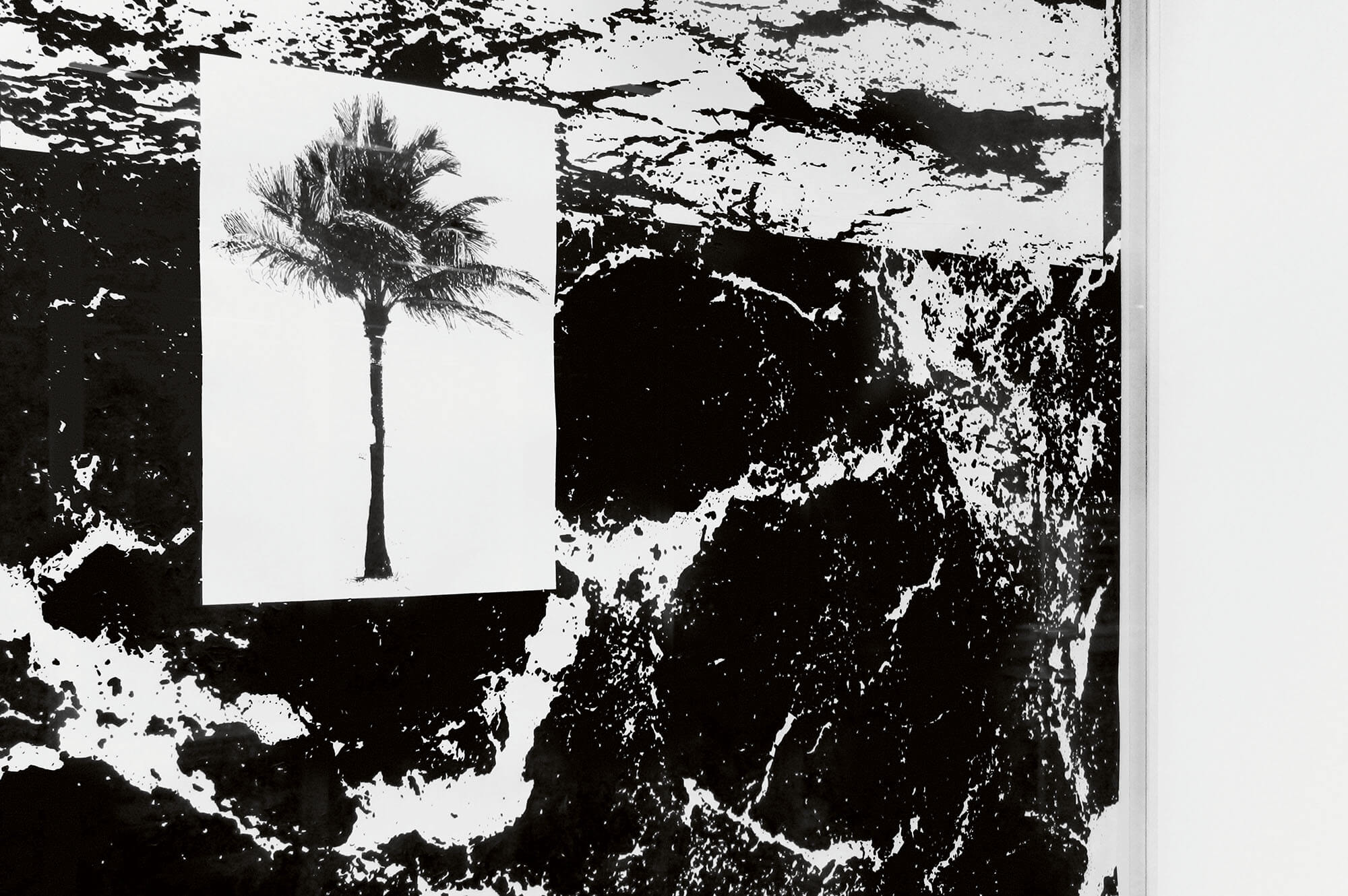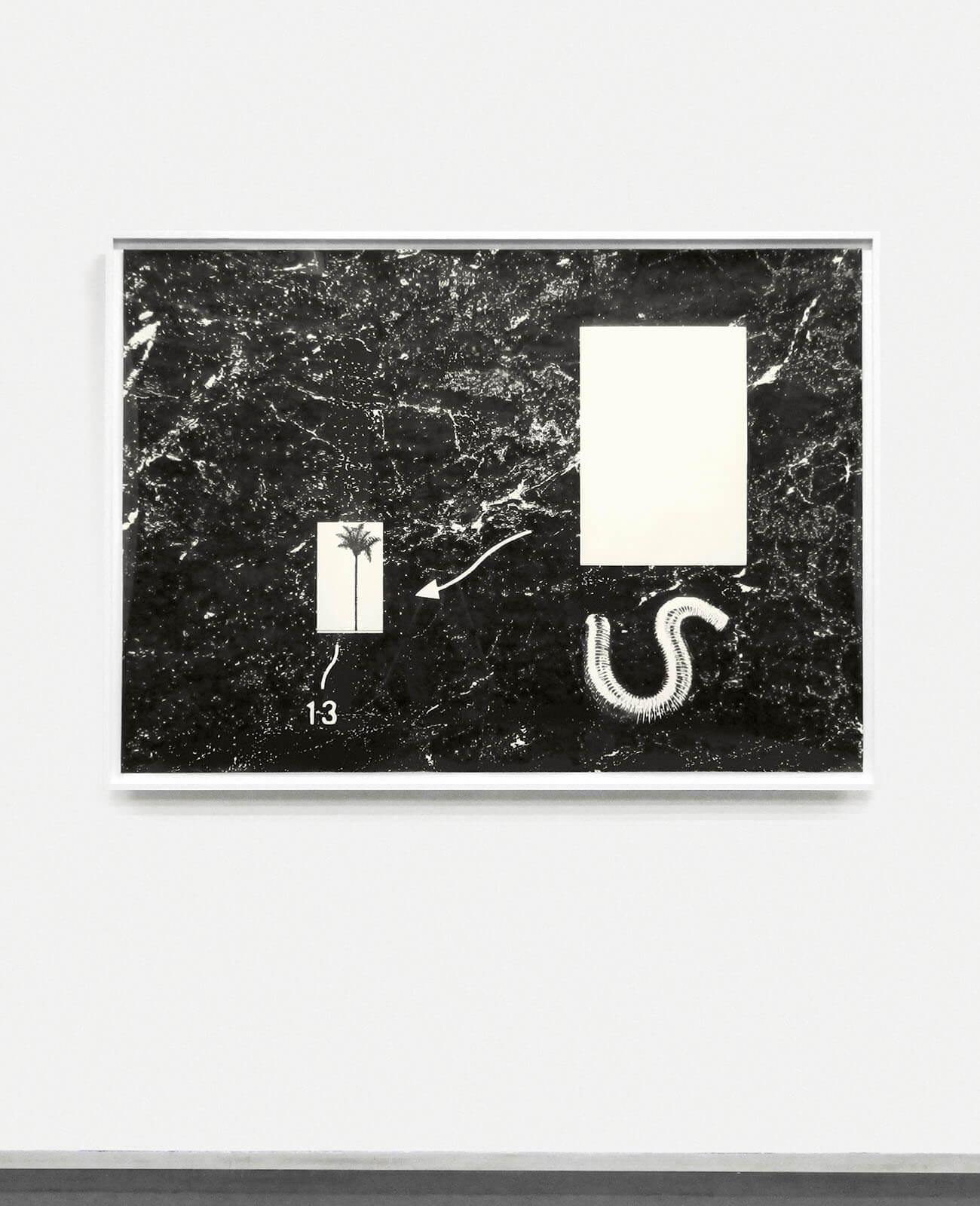 2014
Without You I'm Nothing
Location
Strabag Artlounge, Vienna (AT)
Date
7 November—5 December 2014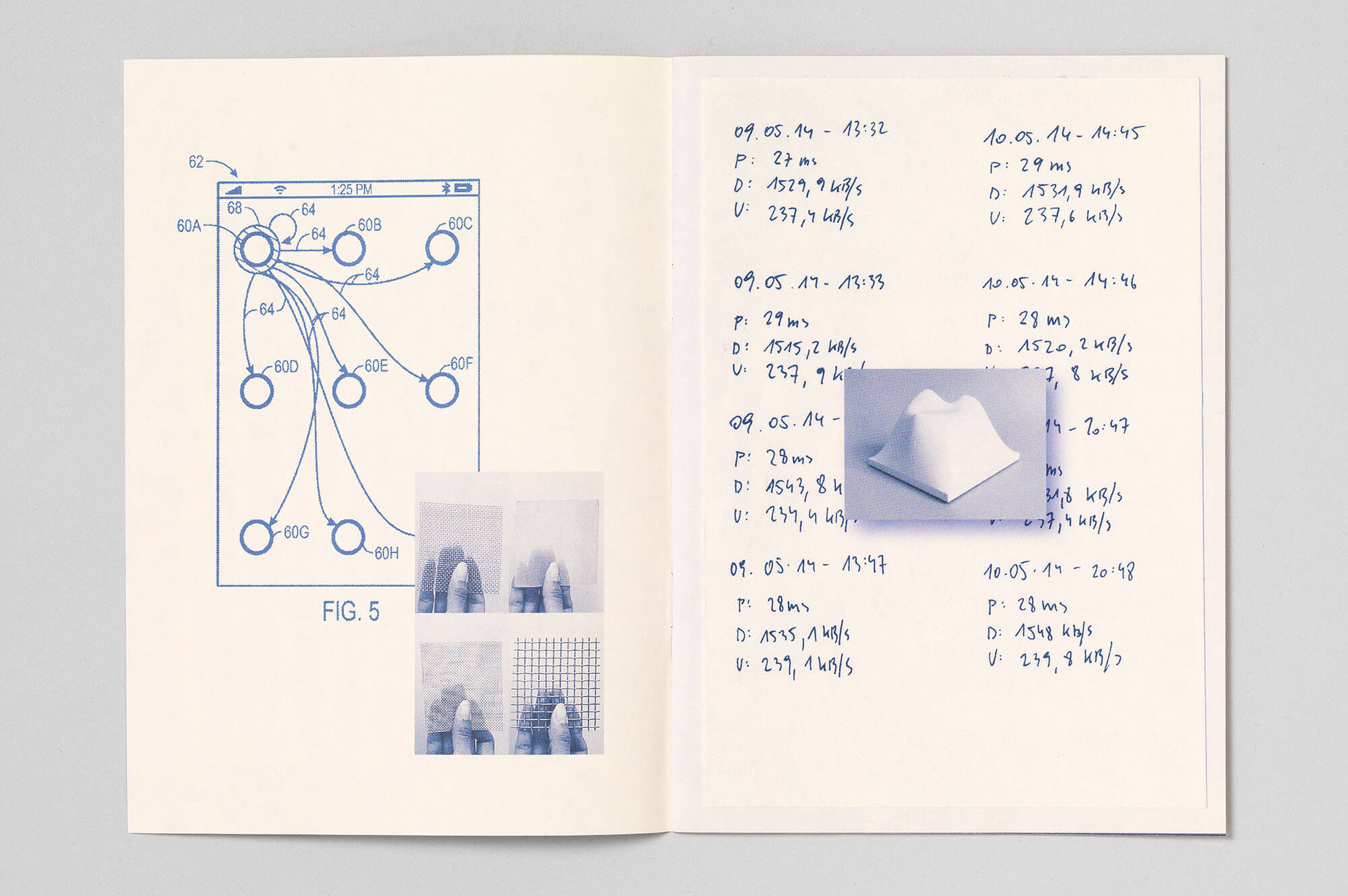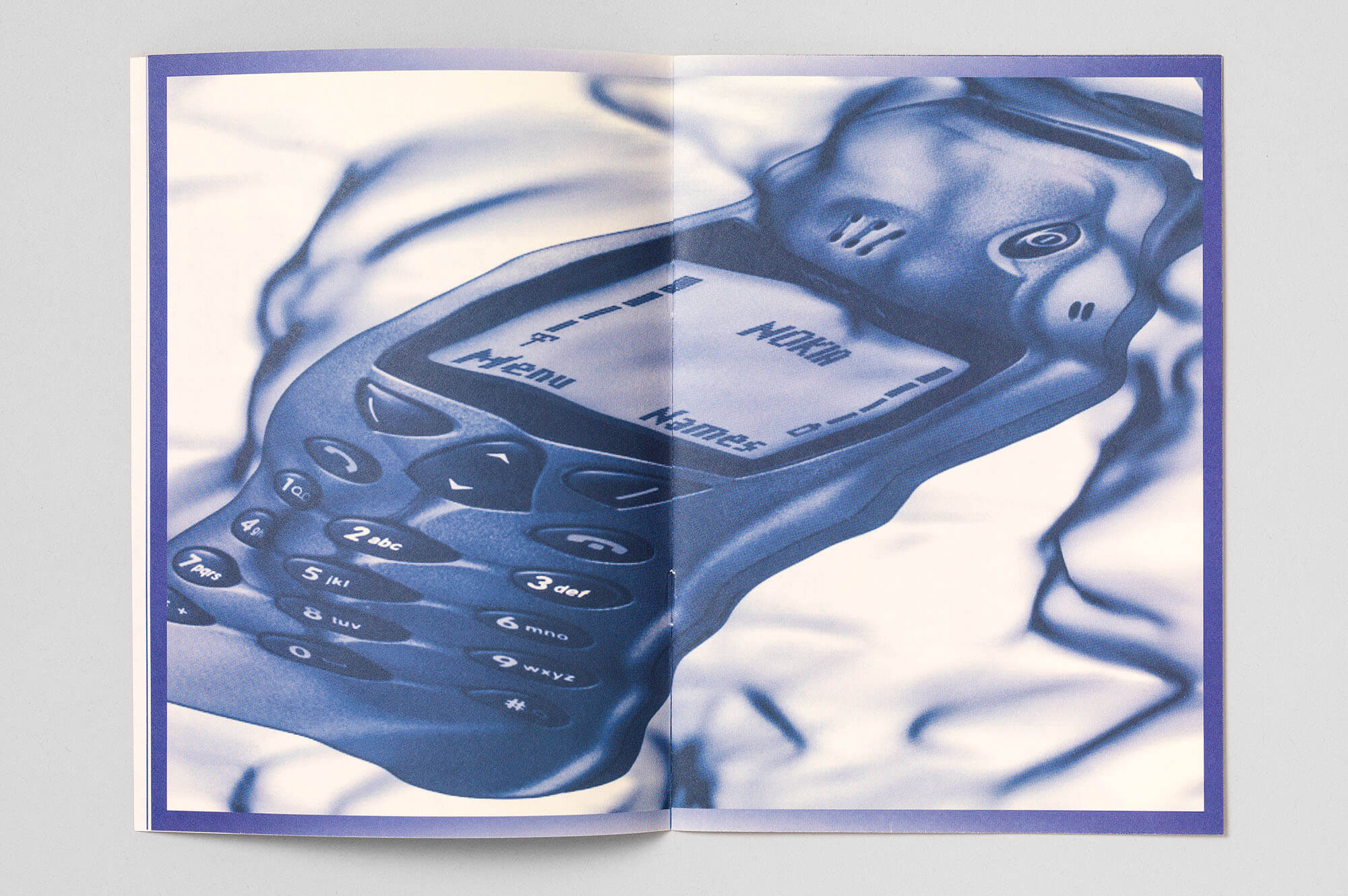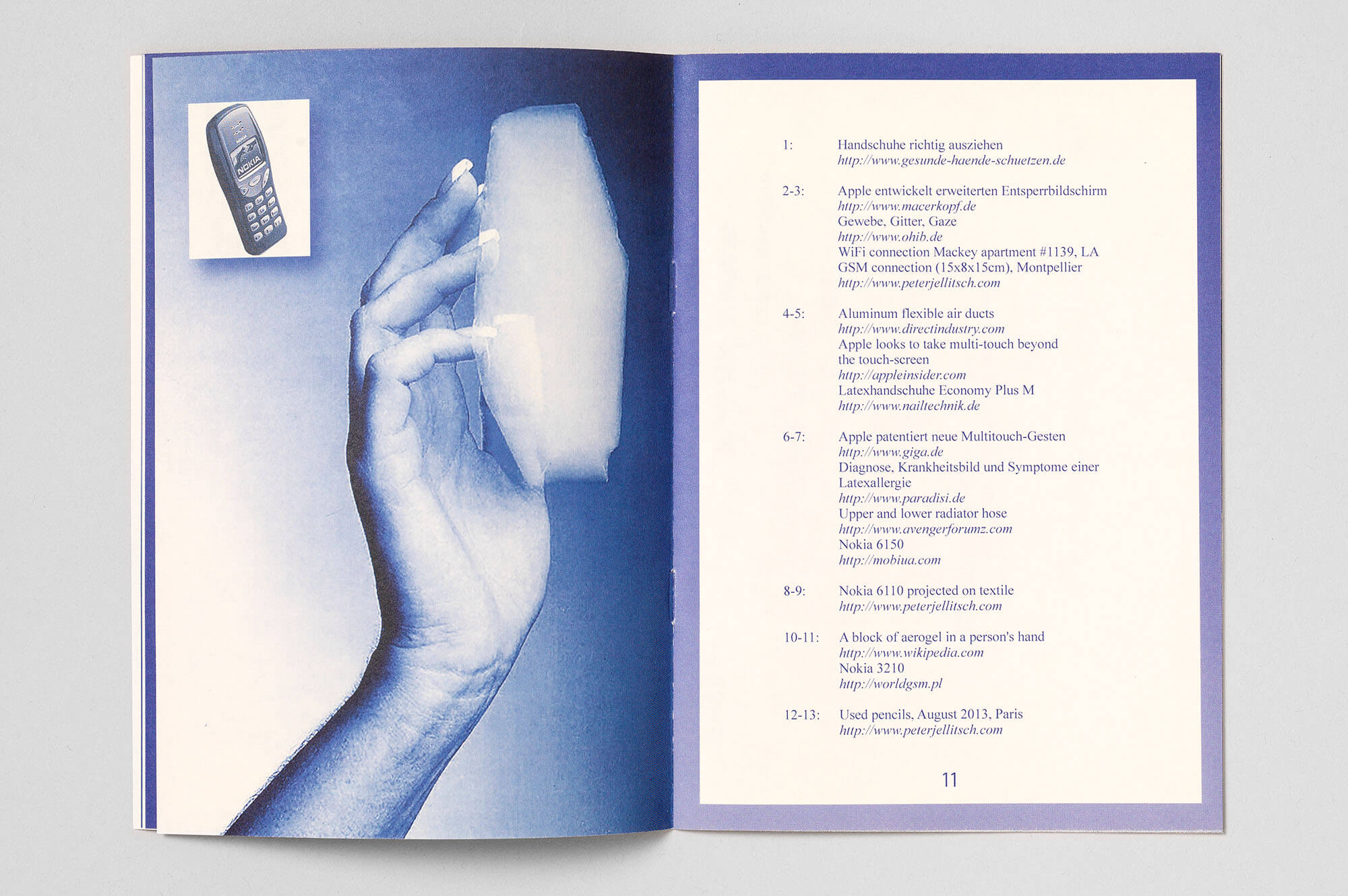 2014
170 MB
Signed and numbered edition of 200
24 pages, digital offset, 12,7 x 17,8 cm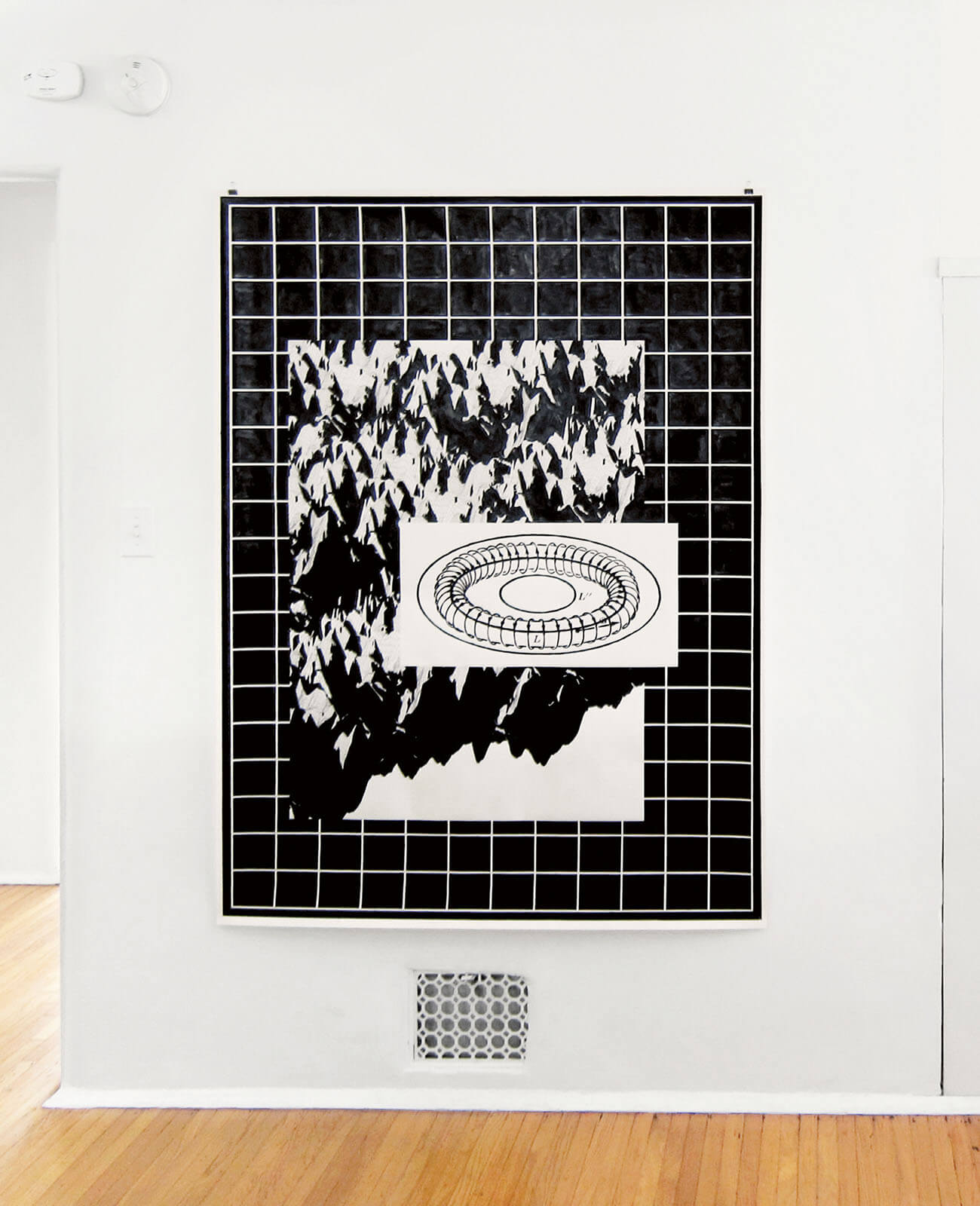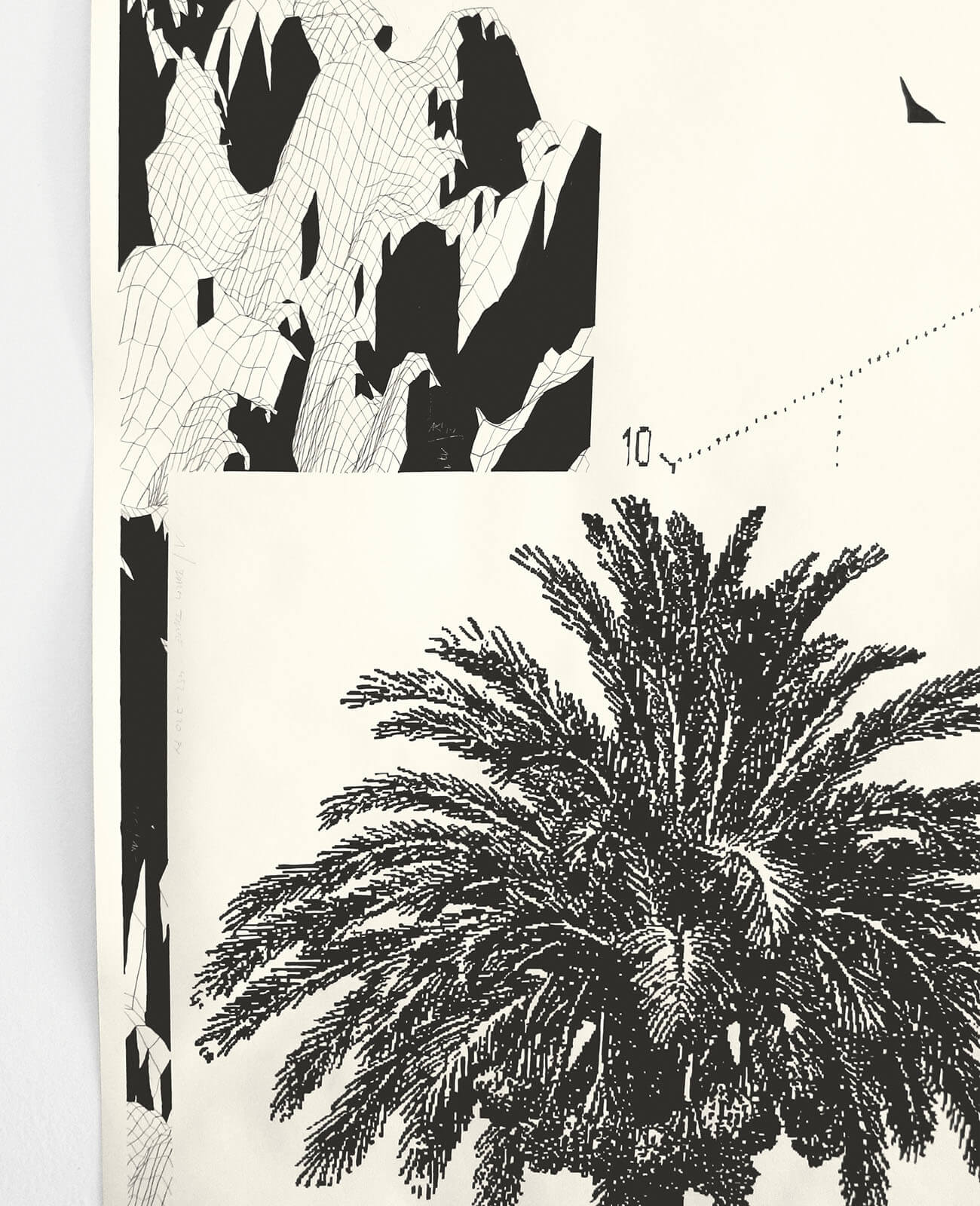 2014
Group 38
Location
MAK Center / Mackey Apartments, Los Angeles (US)
Artists
Maria von Hauswolff, Peter Jellitsch, Björn Kämmerer, Pradeep Devadass & Sushant Verma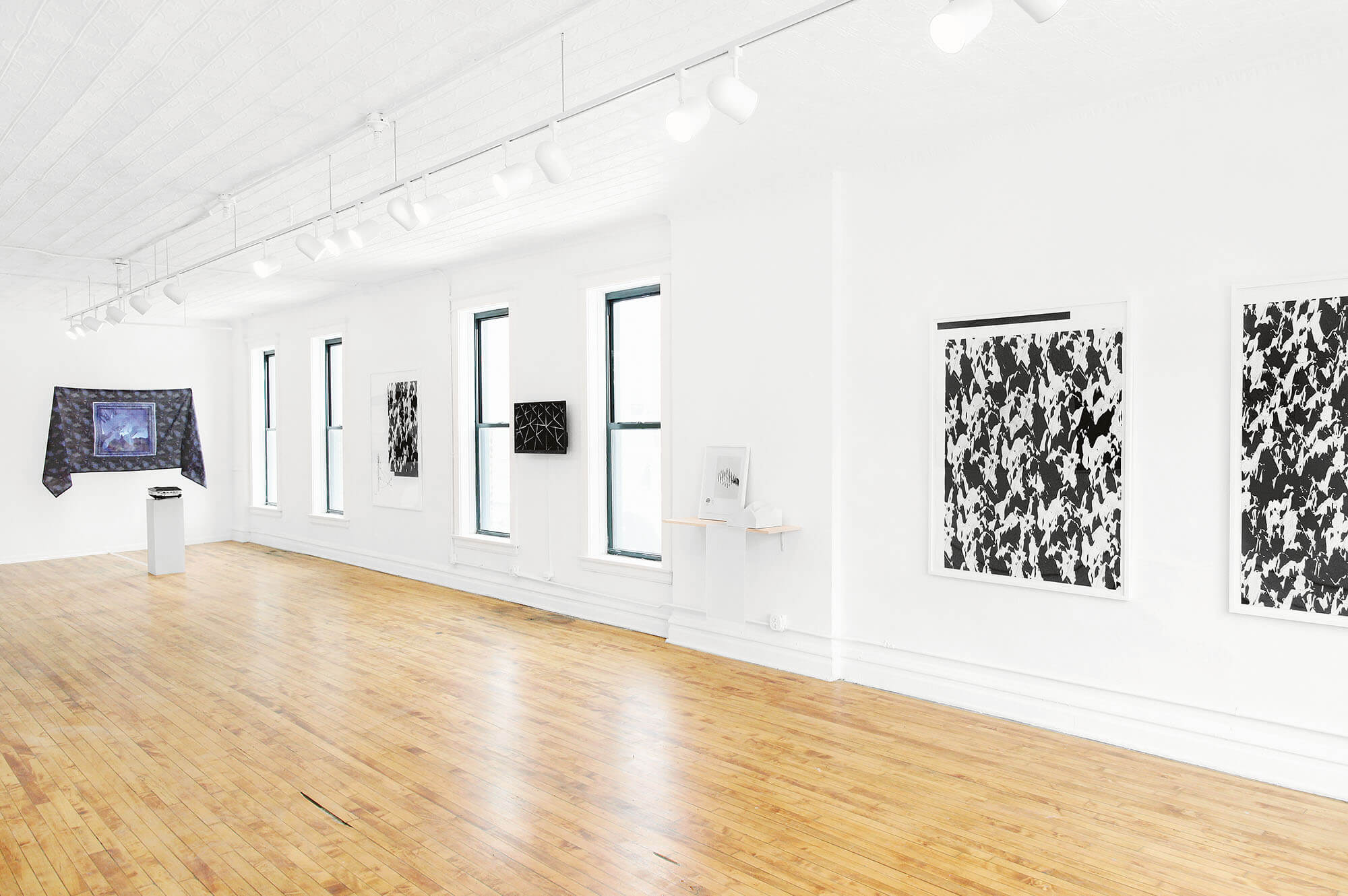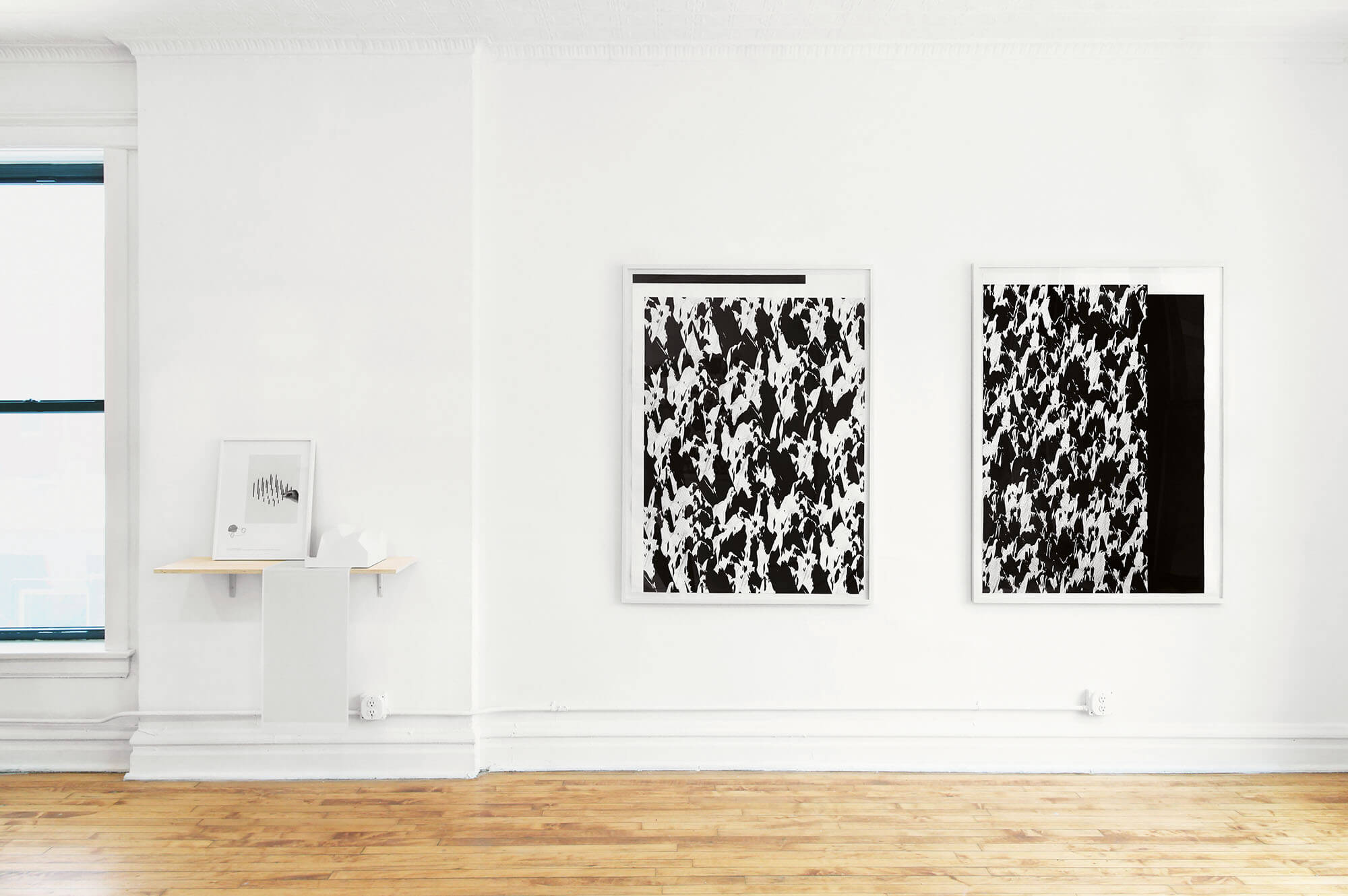 2014
Only Real (Peter Jellitsch, Theodore Darst)
Location
Public Works, Chicago (US)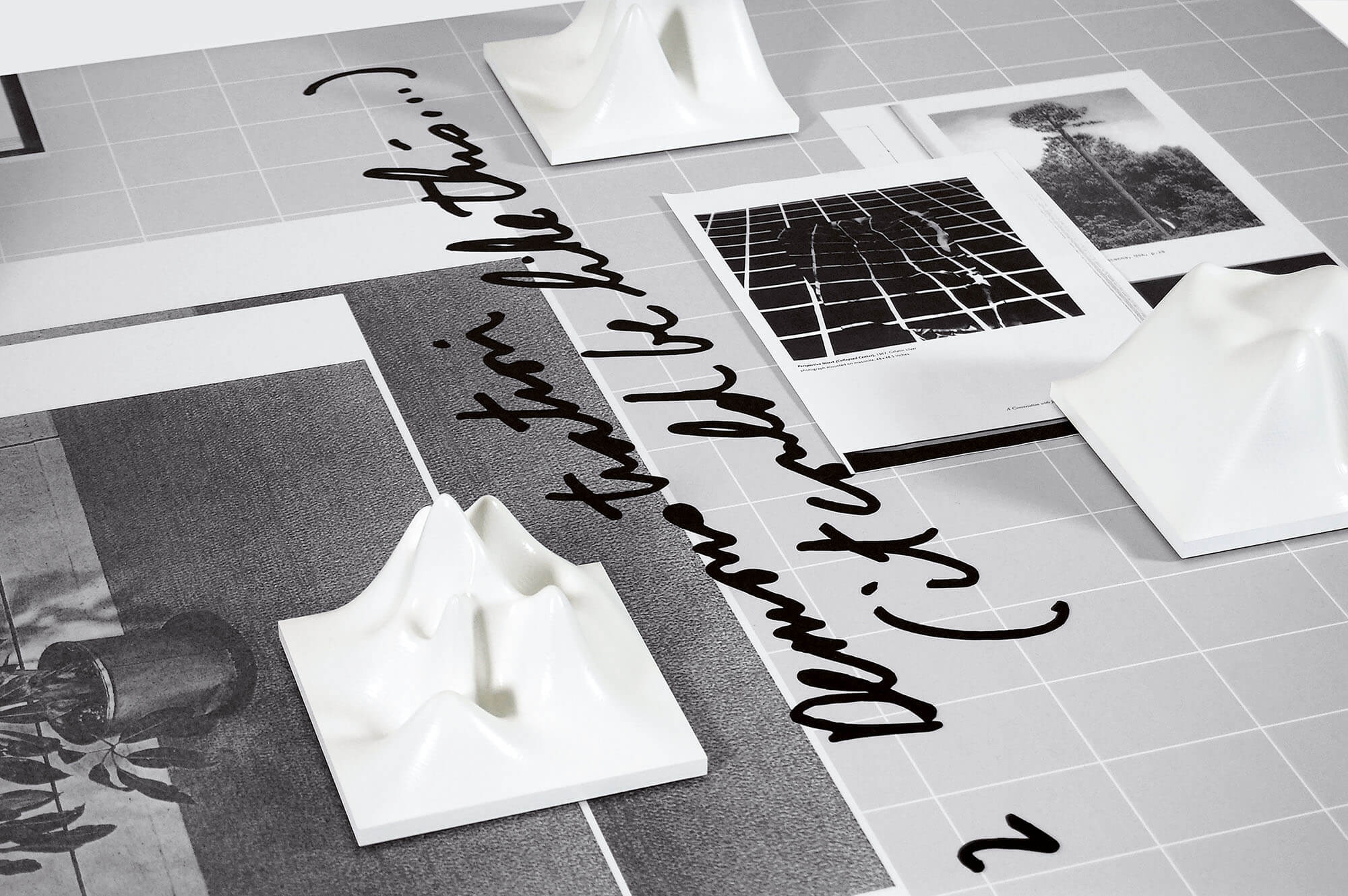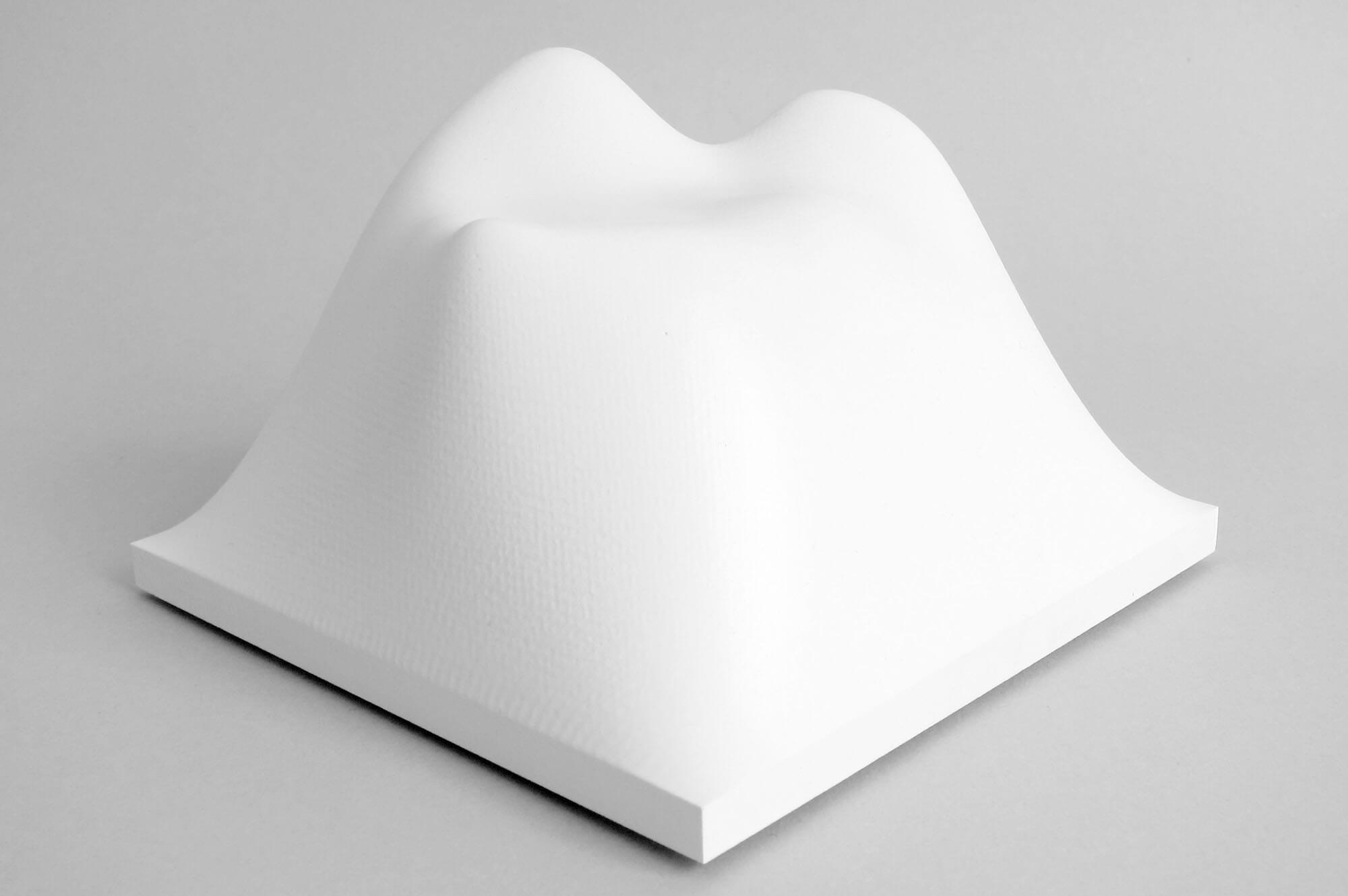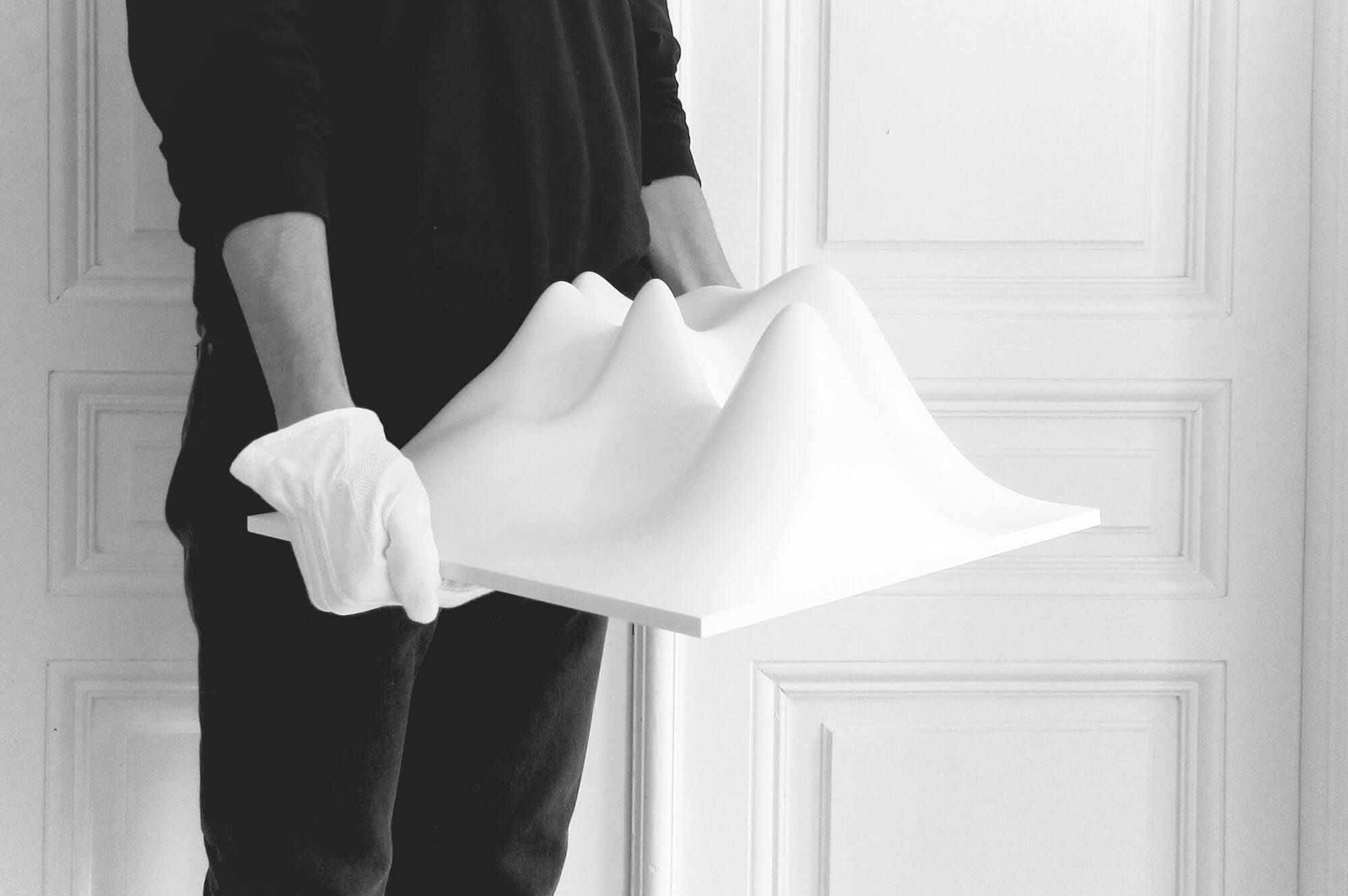 2014
Dernières Nouvelles de l'Ether
Location
La Panacèe, Montpellier (FR)
Artists
Dominique Blais, Will Potter, Vincent Betbeze, Ugo La Pietra, Trevor Paglen, Superstudio, Sharon Kulik, Robert Barry, Ralf Baecker, Philippe Deloison, Nicholas Knight, Peter Jellitsch, Martin Ratniks, Maria Loboda, Marcel Duchamp, Liam Gillick, Laurie Anderson, Laurent Grasso,Lawrence Weiner, John Cage, Günther Domenig & Eilfried Huth, Hugo Brégeau, Haines & Hinterding, Hans Hollein, François Curlet, Dunne & Raby, Don Burgy, Dominique Blais, Dan Graham, Christina Kubisch, Brian O'Doherty, Bettina Samson, Berdaguer & Péjus, Bat, Alvin Lucier, A Constructed World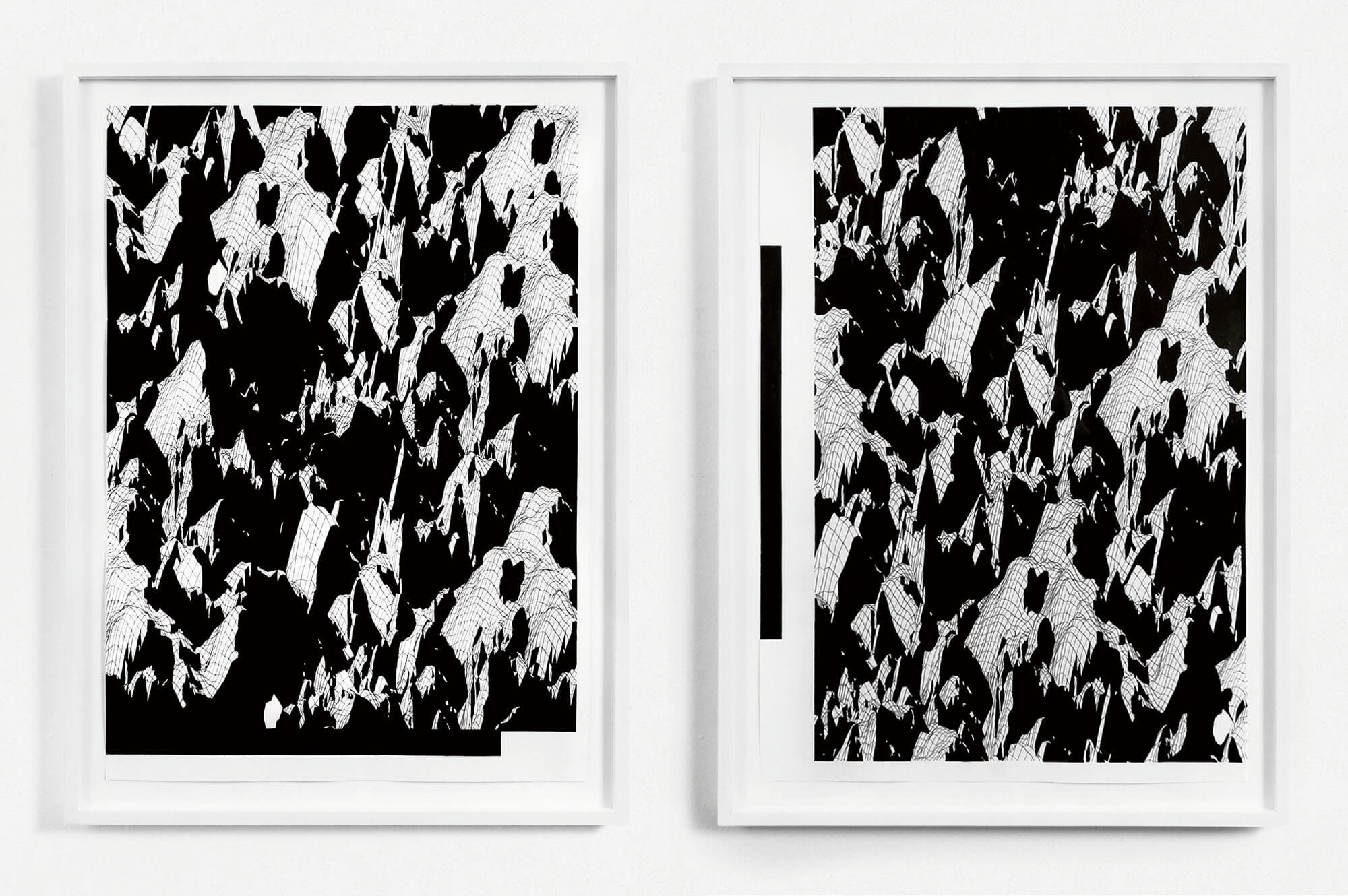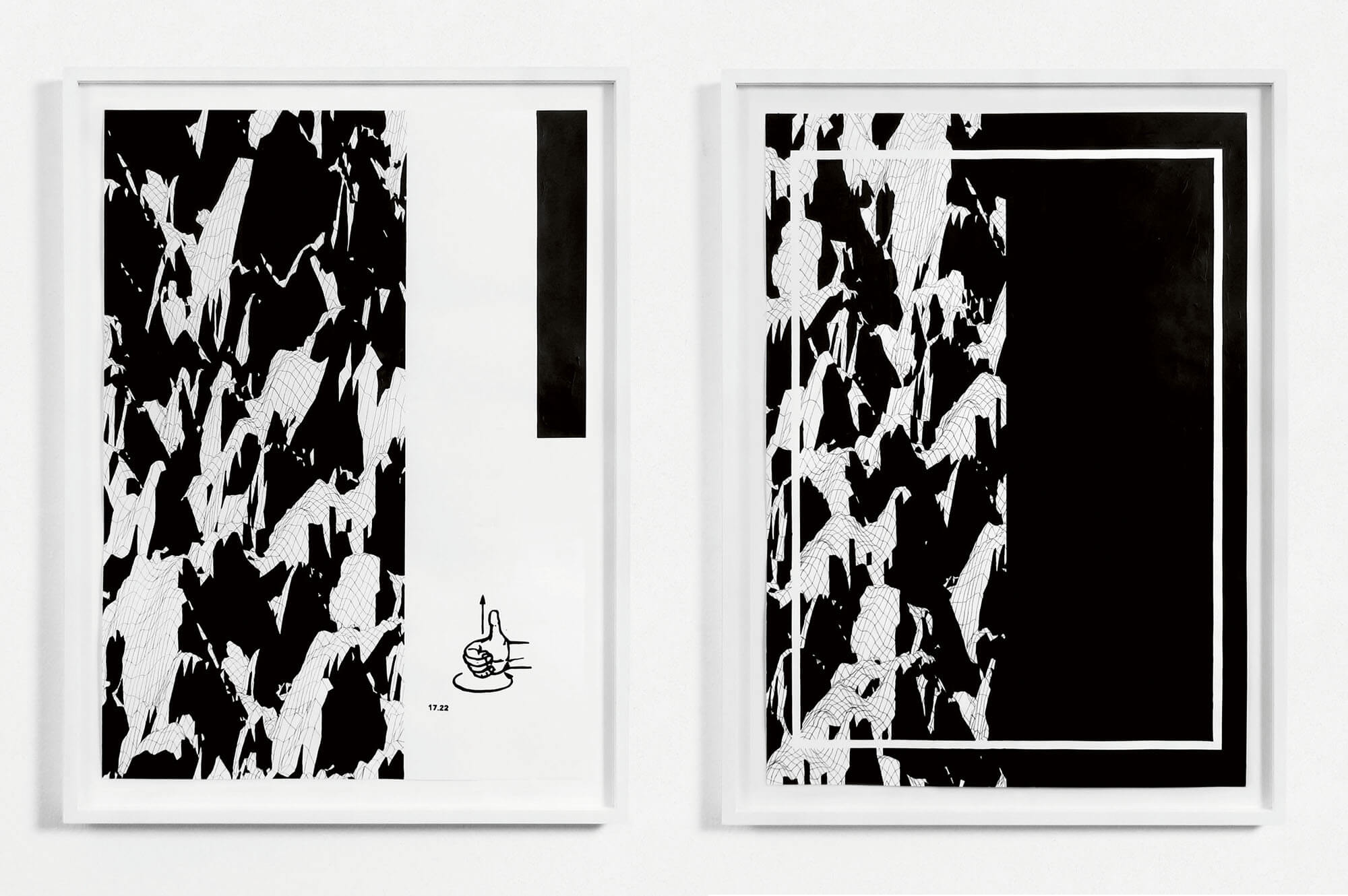 2014
Data Drawings
Location
Galerie3, Klagenfurt (AT)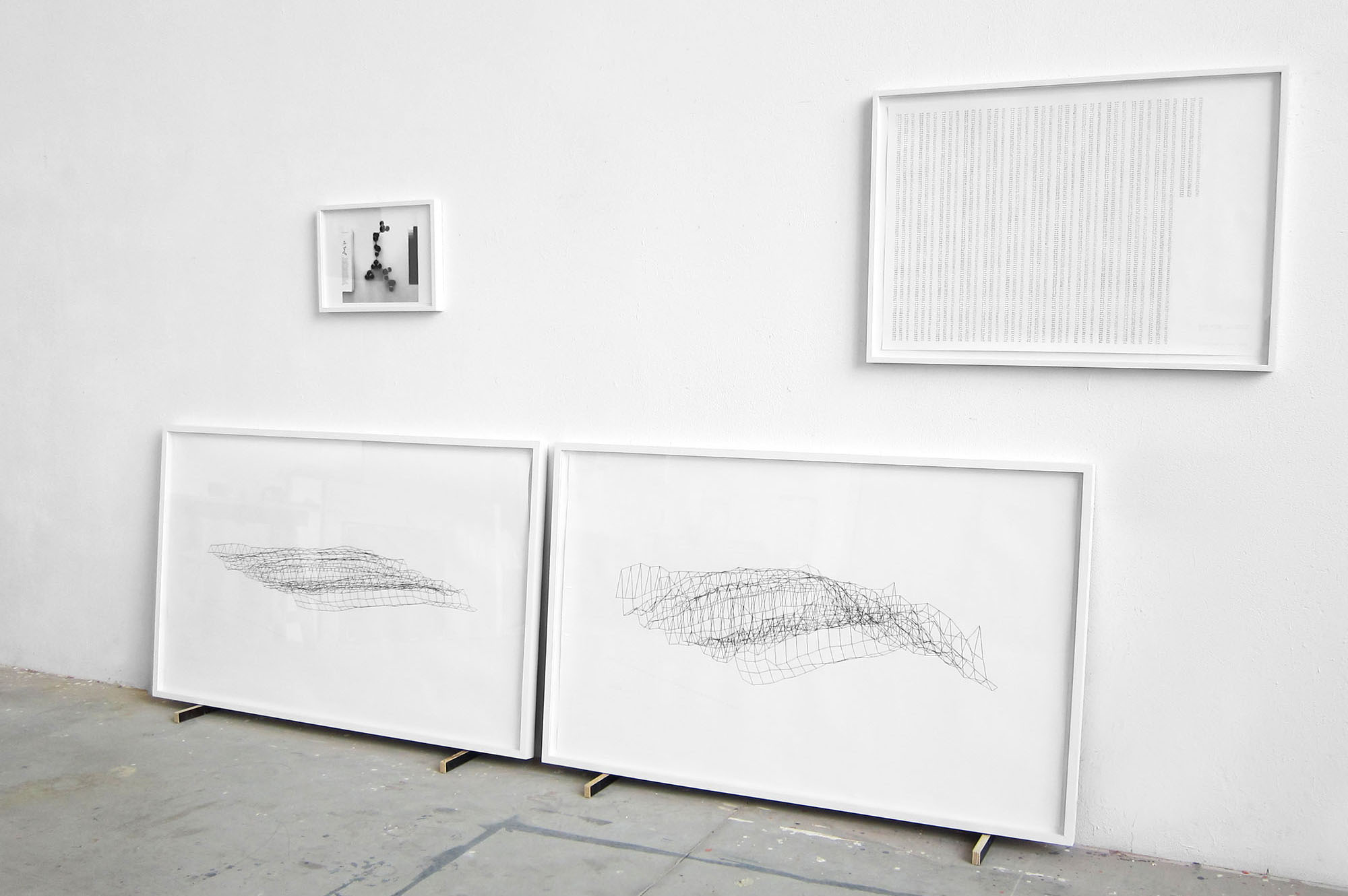 2013
Long Island City
The data for Long Island City was provided by the SP Weather Station, Natalie Campbell and Heidi Neilson.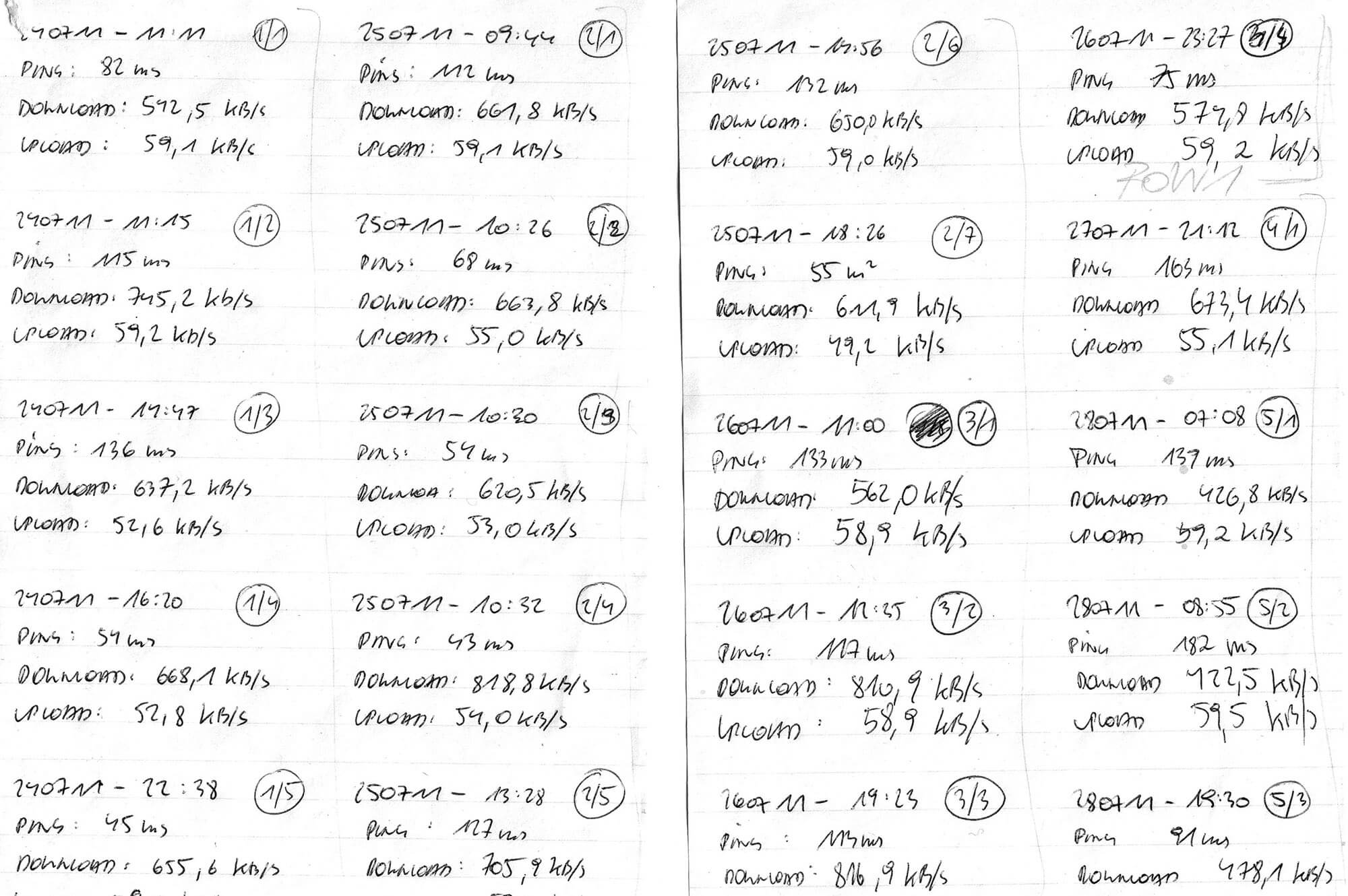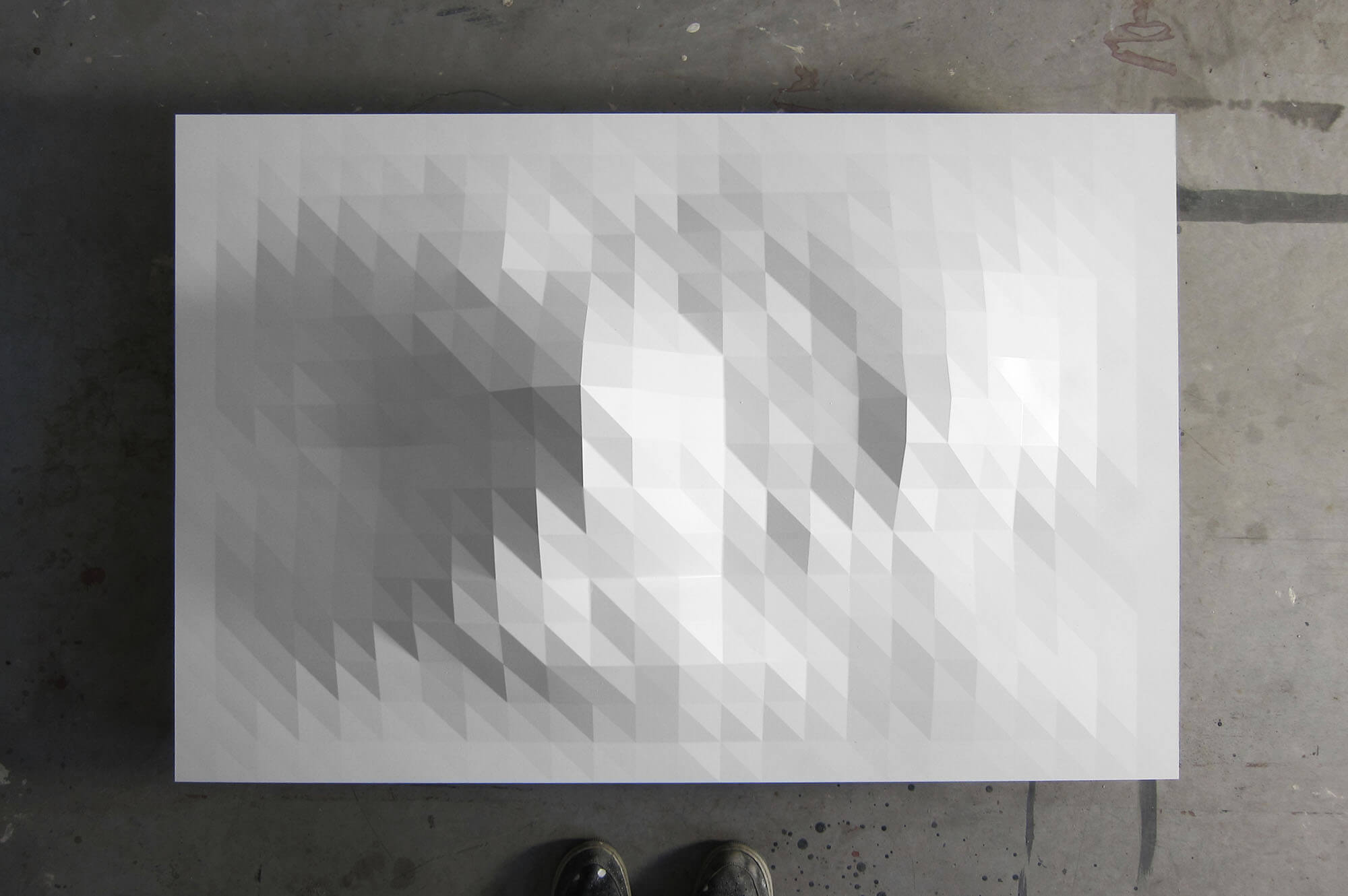 2012
Bleecker Street Documents
Peter Jellitsch has found a new approach to representing spatial realities, both seen and unseen. With his project Bleecker Street Documents, he has taken to task the idea of a temporal-spatial condition that permeates all of our urban airspace. Bleecker Street Documents, titled for the location of the project, rigorously analyzes and explores the micro-measurements of atmospheric change activated by wireless data networks.
Excerpt from "Bleecker Street Dialogue", a conversation with Peter Jellitsch and Joseph Becker.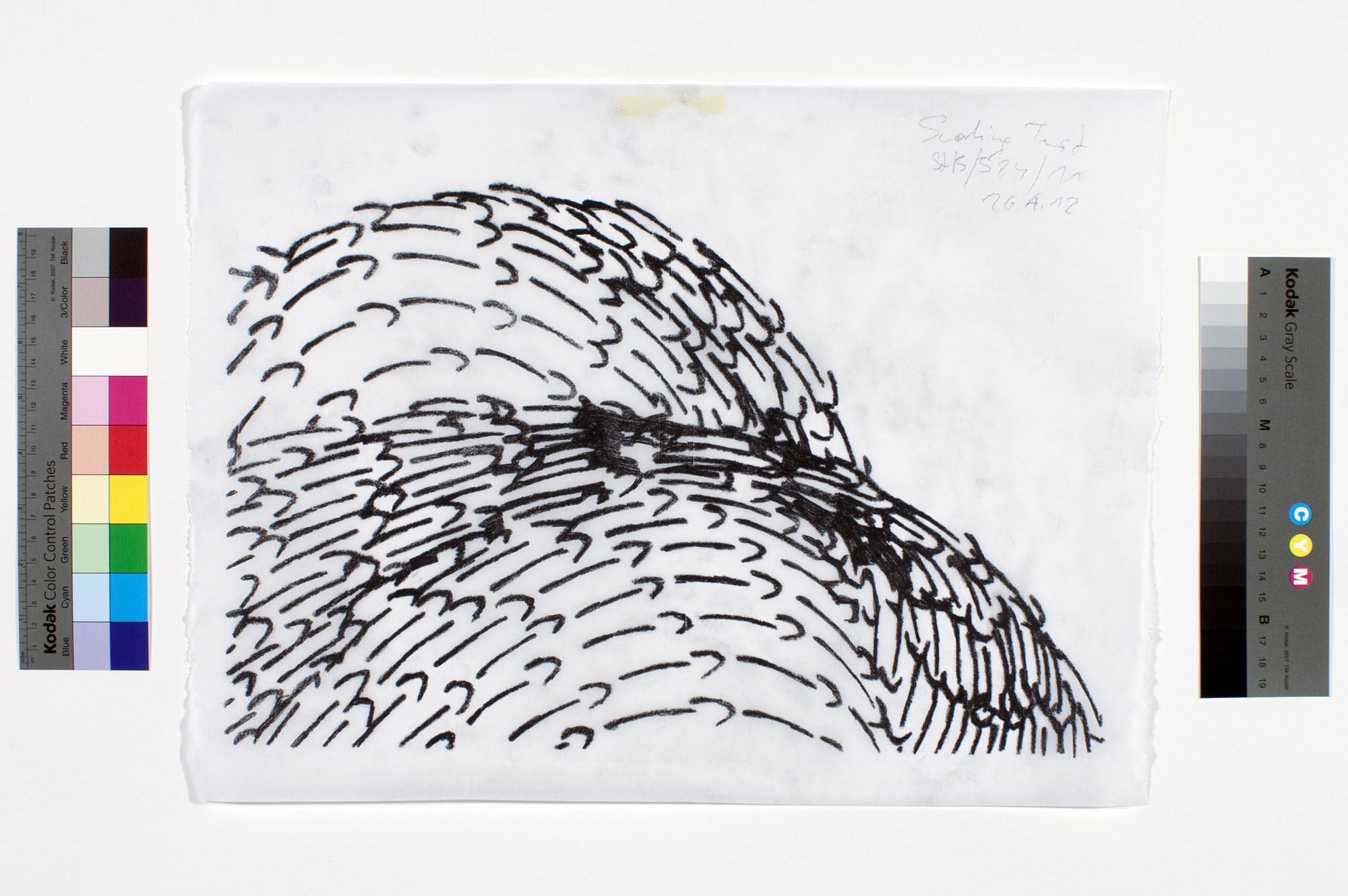 2011 - 2013
STB Series
STB, the title of a series of drawings Peter Jellitsch initiated in 2011, is an acronym for Stream Body Drawings, a motion algorithm software generally used by architects for simulating wind directions and air forces that occur around high-rise buildings. These drawings of nebulous forms are obtained through a rigorous method that Jellitsch elaborated using computer screens broadcasting different scientific digital patterns of radio frequencies, air streams or data clouds.
Excerpt from "Weather Conditions", a text by Sébastien Pluot.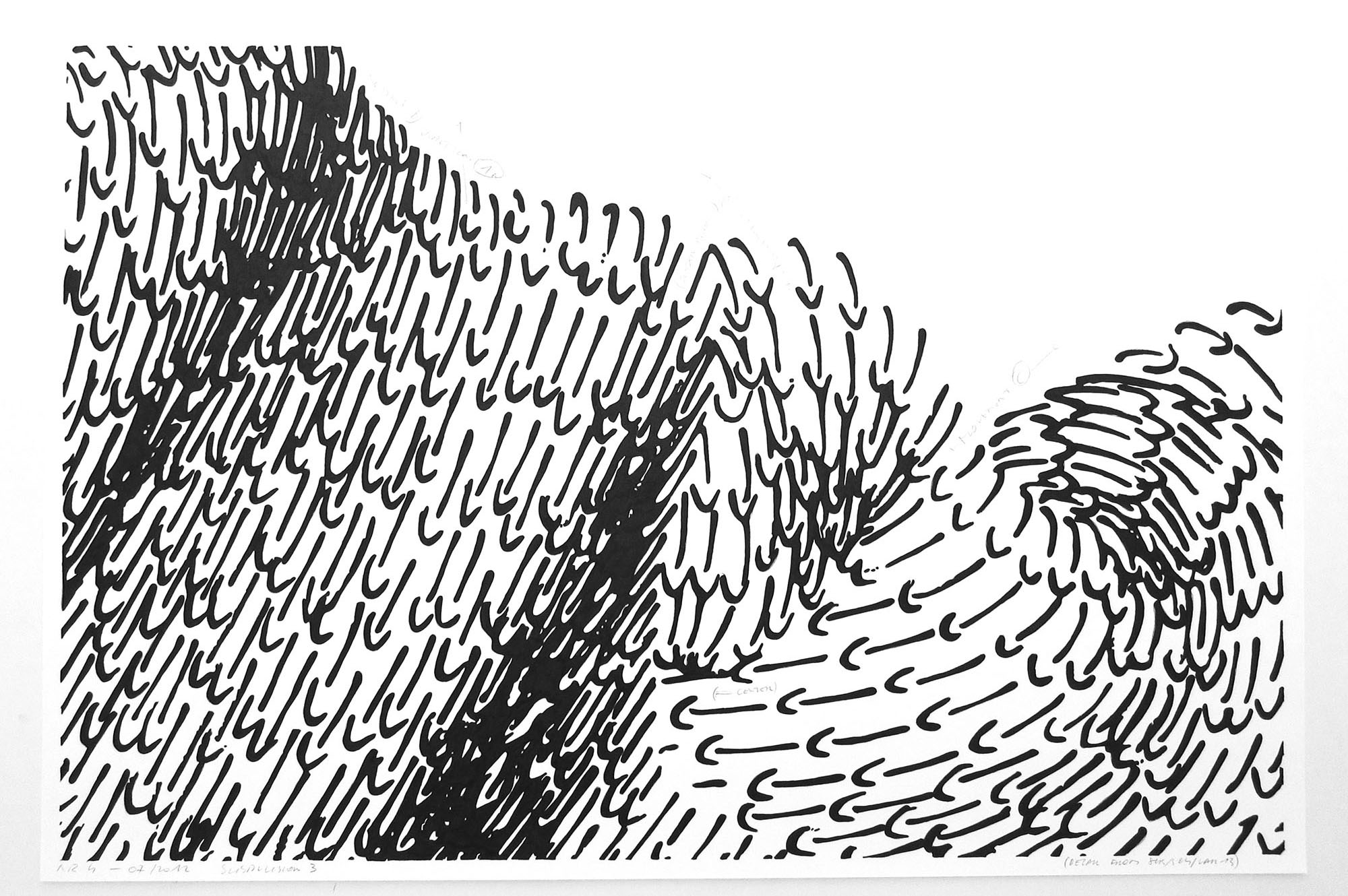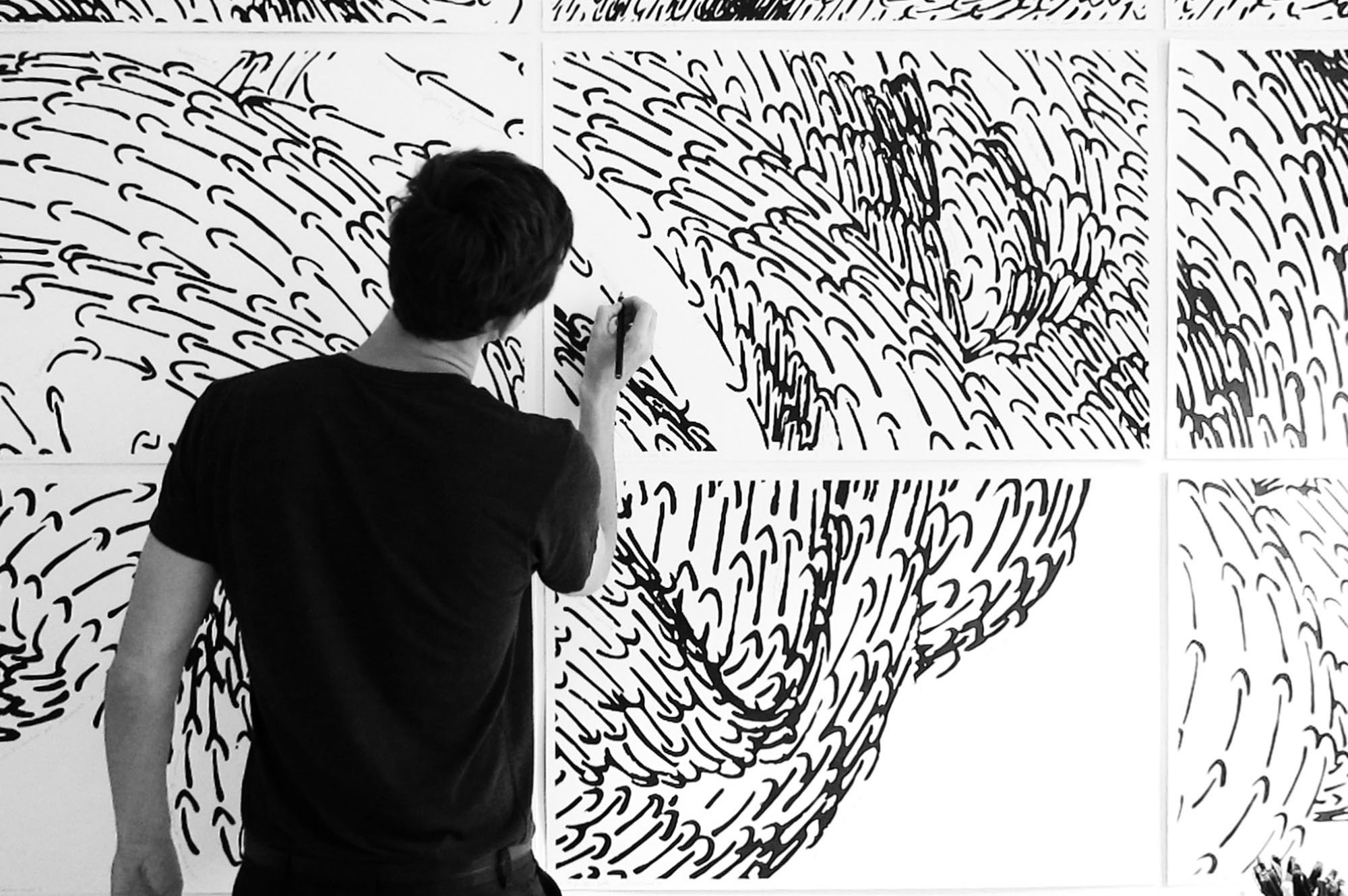 2013
Fokus Sammlung
Peter Jellitsch is an exponent of a young generation whose perception of reality has undergone a radical change, due to new technology, and who quite naturally spread out their fields of work and ideas in new dimensions. This expansion of traditional boundaries, together with a critical observation of reality, are prerequisites for his work, and characterise the artist's interdisciplinary, integrative way of thinking as well as his methods and techniques, which on the one hand are scientific and strictly mathematical, and on the other absolutely artistic and aesthetic. The pictorial result is merely one aspect of Jellitch's comprehensive spectrum of activities. It is, however, the immediate, compelling result which, detached from the intellectual, conceptual process, convincingly gains in autonomy.
Over recent years, virtual space has increasingly become a field of experiment in art. If initially the new techniques and networks were used as tools, today this space itself stands at our disposal, understood as a relevant dimension of reality and determined not only by matter but, in this context, also by invisible elements and systems. What Peter Jellitsch finds interesting are phenomena which exist not physically and consistently, but functionally – such as fields of electromagnetic waves, current patterns, or the swarm behaviour of birds and fish, as in the present work "STB/S 16".
The artist is not concerned with creating a copy of the digital image of a piece of basic scientific research; his interest, as he puts it, is in "establishing a dialogue between virtual processes and the actual physical space". The artist approaches electronic simulation through drawing by hand, transferring it, by means of the potential of his physical body, into an analogue result, thus concretising the digital information of the virtual sphere.
Christine Wetzlinger-Grundnig (Director, Museum Moderner Kunst Kärnten)
Location
Museum Moderner Kunst Kärnten, Klagenfurt (AT)
Artists
Maria Lassnig, Werner Berg, Hans Bischoffshausen, Peter Jellitsch, Kiki Kogelnik, Arnulf Rainer, Zenita Komad …
2012
Field Conditions (curated by Joseph Becker)
Location
SFMOMA San Francisco Museum of Modern Art, San Francisco (US)
Date
1 September—6 January 2013
Artists
Stan Allen, Tauba Auerbach, Marsha Cottrell, Thom Faulders, Peter Jellitsch, Sol LeWitt, Daniel Libeskind, Rafael Lozano-Hemmer, Casey Reas, Semiconductor, Lebbeus Woods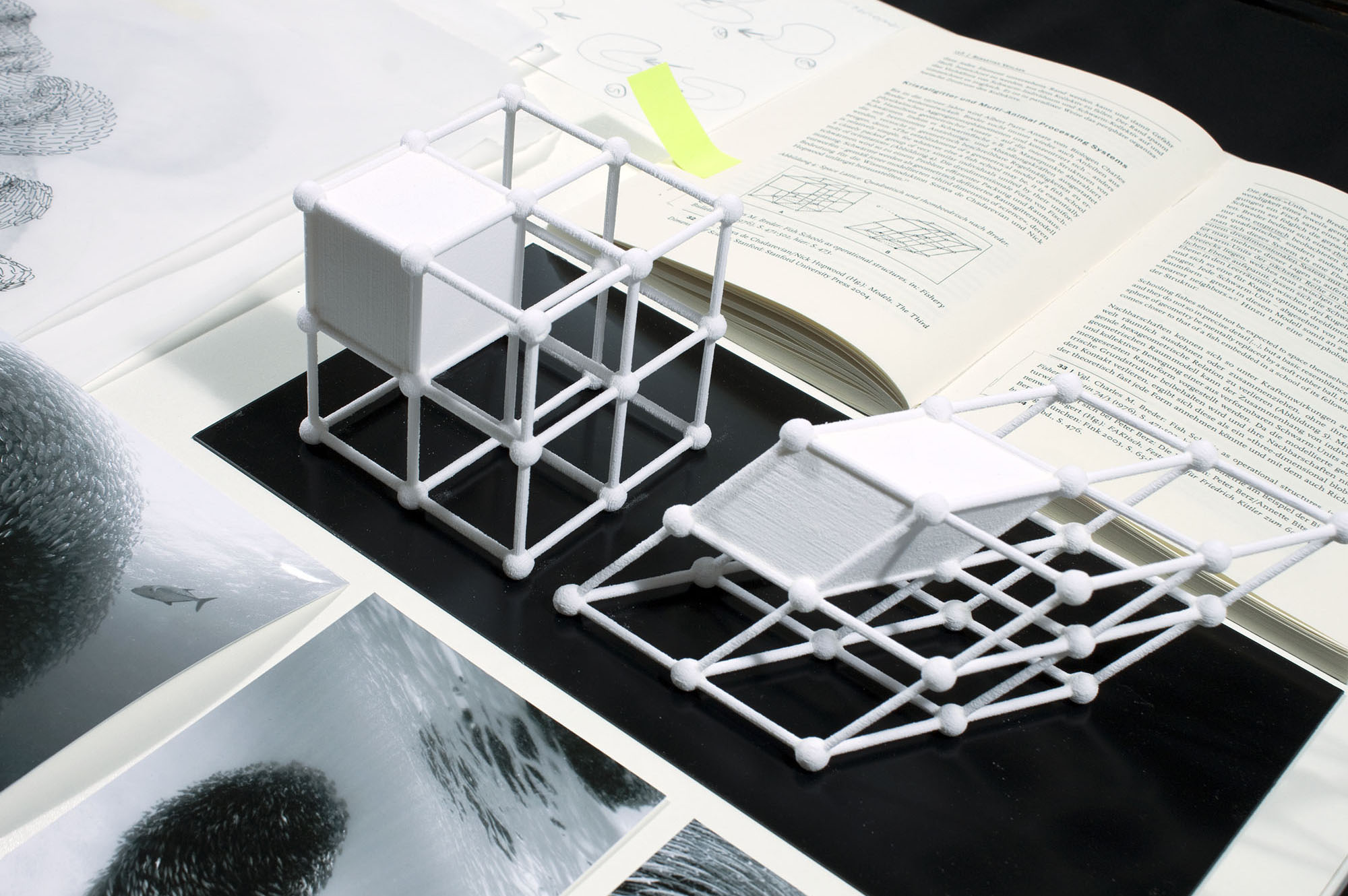 2012
BA Kunstpreis
Location
Galerie3, Klagenfurt (AT)
Artists
Laurien Bachmann, Hanakam & Schuller, Peter Jellitsch, Lavinia Lanner, Markus Leitsch, Patrick Topitschnig